Oct 4, 2019
–Service ISM came out at 52.5, the weakest since Q3 2016, confirming the Mfg ISM flop.  Recall that July 2016 was the all-time low 10y yield at 1.365.  Yesterday's close was 17 bps away at 1.529% (-6.3 on the day).  The curve steepened, but interestingly, implied vol eased, perhaps partially in sympathy to a lower VIX as stocks stabilized.  (VIX at 19.4 late vs 20.56 Wednesday).  New recent highs in most curve measures.  2/10 up 3.5 bps to 14.7.  5/30 up 4.2 to 69.5.  Reds led the euro$ strip +10.125.  Reds to deferred made new highs with red/gold pack spread up 4.125 to 21.5.  The curve has steepened as the MARKET decides that the Fed will be easing in October.  Oct/Nov FF spread has plunged this week from -9.25 bps to -20.75, now indicating better than 80% odds of an ease at the Oct 30 FOMC.  Jan20 FF contract closed +5.5 bps at 98.565, a spread of -41.25 to FFV9.  
–There are lots of large euro$ call structures going through targeting MUCH lower rates.  As just one example, EDG0 9875/9912.5/9950 call fly was bought 10k for 4.25.  Looking for FF target of 0.75 to 1.0%.  There continues to be buying of EDZ9 9825/9837/9850c fly for 1.5 (around 50k).  As was noted by Monday Morning Macro (see chart below), since mid-Sept, EDZ9 has rallied 27 bps and open interest has shed  250k contracts, falling another 28k yesterday.  Classic short squeeze.  
–It's not just the short end that sees lower rates in the (near) future; there was a buyer of 25k TYX 134/135 call spreads for 5/64's.  Corresponding with the all-time low yield of 1.36 in tens, TY1 traded 134-07+ on July 6, 2016. Hard to imagine that call spread filling out, but who knows what today brings!  Only three weeks left for Nov option expiry (but this was probably just a hedge for a weak employment report).
–NFP expected 140-145k.   Gains in treasuries from here should be hard to come by, but stocks again point to a lower open as does copper.  Regardless of cheerleading efforts for the US economy, the global picture remains shaky, and we're back to an element of weekend risk. 
Interesting quote:
"We are being told today that there is no inflation, but if you take a basket of the 72 most bought items at Walmart, the price of that basket is up 4,8% year on year."
https://themarket.ch/interview/gave-the-bond-market-is-the-biggest-bubble-of-our-lifetime-ld.945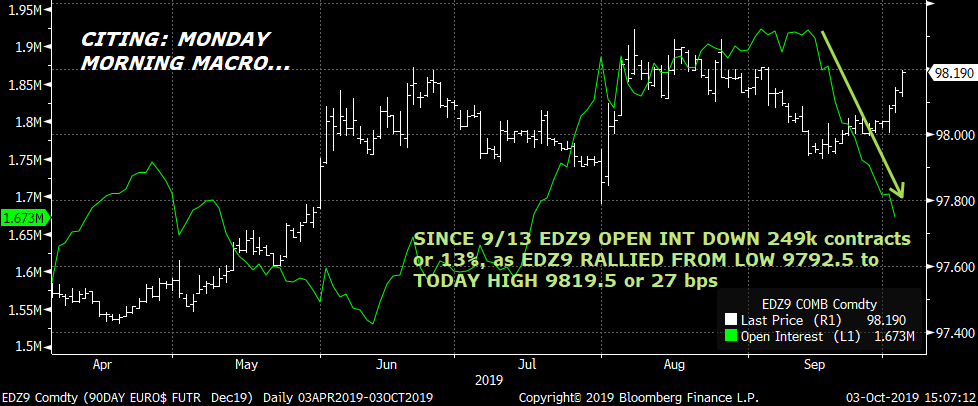 Oct 3, 2019
One of my all-time favorite movies is Tin Men, with Danny Devito and Richard Drefuss, which details the exploits of aluminum siding salesmen in the 1960's. You know it's the 60's because of the tailfins on the Cadillacs! Anyway, I was reminded of the clip below as Schwab and others cut commissions to zero. This JOB IS FREE!!!!
And here's another clip to give a fuller picture
Oct 3, 2019
–Yields fell and the curve steepened at SPX fell 1.8% yesterday.  Besides the technical and seasonal aspect to the decline in equity markets, I would attribute the fall to several reasons 1) Mfg ISM underscored global mfg weakness 2) Political impeachment drama and a shift left 3) WeWork implosion caused renewed uncertainty about (tech) valuations 4) September's repo spike leaves nagging worries that perhaps funding isn't quite as readily available as we all take for granted 5) the Saudi situation points to less stability in the mideast.
–On point number one, Service ISM is released today, expected 55.1 vs 56.4 last.  A number that confirms mfg weakness will be problematic.  Additionally, the trade war has definitely had an impact, and tariffs on Europe were just announced late yesterday.  However, stocks didn't react to the announcement and actually edged a bit higher, and EUR also shook off the news.
–Regarding point two, Jim Bianco put out an interesting tweet that in the immediate aftermath of news that Bernie had a stent procedure, Warren had picked up his supporters at the expense of all others, leaving her as the undisputed front runner.  Obviously hard to trust an instantaneous poll, but that scenario makes  sense.
–Nothing more to say about 3…reverberations will be felt in real estate and IPOs.  On four, Evans was out saying the Fed might have to respond to economic shocks, a day or two after saying rates were about right.  Monetary policy and repo calibration uncertainty.
–On point five, Reuters had a piece saying internal dissatisfaction with MBS is increasing.  
–In terms of US rates, several measures of the curve edged to new recent highs.  2/10 +2.4 bps to 11.2, 5/30 +4.5 to 65.3 and red/gold euro$ up a bit over 1 bp to 17.375.  Heavy buying of near calls again.  For example, EDZ9 9837/9862 c 1×2 0.5 paid for another 50k.  EDX 9850c were bought 40k for 1.75 (exit).  Open interest in EDZ9 calls peaks with the 9825c at 590k, with 9837c 471 and 9850c 449k.  Some technicians suggest that the market gravitates to peak OI, which would suggest a couple of more Fed eases, further corroborated by Oct/Jan FF spread which fell 5 bps yest to -36.5. 
October 2, 2019
–Interest rate futures opened lower across the board yesterday, but the weakest Mfg ISM number since 2009 (47.8) sparked whiplash, with tens ultimately falling 3.5 bps to 1.64%.  Employment sub-index fell to 46.3. The curve steepened as odds for near term easing jumped.  Oct/Nov FF spread was -9.25 before the data but closed -14.5 as Nov FF rallied 5 bps to end at 98.295.  Reds led the way on the euro$ curve, closing +6.25, with greens +4.75, blues +3.25 and golds +2.125.
–TYZ9 low of 129-20 was the halfway back point from the Sept 13 low of 129-16 to the Sept 25 high of 130-25,  That high was eclipsed post-data as yesterday's high hit 130-29+.  SPX closed -1.2% with Nasdaq -1.1% but selling has continued overnight.  Political uncertainty is also seeping into the market with impeachment proceedings gaining steam.  
–ADP today.  Fed speakers include Barkin, Harker and Williams.  The most important is Williams at 10:50, who should have plenty to talk about as the head of the NY Fed.  In July he gave the "don't keep your powder dry" speech.  Recently, officials like Evans have indicated that policy is about right.  The NY Fed desk tamped down the repo surge, but the markets are looking for more signs of liquidity, especially as the WeWork implosion spills over into IPO valuations, commercial real estate, and venture capital.
–Good scathing article on WeWork linked here:
http://nymag.com/intelligencer/2019/10/marketing-expert-scott-galloway-on-wework-and-adam-neumann.html
Oct 1, 2019
–Fixed income under pressure this morning as a Japanese gov't 10 year bond sale went poorly due to BOJ indicating plans to slash bond purchases. According to BBG, 10y JGB yield jumped 5.5 bps to -16.
  https://www.bloomberg.com/news/articles/2019-10-01/bond-traders-sound-alarm-in-japan-with-weakest-auction-in-years?srnd=premium
This, just as the Fed is about to increase its bond portfolio.  As we've seen, moves toward 'normalization' are met with fear.
–Huge drops in precious metals and oil yesterday. SIZ down 65 cents to just under $17/oz while GCZ9 fell 33.50 to $1473. CLX9 hit a low of $53.98, almost $10 below the high print Monday 9/16 of 63.89 which followed the attack on oil infrastructure in KSA. There has been no military response and MBS yesterday said a war with Iran would cause a global economic shock. The Saudis appear to have capitulated, although odds of further destabilization are likely increasing. Oil rebounding today.
–Chicago Fed's Evans has already spoken today and is not anxious to cut rates further, saying that the Fed's 2% objective can still be achieved. Bullard and Bowman on tap. Chicago PMI yesterday fell to 47.1. Mfg PMI today expected to edge back over 50 from 49.1 last. Prices were 46.0 last, expected today at 48.5.
Sept 30, 2019
–Stock futures have rebounded (ESZ currently +10.25 at 2974.00) and fixed income is under modest profit taking pressure as the US administration walked back the idea of delisting China shares.  The prospect of the trade war moving into capital flows would be a large escalation, but appears to be sidelined for now.  China 70th anniversary tomorrow comes with a large military parade as Trump faces impeachment.
–Yields were little changed Friday with the curve edging slightly steeper.  Tens ended at 1.675%, down 1 bp.  The dollar continues to press new highs, putting pressure on precious metals.  Chart attached of possible head and shoulders top in gold, with GCZ printing 1494 this morning, right at the neckline.  EUR bounced Friday but is threatening 109 again this morning (currently 109.26).  
–FFF0 settled Friday at 9842.5, a premium of 27.5 over FFV9 at 9815.0, indicating at least one ease at either the Oct 30 or Dec 11 FOMC.  However, the odds according to calendar spreads favor the December meeting.  Oct/Nov FF settled at just -11.5 while Nov/Jan settled -16.0.  In dollars, the lowest one-year calendar remains the front Dec19/Dec20 at -50.0.  In Short Sterling, Dec19/Dec20 settled Friday at -18 bps, testing the low of -19 in early Sept.  
–Today's news includes Chicago PMI which was sub-45 two months ago, rebounded to 50.4 last month and is expected 50.2.  
–Quick recent historical note, Q4 last year was a disaster, kicked off by Powell's Oct 3, 2018 "long way from neutral" pronouncement and accentuated by QT ratcheting up to $50 billion per month.  SPX very close to the same levels as last year at this time, but now we're looking at another round of QE and the neutral rate being a long way off in the opposite direction.  Good for risk assets?  Or are other negative catalysts lining up?
Sept 29, 2019 – Weekly
[Note: due to a change in hosting, charts are temporarily not being displayed]
WINSTON: Hey, Ray. Do you remember something in the Bible about the last days, when the dead would rise from the grave?
RAY: I remember Revelation 7:12. And I looked, as he opened the sixth seal, and behold, there was a great earthquake, and the sun became as black as sackcloth. And the moon became as blood.
WINSTON: And the seas boiled and the skies fell.
RAY: Judgment Day.
WINSTON: Judgment Day.
RAY: Every ancient religion has its own myth about the end of the world.
WINSTON: Myth? Ray, has it ever occurred to you that maybe the reason we've been so busy lately is because the dead have been rising from the grave?
–-Dialogue from Ghostbusters
When I was a kid, there was a lot of talk about "crowding out". No, I am not talking about manspreading. Crowding out referred to the idea of government getting so large, especially at full employment, that it essentially crowded out the private sector in terms of new investment. I googled it and there are no recent articles, just a few educational videos and a paper written in 2010. The short educational video I watched (linked below) uses a cute graph plotting supply and demand for funds, and assumes that increased gov't demand plus existing private demand shifts the curve upward and to the right, thereby raising rates which increases savings and decreases private consumption. The Mercatus from 2010 paper cites Keynes in The General Theory:
Government borrowing can crowd out private spending and investment in a number of ways. Consider first, the most extreme case in which gov't borrowing has the exact same effect on the economy as gov't taxation.
Borrowed money must eventually be paid back. And because of this, some taxpayers may view gov't borrowing as delayed taxation. If so, these taxpayers will spend less today to save in anticipation of paying higher taxes in the future. Accordingly, defcit-fianced spending is equivalent to tax-financed spending: it induces people to spend less and save more.
In many ways this is the Lacy Hunt (Hoisington) philosophy (and I am bastardizing it here), that gov't spending's marginal gain to the economy lessens to the point that ultimately, lower inflation and interest rates are the result. Defunct economist indeed.
I read a couple of papers in the last couple of days, one by John Mauldin and the other by Ben Hunt. The underlying theme in both is, 'what if we're approaching the cusp of a great change in debt dynamics?' I loosely am referring to it as Judgment Day. Mauldin calls it the Great Reset. Strauss and Howe, the Fourth Turning. Ben Hunt as the Fourth Horseman that can lay waste to financial markets and portfolios: inflation.
Ben Hunt employs a fascinating tool to quantify, or at least capture, the current narrative and its interconnectedness. It's AI that scans all Bloomberg articles and plots certain phrases and references in both time and connection. I can't do justice to the methodology here, but I will use a powerful example from his latest missive (linked below)
Okay, a bit of a comment. 25 articles talking about the federal budget deficit versus 2,200 talking about inflation over the same 12 month period from the same financial media source. I am not making this up. There is ZERO narrative creation around austerity in the United States. ZERO. And as long as that's the case, the political dynamic for inflationary debt-be-damned policies is unstoppable.
And it's here that I will paraphrase Winston Zeddemore from above: "…has it ever occurred to you that the reason we're so busy is that the gov't IS crowding out private investment and pressuring rates higher which then requires Fed intervention?" How would we know that if we saw it? Well, we might see it with something like the recent repo spike. There is an expanding edifice of government debt that needs to be financed, and sponsorship in the form of foreign central bank buying seems to be dwindling. Any more clues? Maybe we see it in the deceleration of Core Capital Goods orders since the 2018 tax bill (far right side of St Lois Fed graph below). Maybe it's evident from the leading indicator Chemical Activity Barometer (second chart, see footnote** and thank you to Macro Chat member that posted). This, from BBG after Friday's data:

The durable goods report for August is technically a beat relative to consensus, but the innards of the data suggest further softness in underlying private-sector capital spending intentions in the third quarter. Volatile categories, including defense orders, boosted the top line well above consensus expectations, while core capital goods orders were soft for a second month.
https://fred.stlouisfed.org/series/NEWORDER#0
https://www.americanchemistry.com/CAB-vs-Industrial-Production/
Chemical Activity Barometer
I know that there are a lot of technical and regulatory reasons that repo spiked.  I know that the NY Fed took aggressive action and got the Fed Effective EFFR and SOFR back down to 1.85% by the end of the week. October Fed Fund contract settled exactly at 1.85%, 98.15.  But another Ben Hunt observation is worth mention, and that is, the EFFR is where the Fed SETS a rate and repo is where it TRADES.  Is all financing limitless, as some proponents of MMT seem to imply? Corporate spreads remain tight, but episodes like the WeWork flame-out indicate that there are some limitations on the gullability of capital. Is that why some of the dealmakers took it on the chin Friday? (KKR down  7%, Blackstone down 4.6%).  
Here is where a dollop of the recent political drama seeps in. Typically, I avoid the flashpoints of political discussion, and carefully avoid triggering so I will try to tread gently here. The commie leftist sociopaths that want to strip assets from anyone who has worked for them are gaining ground on the religious right xenophobic wingnuts that fear all food besides apple pie. Said another way, what if Biden's issues have shifted the entire political probability curve to the left? Now you know, and I know, that debt never has to be re-paid, it simply has to be rolled. However, what if the shift to the left and more taxation is working as Keynes suspected and is further accentuating the decline in capex? What if some corporate debt can't be rolled at favorable rates?
To avoid the perception that they are losing credibility on funding, the Fed will likely lean much more aggressively towards easy policy. Like everything else, it's short term risk/reward vs long term possible distortions. The strong dollar environment accentuates this bias; DXY is strongest it has been since May 2017. According to an Inflation Outlook paper by Enduring Intellectual Properties ( enduringip.com ), yoy M2 growth is 5.6%, the highest since July 2017. This is not the conclusion of Enduring, but I think there's a risk the Fed may be more successful in manufacturing inflation than it hopes. If so, and of course, timing is key, the curve should steepen.
Important data this week includes Mfg ISM and prices which were both quite weak last time at 49.1 and 46.0. The former is expected to rebound to 50, but no improvement is expected on prices. Employment report is Friday with NFP also expected to bounce to 145k from 130k last. YOY earnings +3.2%.
Fed speakers include Clarida late Thursday on the outlook for the economy, and Powell on Friday afternoon, Perspectives on Maximum Employment and Price Stability. Quarter end on Monday.
| | | | |
| --- | --- | --- | --- |
| | 9/20/2019 | 9/27/2019 | chg |
| UST 2Y | 169.2 | 162.2 | -7.0 |
| UST 5Y | 163.0 | 155.1 | -7.9 |
| UST 10Y | 174.4 | 167.5 | -6.9 |
| UST 30Y | 218.7 | 212.5 | -6.2 |
| | | | |
| GERM 2Y | -71.9 | -77.0 | -5.1 |
| GERM 10Y | -52.1 | -57.3 | -5.2 |
| JPN 30Y | 35.3 | 31.8 | -3.5 |
| EURO$ Z9/Z0 | -46.0 | -50.0 | -4.0 |
| EURO$ Z0/Z1 | -8.0 | -8.0 | 0.0 |
| | | | |
| | | | |
| EUR | 110.19 | 109.42 | -0.77 |
| CRUDE (1st cont) | 58.09 | 55.91 | -2.18 |
| SPX | 2992.07 | 2961.79 | -30.28 |
| VIX | 15.32 | 17.22 | 1.90 |
| | | | |
https://www.mercatus.org/publications/regulation/long-run-we%E2%80%99re-all-crowded-out
https://www.americanchemistry.com/CAB-vs-Industrial-Production/
**ACC's Chemical Activity Barometer helps anticipate peaks and troughs in the US economy
Sept 27. 2019

–The dollar index settled at its highest level since May 2017 as EUR posts a new low testing 109.  Economies with dollar based loans are likely to encounter stress, though effects appear minor thus far.  Stocks slightly weaker due to impeachment uncertainties.  WeWork was downgraded to 'hoping to survive' as the company halts all new lease agreements.  Rates eased yesterday, with tens down 4.5 bps to 1.685%.  Reds through golds up 3 to 4 bps.  Oct/Nov and Nov/Jan FF calendars little changed; both are indicating around 50/50 odds of an ease at the Oct and Dec FOMC meetings; slightly more likely in December.  FFF0 settled unch'd at 9840.0, 27 bps above FFV9 so the market is sure of at least one more cut prior to year end.
–New buyer yesterday of 10k EDZ0 9900c for 14.0 ref 9853.0; settled 13.75 vs 53. Not a particularly large trade, but since I have cited the EDZ0 9800/9900 risk reversal, worth noting. The 9800p settled 7.75, so the rr settled 6.0 for the call. EDZ9/EDZ0 remains the lowest one-year calendar at -51.0, down 1.5 on the day. A bias toward lower rates continues.
–News today includes Personal Income and Spending expected +0.4 and +0.3, with the Fed's preferred measure of inflation, Core PCE prices expected 1.8%. Durables expected -1.0% with Core capital goods orders expected 0.0. Michigan Sentiment also out, perhaps important given a weak consumer confidence reading last week. Clarida speech yesterday again brought up the idea of a change in policy that would let inflation run above target in an effort to 'make-up' for previous shortfalls.
Sept 26, 2019
–Rates jumped yesterday, more than reversing Tuesday's fall as stocks reacted positively to Trump releasing the Ukraine call transcript. In euro$'s reds through golds fell 9 to 10.5. The ten year yield likewise rose 10 bps as the five year auction was slightly soft; sevens auctioned today. While Fed officials are mostly shrugging off the repo turmoil – Bullard referred to it as a MICRO economic issue and Brainard said it was due to a confluence of technical issues – the NY Fed increased the size of repo operations to $100 billion from $75 billion on daily and $60 from $30 on term ops. Outside of the Fed, experts are suggesting more: ex-NY desk head Brian Sack and Joseph Gagnon say the Fed should explicitly target repo and buy $250 billion treasuries. QE and/or a standing repo facility will probably be announced in October.
–Funding in a more general sense seems to have become a larger issue. For example, Goldman is cutting exposure to Softbank after the WeWork fiasco. Softbank is trying to secure funding from employees, the Saudis are pressuring oil elite to invest in Aramco. At the same time, Brainard said leverage loan covenants have "weakened notably".
–Worth a mention is that Sabine Lautenschlager resigned from the ECB due to her disagreement with the need for more stimulus (is Lagarde ready for the hand-off?) and Kuroda is citing overseas weakness as a potential reason for increased stimulus. The political divide in the US seems to be spilling over into central bank politics. In a world of low yields and reduced returns, cash flows aren't enough to cover funding needs.
–Q2 GDP today expected 2%. Jobless Claims also released. 7 year auction.
–Call buying and adjustment prevalent in ED yesterday. EDZ0 9800/9900 risk reversal settled 4.5 for the call with futures exactly in the middle at 9850; around 44 to 45 delta, it had traded 5.5 ref 9852.5 a couple of days ago.
Sept 25, 2019
–Stocks and yields fell yesterday as Speaker Pelosi opened formal impeachment proceedings.  Tens fell 7.6 bps to 1.64% in front of today's five year auction and tomorrow's 7-year.  On the euro$ curve, reds led the way, closing +9.375 bps.  Greens through golds were up 8 to 9.  Volume relatively light but there was some noticeable call buying in the front end.  EDF0 9900c 2.5 paid for around 60k v 9836.0 in EDH0 (appears exit as OI fell 27k).  Other new buying included EDZ9 9812/9837cs which settled 5.25  vs 9804.5, OI +21 and +24k.  The peak contract is still the 8th quarterly, EDU21 which settled 9871.5, a bit more than halfway back from the 9/4 high 9895.5 to 9/13 low 9843.5.  This 52bp move took just 7 sessions.  TYZ also just above the halfway back level at yesterday's settle of 130-23.  Implied vol firmed with prices. 

–FFV9 settled 9812.0 with concerns about funding pressure continuing.  April 2020 FF settled exactly 50 bps higher at 9852.0 with four FOMC meetings in that time frame.  FFJ0 was up 8 bps on the day! 
–The question going forward is whether the impeachment hearings will sap market confidence.  Yesterday's Consumer Confidence already showed a crack, at 125.1 vs 135.1 last.  If a fall in equities spills over into a weakened economy, I can't imagine that it works to the Dems favor come election time.  Bitcoin was down 17% yesterday and is stable this morning with the Sept contract 8350.  That leaves gold as the safe haven winner yesterday, closing at the 61.8% retrace from early Sept high to mid-Sept low.  GCZ9 settle yesterday 1540.20.