April 16, 2021
–New all-time highs in stocks yesterday as retail sales blew past expectations, up 9.8%.  China's GDP was released at +18.3%.  Good thing the Fed is keeping rates at zero and buying $120 billion in treasuries and MBS a month.  

–Yields collapsed yesterday as the bond market has recently absorbed high inflation and high growth body blows like Ali's rope-a-dope.  At futures settle, 10y was down 10.2 bps at 1.53% and bonds down 11 bps at 2.21%.  The curve flattened with nearly all one-year eurodollar calendars making new monthly lows. The highest one-yr calendar on the strip is EDM23/EDM24 which settled 64.5; it peaked at 78 at the end of March.  White euro$ pack was unch'd, reds +2.875, greens +8.625, blues +12.875 and golds +14.375.  Over the first five years of the strip, the lowest contract is, of course, the last gold, EDH'26, at a price of 9800.5, so nothing in the first five years has a yield over 2%.  The low in that contract has been 9760; it has been a pretty spiffy short cover rally.  USM settled at 159-00 at 3:00pm, but in the next couple of hours it sank close to 158, where it sits this morning.  One trade of note, a new buyer of 20k 4EU 9750p for 8.0 (settled 8.25 ref 9817.0).
–2/10 treasury spread plunged 9.5 bps to 137.5, while 5/30 eased 4.5 to 141.7, the latter did not make a new recent low,, having held 139.
April 15, 2021
–Yields edged slightly higher yesterday but the 132 strike seems to have a gravitational effect on TY, now just back above that level at 132-04 vs a settle of 131-295 (1.632% in cash).  Retail Sales is the big release today, expected +5.8% and +6.4% ex-auto and gas.  Some estimates are higher due to stimulus checks.  Powell yesterday said that a reduction in asset purchases would occur prior to rates being raised, but given massive deficits that the Fed has helped monetize, any tapering will probably be a slow and delicate process.  I would also suspect that the curve will stay relatively steep if short rates are held at zero while inflationary pressures continue to build.

–Other releases today includes Jobless Claims expected 700k from 744k last, and Philly Fed at 41.2 from 51.8 last.

–EDZ1 9975 straddle continues to settle at 7.5 with futures 9974.0.  The level of 7.5 exactly equals the Sept/Dec calendar spread, EDU1 9981.5 and EDZ1 9974, while EDZ1/EDH2 is negative 3.5.  There is obviously a turn priced into the December contract, which option sellers must think is almost exactly right, even though there are 242 days until expiration.  

–May Corn is at a new high above $6 this morning, having been around $3.50 in August.  In April of 1986, the Chernobyl nuclear accident occurred in Ukraine, 35 years ago this month.  At the time, grain prices jumped with concerns about contaminated food.  I'm not saying that Japan's decision to release radioactve water into the ocean has anything AT ALL to do with the price of corn, but food security and scarcity are powerful themes.  On a related note, the Arab spring was 10 years ago, partially sparked by high food prices (which in my opinion were tangentially related to the Fed's QE2 program which started in November 2010).  Maybe the cutting edge investment theme isn't going to be digital currency and social media going forward, maybe it will boil down to basic human necessity.  
April 14, 2021
"The $64000 Question" was a tv game show which aired from 1955 to 1958.  "The first four questions were provided by an IBM sorter, a cutting edge technology of the day.  The machine was used to create the impression that questions were picked randomly, when in fact all questions were pre-selected."  (I guess the Biden team was able to secure that same 'cutting-edge' machine for press conferences).  

–I bring up the $64k question because bitcoin is trading just above $64000 as Coinbase goes public.  New crypto records by the day…  One publicized aspect of the digital yuan project is the idea of an 'expiration date', that the authorities can use to fine-tune consumer demand; spend it or lose it.  Clearly, it's a form of government control, and negates the 'store-of-value' feature of true currencies.  Just the thought of government control should destroy the concept of state-sponsored crypto and drive people into bitcoin, ethereum, etc.  Is it a coincidence that bitcoin is at new all-times highs?  That's the $64000 question.

–Richmond Fed President Barkin with this bullet point yesterday:  *BARKIN: EXPECATION WOULD BE FED MOVES ON ASSET BUYS BEFORE RATES.  One of the Fed's recent mistakes was tapering and raising target ff rates at the same time.  The market currently seems to think tapering should come first this time, with comments like Barkin's solidifying the idea.  What if the curve re-steepens?  Would it perhaps make more sense to adjust short-term rates first?  Just a thought…  QE has been associated with equity market rallies; tapering will likely spark the opposite effect. 
 
–In any case, 2/10 flattened to a new recent low yesterday at 146 bps, with the ten year yield falling over 6 bps to 1.62% while two eased just 1 bp to 16.  Rally across interest rate futures, with vol subserviently falling with yields.  CPI yoy was 2.6% yesterday, but the bond market continues to absorb strong economic data relating to both prices and activity.  Oil (WTI) is back above $61/bbl this morning.  An Ambrose Evans-Pritchard piece yesterday had the following advice "It [the Fed] is funding a third of the $3 trillion budget deficit with pure QE.  It is accommodating the most radical fiscal experiment ever attempted in peace time with the most radical monetary experiment to match.  To modify a market dictum, don't fight the Treasury and the Fed at the same time."  The point of this article was to advise that even though the stock rally has been fierce, investors should stick with it, based on the support of the authorities.  Does this sort of thinking also lead to a sneaky bid for crypto?

–A couple of large trades to highlight, both Dec midcurves, expiring on 10-Dec 2021, the end of this year.  One, a buy of 25k 0EZ 9962/9937/9912p fly for 4.0.  Settled 3.75 vs  9955.5 in EDZ22.  This trade looks for the market to price in 2 hikes by the end of next year.   (From open interest it might have actually been a roll of short 9962p into the 9937p).  The other trade was a buy of 40k 2EZ 9925/9937/9950/9962 c condor for 2.25.  This is based on EDZ23 which settled at 9893.  Max profit occurs between the middle two strikes, between 9937 and 9950.  Obviously this trade looks for a roll higher in price over time.  When considered together, both of these trades target the same futures level… could EDZ2/EDZ3 calendar spread move towards flat?   Currently EDZ2/Z3 is 62.5.

https://www.pbs.org/wgbh/americanexperience/features/quizshow-64000-question/
April 13, 2021
–Little reaction to three and ten year auctions, the latter of which came at 1.68% with bid to cover 2.36.  Today features NFIB small business optimism, expected to rise to 98.3 from 95.8 last.  CPI expected yoy Core of 1.5% from 1.3.  Thirty year auction, with a small concession being built in this morning.  

–NFIB and the Russell 2000 index were correlated in terms of overall direction through the Trump years, however since the election, NFIB was fallen from  104 to 95 while small caps have ramped higher due to stimulus. I had held the idea that core catalysts for small caps were lower taxes and regulations which spurred growth and business confidence.  However, the surge in R2K currently seems more related to outright government stimulus.  In that regard, it is interesting to glance through the US Gov't budget release.  March of 2021 compared to March 2020:  Receipts, $268 billion vs $237b, an increase of 13%.  That's positive, right?  Outlays, $927b vs $356b, an increase of $571 billion or 161%.  GO BIG.  A deficit of $500 billion used to big… FOR A YEAR!  And you wonder why there is a move into crypto?  The aftermath of the GFC housing bust was quaintly summarized as private debt being transferred to the balance sheet of the Federal Government.  Now it's not just some unsightly debt being swept under the carpet, the government's influence has become pervasive.  Still want to bid for 30's today?  
April 11, 2021 – Weekly Comment
*****
The snippet below is from Tyler Neville of Blockworks:
Here are the speaking events for the Fed next week.
This is an absolute CLOWN show.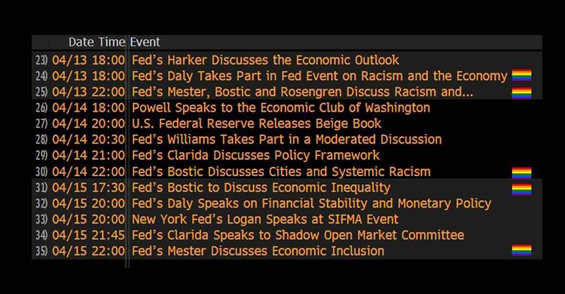 For 12 years, the Fed ignored any signs that QE was causing a gap in inequality between capital and labor.  
Now, all of a sudden they are experts on inequality and systemic racism?
In many Congressional appearances, especially during the Trump years, Powell constantly reminded his audience that the Fed "stays in its lane" with regard to monetary policy, concentrating on the dual mandates of full employment and low inflation. Just this week, four of the twelve regional Fed Presidents will be discussing racism and economic equality/inclusion. Not included on the list above is Kaplan's appearance on the 16th at a Virtual Climate Change Symposium.

The late 1970's were the most equal years regarding wealth and income distribution. That was also a period of high inflation. Clearly, the institutional thinking of the central bank has shifted to the idea that higher inflation results in more equality with respect to economic outcomes. However, they're working overtime (time-and-a-half) to convince the public that price increases are transitory. Markets aren't so sure.
On August 27 of last year, Powell announced the change in the Fed's policy framework to incorporate FAIT, flexible average inflation targeting. On the employment side, the Fed would henceforth assess "shortfalls" from maximum employment rather than "deviations". In a Jan 31, 2021 speech, Brainard explained it this way:

In other words, the new framework calls for policy to address employment when it falls short of its maximum level, whereas the previous framework called for policy to react when employment was judged to be too high as well as too low.
Markets noticed. As the chart below of the 2/10 treasury spread reveals, the curve has been steepening ever since the change in framework.  The Fed succeeded in changing market sentiment regarding inflation, a sentiment which has now been reinforced by the huge fiscal and monetary response to the covid crisis, (which has now turned the corner).  The public's mentality is now buy and hoard.
Over the past week, the curve flattened a bit as yields retreated from highs set the previous week. The five year yield dropped 10.6 bps to 87, while tens fell over 5 bps to 166.6. This, in spite of a record high Service ISM release of 63.7, a huge Consumer Credit number of $27.5 billion, and yoy PPI of 4.2%. When a market absorbs bearish news without going lower, it is often a bullish sign. However, this week will bring further challenges in the form of supply, with 3s and 10s auctioned on Monday, followed by 30s on Tuesday. According to TBAC, auctions this week will raise $59 billion in new cash. In the following couple of weeks, the 20y will be auctioned on 4/21, 5y TIPS on 4/22 and 2s, 5s, 7s on April 26 and 27. These auctions are raising $130 billion in new cash. Even with the Fed buying $80 billion in treasuries per month, this increase of $190 billion of new cash could cause a bit of indigestion.

On top of that, BofA is expecting a monster retail sales number of 11% on Thursday as outlined on ZH. CPI is released on Tuesday, expected 2.5% yoy with Core at a tame 1.5%.
Powell is appearing on 60 Minutes this evening, where he will likely parrot the mantra of transitory inflation due to base effects and one-off changes in consumer preferences. However, he will almost certainly swerve into economic equality lanes and use the climate change ramp to take other detours which weren't overtly mentioned in the Fed's framework change, but have now been included, notwithstanding. Will markets conclude the Fed is trying to do too much?
OTHER MARKET THOUGHTS/ TRADES
There were a couple of large trades worth note. On Friday, a new buyer of 7250 long Green pack 100 call strip for 17.0 up to 19.0 EDM3 100c settled 3.0, U3 at 4.0, Z3 at 4.5 and H4 at 5.5, so the strip settled 17.0. These options expire with the underlying futures, i.e. EDM3 100c has 798 days until expiry on June 19, 2023. It's all vol. Both EDH3 and EDM3 have huge open interest in 9975 and 9987.5 c strikes (H3 9975c 400k and 9987.5c 200k, EDM3 9975c 102k and 9987.5c 155k) so these 100c buys might just be the start of an upside cap of risk. If the trade were more of a forecast of impending disaster, the long red pack 100c strip would be the better bet, settling at 5.25 (M2 1.0, U2 1.25, Z2 1.25 and H3 1.75).
A much larger trade was a buy on Friday of 200k July VIX 25/40 call spreads for 2-2.15. Said to be greater than $40 million in premium. While spot VIX has eased down to 16.69, July VIX futures closed 23.16, with the 25c at 3.50 and 40c 1.37. For the sake of comparison, June VIX futures are 22.23, the June 25c at 2.65 and 40c at 1.05, so 1.60 in the call spread vs 2.13 for July.

BABA was fined $2.8 billion for antitrust violations by the Chinese government. As one twitter commentator noted, that's almost 5% of top line revenue. While this action is almost certainly just a specific clampdown targeting Jack Ma, governments worldwide are likely hearing an echo of Willie Sutton's reply when asked by a journalist why he robbed banks: "because that's where the money is."

The risk is that a sudden reversal of fortunes in big tech could cause an abrupt halt to the rise in treasury yields. It's instructive to look back at 1987. From January to October of 1987, the ten year yield went from 7% to 10.25%. From the start of 1987 until late August (when stocks topped, having taken notice of rising yields), SPX rose 39%. From the start of September in 2020, the low in the 10y yield following the Fed's framework change was 64 bps. Seven months later, at the start of April, it reached 1.74%. Still low, but on a percentage basis it's a MUCH larger move than 1987. Stocks have yet to take notice and SPX since a dip in last September is up 28%. There's probably more life in major stock indices. Which likely means that yields will again push to new highs.
| | | | | |
| --- | --- | --- | --- | --- |
| | 4/2/2021 | 4/9/2021 | chg | |
| UST 2Y | 18.4 | 15.5 | -2.9 | |
| UST 5Y | 97.4 | 86.8 | -10.6 | |
| UST 10Y | 172.0 | 166.6 | -5.4 | w/I 166.7 |
| UST 30Y | 236.3 | 233.9 | -2.4 | w/I 234.2 |
| | | | | |
| GERM 2Y | -70.8 | -70.2 | 0.6 | |
| GERM 10Y | -32.8 | -30.3 | 2.5 | |
| JPN 30Y | 69.3 | 67.6 | -1.7 | |
| CHINA 10Y | 319.9 | 321.0 | 1.1 | |
| EURO$ M1/M2 | 14.5 | 10.0 | -4.5 | |
| EURO$ M2/M3 | 52.5 | 44.0 | -8.5 | |
| EURO$ M3/M4 | 77.0 | 73.0 | -4.0 | |
| | | | | |
| EUR | 117.60 | 119.02 | 1.42 | |
| CRUDE (active) | 61.48 | 59.32 | -2.16 | |
| SPX | 4019.87 | 4128.80 | 108.93 | 2.7% |
| VIX | 17.33 | 16.69 | -0.64 | |
| | | | | |
https://home.treasury.gov/system/files/221/TBACRecommendedFinancingTableQ22021-02032021.pdf
https://www.zerohedge.com/economics/stimmy-bonanza-here-comes-another-blockbuster-retail-sales-print
April 9, 2021
–Yields ground to slightly lower levels yesterday with tens down 2.3 bps to 163 and TYM settling exactly at 132-00.  Comments by the NY Fed's Lori Logan about aligning the Fed's purchases with outstanding issues caused a late bid in 20's, as it's now expected the Fed will announce an increase in buying there.  However, all treasury futures are slightly lower this morning.

–PPI is released today with CPI out next week.  I believe yoy is expected 3.8% with Core 2.7%.  Base effects are expected to provide strong price increases, whether they are temporary or not is the question of the day.  To give an example of base effects, BMW reported Q1 sales up 33%.  Not only is it a huge surge, but it was the company's best Q1 ever.  Mercedes also reported blockbuster sales.  I saw an article about a private jet shortage.  Lumber and corn made new high settles yesterday.  Articles abound about a lack of skilled labor.  

–A couple of large trades of note: early yesterday there was a buyer of 30k 4EN 9775/9750/9725/9700 put condor for 5.5.  Max loss on this trade is the 5.5 paid, max gain is 25 less the 5.5 paid, or 19.5 if underlying EDU5 is between 9750 and 9725 at expiry in mid-July.  I have attached a chart of EDM5, currently the first gold, because by July, EDU25 will have rolled to the 1st gold position. If prices remain in a downward sloping channel, then by mid-July we'll be around the 9725 strike.  Voila! 

–There was also a large VIX option trade, +200k July VIX 25/40cs reportedly for 2.00 to 2.15. Approx $40 million in premium.   Spot VIX is around 16.85, while the July future ~23.00.  Obviously the roll is a headwind for the trade, but the recent decline in VIX is perhaps indicative of a bit too much complacency given global tensions with Russia/Ukraine, China/Taiwan, Israel/Iran and the simmering issue raised by the state of Georgia trying to tighten up voting rules with the possibility of open hostility between Meghan McCain and Whoopi Goldberg.  :-/ 
April 7, 2021
-Yields fell yesterday in a continuing rejection of Friday's employment data.  Tens fell over 6 bps to 1.654%.  Friday's top tick in TYM was 131-20, now trading 131-25.  Red/gold euro$ pack spread closed at a high of 182 last week, yesterday it fell over 8 bps to just under 171.  Bearish news, including the surge in both ISM Mfg and Services and in the employment data, has been absorbed by a market that had apparently already priced in the strong releases.  Today FOMC minutes are released.  At the last FOMC, EDU3 settled 9914.5, now 9902.5.  EDU4 settled 9850.5, now 9835.5 and TYM at 132-03, now 131-22 (at yesterday's settle).  Rate futures pretty much sold off after the last FOMC; highs from that day should provide strong resistance.

–Fallout still being felt from the Archegos liquidation.  Various estimates have put the portfolio at $100 billion, capitalized with about a tenth of that.  Many of the stocks publicized in the Archegos portfolio dropped by about half, so call it a max of $50 billion lopped off the top value. CS has taken a hit of $4.7 billion, about 10% of the drawdown.  I guess it's not that big of a deal when one considers that a move of less than 2.5% in just AAPL alone is over $50 billion. 

–Treasury vol held up pretty well in the rally, with the atm TYK 131.75 straddle settling 1'02 or 4.5 with two and a half weeks left. EDH24 is the last green.  The atm long-dated straddle on that contract is the 9862.5 strike as the underlying settled 9858.5, and it settled 98.5 with 1077 days to go.  On Friday the 9850 straddle which was at the money, settled 101, the first time I saw the last green straddle over 100 bps in a long time!   
April 6, 2021


–SPX and DJIA at new record highs yesterday, not Nasdaq or R2K.  Yields eased from Friday, though Service ISM at 63.7 made a new high, at least since 1998 which is as far as BBG data went back.  Ten year yield was down around 0.5 bp to 1.716%.  Volume in rate futures was subdued.  Implied volatility bled, with TYM now 4.7 from over 5 at the end of the week.  Though WTI dropped $3/bbl yesterday, it held the low of the range in March so far and has rebounded to 60.30, up 165 this morning.

–In euro$s, the peak one-year calendar spread EDM23/EDM24 set a new high at 78 bps.  EDZ21/EDZ22 settled just above 1/4% at 26 bps, down 2 on the day.  The strongest part of the eurodollar curve was the green pack (3rd year), which closed +4 at an avg 98.87, while golds (5th year) only barely settled positive at +1 at an average 97.735.  Interestingly, 4EU 9637.5 puts have seen consistent buying at 1.5, with a buy of 4k yesterday and open interest now over 12k.  Underlying EDU25 settled 9778.5.  
April 4, 2021 -Weekly Comment


Net changes on the week in eurodollars: Whites -2.125, Reds -10.625, Greens -19.375, Blues -20.75 and Golds -15.75. The five year was the leader on the treasury curve, up 12 bps to 97.4 (a new high), with tens up 6.2 and thirties essentially unchanged. 5/30 treasury spread is 139, the lowest level since late January, at significant support of 137 to 139.
Reds are the second year out, greens and blues are the third and fourth years. Obviously the surge in yields in years 3 and 4 relative to the front end of the curve is telling us that the Fed will certainly be tapering/tightening in two years. Even a three-month spread like EDM2/EDU2 settled at 9.5 on Friday, a new high, having been between 1.0 and 2.5 from last September through January. That spread reflects a hike probability of over 35% during that three month period, which is only 1 ¼ years away. EDU1/EDU2 settled at a new high of 22.0 which signals near certainty of one hike over that year.

Last week Mfg ISM surged to 64.7, the highest level since 1983. Unemployment fell to 6.0% with non-farm payrolls jumping by 916k. This week ISM Services is released on Monday, expected 59.0. The high in 2018, the year in which almost all economic data made new highs in the Trump era, was 60.9. On Friday PPI is released, with Core yoy expected 2.7% vs 2.5% last month. The high in 2018 was 2.9%. Powell has repeatedly vowed to keep rates low because of continued economic slack, especially in the service sector, and because inflation cannot be sustained due to generational headwinds. We get info on both fronts this week.

It's worth noting that in 2007, just following the height of economic activity before the GFC, the unemployment rate bottomed at 4.5%. In 2004 as the Fed began to hike it averaged around 5.5%. In 2006 it averaged 4.6%. To think that the Fed must wait for something like 4% unemployment before raising the FF target from the emergency level of 0.0 – 0.25% is utter folly. In only three out of the past twenty years has unemployment been at 4% or lower.

In terms of the sustainability of actual price increases (that the Fed promises to look through) I tend to think about the example of Jon Corzine blowing up MF Global by loading up on peripheral debt. There are those who say, "Ultimately he was right, sovereign debt of Portugal and Italy, et al. had a tremendous rally." No. He was wrong. He destroyed the company, dipping into customer funds in the process. He probably should have gone to jail. Don't be Jon Corzine.
Sure, it might be the case that there is a one-time upward adjustment in prices followed by stability. However, the market is not currently giving any indication of that. TIP breakevens are at new highs with the ten year above 237 bps, a level not seen since 2013. Back month euro$ contracts easily set new lows on Friday. There will come a time when the market signals that the rise in yields has run its course. In my opinion, we're not there. Too many trapped longs hoping the Fed will come to the rescue with YCC. In that regard, look at ten-yr JGBs. For the last two quarters of 2020 the yield ranged between 0 and 5. In February it rallied to 15.5, then came back down to 6.8 in late March. Now it's back to 12.

FOMC minutes are released on Wednesday. On Thursday Powell participates in an IMF Forum on the Global Economy, starts at 12:00. There will be more assurances that inflation is temporary, that growth is Covid dependent, that there is a lot of slack in the labor market. Powell will tell us that the current emergency policy is appropriate. By the way, the NY Fed's Q2 Nowcast is 6.2%.
With regard to the front end of the market, I remember a time when banking issues caused front Eurodollars to sell off due to credit concerns. However, April and June Eurodollar contracts settled at 9981.5 and 9982 respectively, both lower in yield than the current libor setting of 19.975 (Thursday). I don't know enough about banking activities (and apparently neither do a lot of the banks themselves) but there were a couple of downgrades relating to the Archegos episode. I don't want to single out any one bank in particular, BUT, Credit Suisse, right on its own website has a tidy summary:
https://www.credit-suisse.com/about-us/en/investor-relations/debt-investors/ratings-credit-reports.html

Moody's, S&P and Fitch are all have negative credit outlooks, with Moody's giving this summary:
The negative outlooks on the senior unsecured debt, long-term issuer and deposit ratings – where applicable – of CS and CSG reflect Moody's view on (1) emerging signs of a higher-than-anticipated risk appetite or potential deficiencies in its risk management, audit, compliance or governance control processes and frameworks, as highlighted by a likely material loss from unwinding concentrated leveraged equity and derivatives' exposures following the failure of a US hedge fund client, in addition to the aggregate risk the group assumed in relation to Greensill's founder and his companies culminating in the wind-down of CS's supply chain finance funds…

We all have unquestioning faith in our Central Banks to backstop all of the messy problems in the world of finance, oh, and climate change… and of course equality, but I have to wonder how anyone can sell EDM1 9981.25 puts at 1.25 or 1.5 bps.  It's not that they will definitely finish in the money, although at Thursday's libor setting they would be darn close to breakeven.  It's that there is supposedly a credit aspect in the contract, and recent escapades highlight the fact that not all lending is 'money good'.  EDZ1 is a bit more reflective of these concerns for year-end, having settled at 9972.0 Friday, down 2.5 on the week.  I had been surprised that the 9975 straddle was recently sold down to 8.0; it settled 9 on Friday.  I had suggested looking at EDZ1 9975/9962p spread for 2.5, still a reasonable buy for 3.0 having settled 3.25.   

| | | | | |
| --- | --- | --- | --- | --- |
| | 3/26/2021 | 4/2/2021 | chg | |
| UST 2Y | 13.9 | 18.4 | 4.5 | |
| UST 5Y | 85.4 | 97.4 | 12.0 | |
| UST 10Y | 165.8 | 172.0 | 6.2 | |
| UST 30Y | 236.6 | 236.3 | -0.3 | |
| | | | | |
| GERM 2Y | -71.5 | -70.8 | 0.7 | |
| GERM 10Y | -34.6 | -32.8 | 1.8 | |
| JPN 30Y | 66.2 | 69.3 | 3.1 | |
| CHINA 10Y | 319.8 | 319.9 | 0.1 | |
| EURO$ M1/M2 | 8.5 | 14.5 | 6.0 | |
| EURO$ M2/M3 | 42.5 | 52.5 | 10.0 | |
| EURO$ M3/M4 | 72.5 | 77.0 | 4.5 | |
| | | | | |
| EUR | 117.96 | 117.60 | -0.36 | |
| CRUDE (active) | 60.97 | 61.48 | 0.51 | |
| SPX | 3974.54 | 4019.87 | 45.33 | 1.1% |
| VIX | 18.86 | 17.33 | -1.53 | |
| | | | | |
April 2, 2021
–NFP today expected 660k with yoy earnings +4.5%

–ISM Mfg released yesterday with a print of 64.7.  Oh sure.  It's been higher than that.  In 1983.  Dude: 1983.  I don't think they even said "dude" back then.  Have to wait until 1987 for Aerosmith's  Dude looks like a lady.  Anyway, was 1983 anything like today?

Let's start with some economic data from year-end:
Inflation (CPI)  3.8% (and falling)
Unemployment  8.3%
Fed Funds 9.5%(who says there can't be inflation with labor slack?)

***************
Michael Jackson's Thriller released.
Microsoft Word was launched.
The UK introduced the 1 pound coin.
More music: Bonnie Tyler's Total Eclipse of the Heart.
Now you'll have that stupid song stuck in your head all day.  You're welcome.
https://www.youtube.com/watch?v=lcOxhH8N3Bo

And, in a nod to my colleague Trent:
She Blinded Me with Science
Here are a few headline snippets:
https://worldhistoryproject.org/1983/page/5
On March 3, 1983, he [Ronald Reagan] predicted that communism would collapse, stating, "Communism is another sad, bizarre chapter in human history whose last pages even now are being written." In a speech to the National Association of Evangelicals on March 8, 1983, Reagan called the Soviet Union "an evil empire." 
–[Parallels today: the US is moving closer to communism and the President still puts Russia in the 'evil empire' category].
Apr 1983
Keith Richards appears on the cover of Guitar Player
In 1983, two separate research groups led by Robert Gallo and Luc Montagnier independently declared that a novel retrovirus may have been infecting AIDS patients, and published their findings in the same issue of the journal Science.
Vanessa Williams Becomes the First African-American Miss America
The Big Chill is a 1983 film about a group of baby boomer college friends who reunite after many years and explore the aftermath of the 1960s.
North Korean Operatives Detonate Bomb in Rangoon in Unsuccessful Attempt on Life of South Korean President, Chun Doo Hwan
Scarface is a 1983 epic crime drama film directed by Brian De Palma, written by Oliver Stone, and starring Al Pacino as Tony Montana.
"[Frank Lopez] Lesson Number One: Don't Underestimate The Other Guy's Greed! [Elvira Hancock] Lesson Number Two: Don't Get High On Your Own Supply."