October 23. 2020
–This comment written pre-presidential debate.   
–At futures settle I marked ten year yield at 84.4, up 4.7 on the day.  Half hour before cash close it had pressed higher, to 86.5.  On June 5, the high yield was 89.6.  The curve steepened across every measure.  2/10 up to a new high on the year 69.1, +4 bps.  5/30 128.6, up 2.5 to 128.6, also a new high for the year.  The only laggard is red/gold euro$ pack spread which rose 3 bps to 59.25, although it was 61 late in the session. (chart attached).  The high on June 5 was 62 bps and in March was 61.625.  Recent history would suggest it all fades from here, as follow-through in all markets just hasn't happened.  However, if this is truly a breakout then gains may come very rapidly.  
–Treasury vol remains subdued.  There was a seller of 4-5k TYZ 137.5/140 strangle at 29 early, followed by a sale of 6500 TYZ 137/140 strangle 23 to 22.  Settles were 31 in the former (7 and 24) and 23 in the latter (7 and 16).  Recall the 50k TYZ0 139/138/137.5 put tree bought from 3 to 5, is short that 137.5 strike and more shorts have been added there.   The tree settled 7, but a push below the 138 strike may cause some discomfort.  Option activity thus far suggests limited scope for a yield surge. However, look at grains…
I would also note that the BBG Commodity Ag index is at its highest level since June 2019.   Do beans lead bonds? Copper is well above 2019 levels.
October 22, 2020
–For a while, market zigzags were all about the imposition or removal of China trade sanctions.  Now it's all about stimulus, and Trump's comment late yesterday that he didn't think an agreement was going to happen caused selling pressure in stocks (which has somewhat abated as of this writing).  
–Yesterday, the curve continued its steepening trend, with 2/10 up 1.2 bps to 66.4 (testing the year's highs just above 68) and 5/30 up 1.2 as well, to 127.3.  Brainard gave a speech yesterday and in one section said she monitors many indicators of inflation.  Worth noting then, that the 10 year tip breakeven rose yesterday to 174.3, near the high set in the beginning of the year at 180.  In late March I marked that spread as low as 50 bps, which brings up another comment from Brainard: "While inflation may temporarily rise to or above 2 percent on a 12-month basis next year when the March and April price readings fall out of the 12-month calculation, my baseline forecast for inflation over the medium term is for it to remain short of 2 percent over the next few years." We almost certainly will have a surge in inflation early next year due to yoy comparisons.  Of course, she also noted that the Fed, according to the new framework, will not hike until 2% is surpassed and appears sustained.  
–One other comment by Brainard:  "Interest-sensitive sectors such as residential real estate and autos have rebounded strongly—a welcome reminder of the power of monetary accommodation, especially when coupled with necessary fiscal support."    In other words, the Fed still has the power to bring consumption forward.  But what if it's not sustained?  Or if fiscal handouts are reduced?
–Yields rose slightly at the long end, but vol was muted. 
–The attached chart of solar energy ETF TAN shows an interesting decline of 8% yesterday.  One BBG chat noted that perhaps it's a signal that Biden's lead isn't as certain as polls indicate.  Maybe a stretch, but there's sure to be some energy market volatility in the aftermath of the election
October 21, 2020
–Themes on the day were somewhat at odds with each other, vol selling in TY and curve steepening.  Early yesterday morning there was an exit seller of 10k TYZ 140c at 15, settled 13 vs 138-225.  Then a huge TYZ0 put tree was bought, >50k 139/138/137.5 put tree (+1/-1/-1) for 3/64 vs 138-24 with 7 delta.  Puts settled 54/28/19 so 7 on the package.  Ignoring the futures hedge, max value of the tree is 64/64s less premium paid, between 138 and 137.5, with a bleed below the lowest strike.  The 137.5 strike is approx  13.5 bps away, equating to around 93 bps in cash tens. (Ten year yield was up 3.8 yesterday to 79.7).  Finally, there was a seller of 31k TYF 136.5/139.5 strangle at 44/64, where it settled vs TYH0 138-115.  Jan options expire on Christmas eve; the 136.5 strike is around 1% in terms of yield.  While these trades indicate limited downside, gold euro$ contracts (5th year forward) made new lows yesterday, settling at the lowest levels since mid June.  EDH24, Blue March, which has seen heavy midcurve put activity, settled at 9945 and prints 9944 this morning, also a new low since mid-June.  Weakness at the back end of the curve translated into curve steepening.  2/10 was up 3.8 to a new recent high of 65.2; the double top from earlier this year is just over 68 bps.  5/30 closed over 126 bps (new high) and red/gold pack spread gained 3.75 with reds down just 0.5 and golds -4.25.  So, as the curve approaches new highs on the year, vol sellers appear to feel yield increases are capped.  
–One other side note.  While Jan treasury options are gaining open interest, the still expire in December.  March options are open and will become increasingly liquid, but expire in February.  Currently only about 1k TYH puts in open interest.
–Yesterday I mentioned the red to blue pack spread which was around 28 bps, or the equivalent of just one hike over 2 years.  Reds are EDZ1 thru EDU2 and blues Z3 to U4.  That spread widened a bit yesterday to 30.875.
–In stocks it's all about stimulus.  Price action is quite choppy.  NFLX disappointed with their earnings report as the COVID boost fades.  TSLA today.

Picture of TYZ tree payout…courtesy of Pricing Monkey
October 20, 2020
–This time DJT has nothing to do with Donald J Trump, or maybe it does.  On Monday the Dow Jones Transports made a new all-time record high of 12000.19, but things went pear-shaped from there.  Though volume wasn't stellar, DJT range was larger than all of last week's and it closed on the low of 11708.09, down 128 points or 1.1%.  Losses in other indices were higher, with SPX and Nasdaq both falling over 1.6%.  Of course, it's all about stimulus and gov't support, and with Mnuchin and Pelosi talking again, it's probable that a last minute deal is ratified. (Stocks are higher this morning).  Clarida helpfully chimed in that the economy has "a long way to go" for recovery.
–In spite of equity weakness yields ended higher on the day with tens up 1.7 bp to 75.9.  Curve steepened slightly with new highs in a few of the near one-year euro$ calendars as the 3-month libor setting posted a record low (ironically corresponding with the October ED expiration).  EDV0 final settle 99.7914 or 20.86 bps.  EDH1/EDH2 closed at a new recent high of 6.0, up 0.5 on the day. 
–The red/blue euro$ pack spread closed up 1.875 at 28.75. That spread captures the two year yield difference between 2022 and 2024 and sits just over one-quarter pct. One hike over a two year period…with retail sales surprising to the upside last week and NAHB home builder confidence at all time highs yesterday. Today's data includes Housing Starts, expected 1.465m from 1.416m.
–Implied vol firming in treasuries as higher yields are threatened. USZ0 at new recent high 10.8 up 0.6. November treasury options expire Friday. In dollars, bearish plays continue to be expressed in blue midcurves. For example, +4k 3EZ 9950/9937ps vs -4k 9962c for flat. (settled 0.25 for ps ref 9952 in EDZ3) and +4k 3EH 9937/9912ps 6.0 (settled 6.0 ref 9947.5 in EDH4).
–Earnings season: NFLX and SNAP today post-close, with TSLA tomorrow and the big tech names next week.
Someone on twitter posted this archaic clip from 'Wall Street Week', which aired Oct 16, 1987, the Friday before the crash. Nice warning from Marty Zweig!
It's pretty amusing that reasons for weakness never change: 1) rates 2) Persian gulf tension impacting oil 3) the 'political situation', including prospects for a new tax hike 4) computer driven trading programs.. THE ALGOS!
October 19, 2020
–Yields little changed on Friday with tens up 0.8 bp to 74.2.  However, with stocks powering higher this morning due to (choose your reason) vaccine hopes, stimulus hopes, China's rebound, fixed income is lower.  The low so far in EDH'24, blue March, which has seen exploding midcurve put activity, is 9945.5 on Oct 9.  This morning it sits at 9947 as the ten-year yield prints 77.4.  (The high 10y yield this month has been just under 80 bps).  
–As mentioned over the weekend, several Fed officials appear to be concerned about levitating stocks, as interest rate policy is handcuffed near zero.  Over coming weeks we're likely to see announcements of new macroprudential rules in an attempt to constrain "excessive speculation".  My assumption (which could be incorrect) is that a Biden administration will also move toward heavier regulation.  In the short term, perhaps a new blast of stimulus will outweigh the prospects of increased regulatory burden.  Powell takes part in an IMF panel on cross-border payments today.  Not likely to be any regulatory hints there, but Clarida speaks on the economic outlook mid-day, and there will likely be mention of pockets of undue risk-taking.

–Nov treasury options expire Friday.  With TYZ 138-26, the TYX 138.75 straddle is 27.  
October 19, 2020 – Weekly comment
The Fed's Vice Chair for Supervision Randal Quarles, gave remarks last week about the financial system's response to the "COVID event". The main purpose of the speech was, I think, to explain the decision to extend the share buyback suspension and continued limitation of dividends for banks in order to preserve capital. He noted that additional rigorous stress tests had been applied to the system. Importantly, he said, "For monetary policy to fully support Main Street we need a well-capitalized stable banking system that is lending to credit worthy households and businesses." He noted that the Fed "temporarily" exempted Treasury securities from the Supplementary Leverage Ratio so that banks could absorb [massive] and growing treasury issuance. It seems to me that an unsaid necessity of this strategy is a reasonably positive sloped curve, so that banks can generate income to fortify capital.
He also said that the non-bank financial intermediation (NBFI) sector is now almost 50% of total financial intermediation, and alluded to increased macroprudential tools to contain fall out from adverse events.
My point in bringing this up is that as the curve has become tilted in favor of a steepening bias, there is some concern that the Fed could still step in with YCC and arrest a possible march to higher yields.  I think that Quarles' speech indicates the Fed would tread lightly with this option.  Clearly, financial shares have been a huge market underperformer.
In terms of macroprudential policies, several Fed officials have referred to excessive risk-taking recently, notably Boston Fed's Rosengren over the weekend in comments to the FT: "If you want to follow a monetary policy …that applies low interest rates for a long time, you want robust financial supervisory authority in order to be able to restrict the amount of excessive risk-taking occurring at the same time." SF Fed's Mary Daly earlier in the week said much the same thing to the Washington Post when asked what was at the top of her list in terms of unintended consequences from the Fed's actions. She said the Fed took action to settle financial markets, but financial markets "get a sense that things are better than they are" so the Fed must be mindful of excesses.
I'm not sure that this nervousness about financial stability and stock speculation given the Fed's vow to keep rates low is permeating the thoughts of all policy makers, but it seems to have gained traction. Chicago's Evans recently said that keeping rates low even as inflation increases may be "uncomfortable". In a way, the Fed may welcome an increase in yields at the long end of the curve to do the heavy lifting in terms of providing a brake on equity speculation with an increasingly competitive return. In any case, we are likely moving towards a heavier regulatory hand to counter the looseness of short end rates.
On Monday Clarida speaks on the Economic Outlook and may give more of a clue on the macroprudential front. On Tuesday Quarles speaks again on Financial Stability. Beige Book is released on Wednesday. Prior to that, treasury auctions $22 billion in 20-year bonds on Wednesday, followed by $17 billion in 5-year tips on Thursday. Monday is the anniversary of October 19, 1987, Black Monday, when the Dow Jones Industrial average plunged 22.6%.
OTHER MARKET/ TRADE THOUGHTS

Both Philly Fed and Retail Sales were much stronger than expected last week.  New business formations are soaring. Cass Transportation reports that North American Freight volumes are back near 2019 levels.  The US Federal Budget Deficit was an astounding $3.1 trillion in fiscal 2020, with more to come after the election. 
There continues to be heavy volume trade in 3EH1 puts (blue March midcurves). The large core trade is -3EH1 9975/9987.5 call spread vs +3EH1 9912.5/9900 put spread. Call spread settled 1.0 and put spread 1.25 vs EDH'24 9950. The 9925/9912.5 put spread alone settled 2.25 which is a nice simple trade on its own, risk 2.25 to make 10.25. The call spread vs put spread total is around 160k, primarily done at pay 0.25.
The libor/SOFR transition is scheduled for the end of 2021.  I've not followed this as closely as I should have, but apparently the switch to using SOFR as a discounting mechanism on swaps went smoothly on Friday.  In any case, the eventual shift has been noticeable in pricing on the Eurodollar curve.  For example, as shown on the chart below, EDZ1/EDH2/EDM2 three-month butterfly has rallied from -3.0 to +2.0 over the past month.  Any 'turn' effect on EDZ21 associated with credit concerns embedded in libor has been priced out.  EDU21 to EDZ21 settled +3.5 and EDZ21 to EDH22 settled 3.0.  This is also the case with the Dec'23 contract. 
| | | | | |
| --- | --- | --- | --- | --- |
| | 10/9/2020 | 10/16/2020 | chg | |
| UST 2Y | 15.1 | 14.3 | -0.8 | |
| UST 5Y | 33.3 | 31.7 | -1.6 | |
| UST 10Y | 77.2 | 74.2 | -3.0 | |
| UST 30Y | 157.4 | 152.7 | -4.7 | |
| | | | | |
| GERM 2Y | -71.4 | -77.5 | -6.1 | |
| GERM 10Y | -52.7 | -62.2 | -9.5 | |
| JPN 30Y | 63.2 | 61.6 | -1.6 | |
| EURO$ Z0/Z1 | -0.5 | -1.0 | -0.5 | |
| EURO$ Z1/Z2 | 9.5 | 8.0 | -1.5 | |
| EURO$ Z2/Z3 | 15.5 | 14.5 | -1.0 | |
| | | | | |
| EUR | 118.27 | 117.18 | -1.09 | |
| CRUDE (active) | 40.91 | 41.12 | 0.21 | |
| SPX | 3477.14 | 3483.81 | 6.67 | 0.2% |
| VIX | 25.00 | 27.41 | 2.41 | |
| | | | | |
| | | | | |
https://www.federalreserve.gov/newsevents/speech/quarles20201014a.htm
October 16, 2020
–Yields rose slightly as stocks fought back from initial weakness.  ESZ put in a low of 3431.50 before rallying back 44 to 3475.50, down only 5.50.  Yields edged slightly higher with tens +0.8 to 73.4.  Philly Fed surged to 32.3 vs an expected 14.8.  This is above all 2019 levels and all of 2018 (high of 32.2 in 2018).  The grain complex looks strong with Dec Corn 403 ¾, at the year's high.  Dec Wheat easily made a new yearly high at 619 ¼ while beans are lagging a bit.  Also poised to make a new high, Dec Copper at 308.75.  Somewhat interesting that real THINGS are making new highs here. (BBG Commodity Index chart attached).  Of course, bitcoin also looks poised to test the early high at 12473 set in August.  Late yesterday was 11540.  Of course, maybe it's all summarized by a Reuters headline: "Investors throw money at everything, dump cash – BofA". 
–I saw a fascinating Nova episode last night dealing with the "landscape of fear", that animals in the wild without predators tend to change their behavior and venture into open plains when lions/ hyenas have been absent for a while.  Not only are the investment predators gone, the Fed is throwing bushels of feed into the open fields, as SF Fed's Daly intimated yesterday.
–Today's news includes Retail Sales expected +0.8 with Industrial Production +0.5 and U Mich long term inflation expectations.

–Downside plays continue in Blue Mids.  3EH 9937/9912p 1×2 2.0 paid 2500
3EH 9937/9900ps 6.75 for 4k, settled 6.75 vs 9950.0.  Blue March has the most open interest of any month in midcurve puts at 588k except for 2EZ (green dec) at 740k.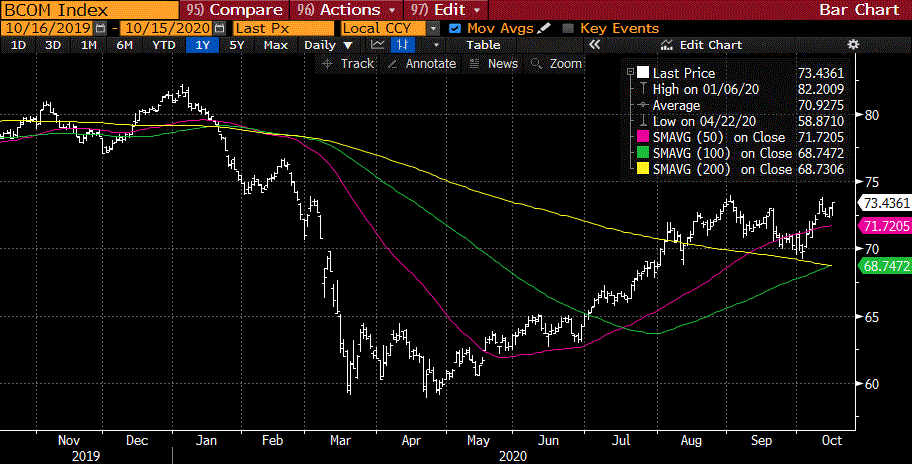 October 14, 2020
–Yields dropped and the curve flattened as stocks saw minor profit taking from near all-time highs.  Earnings today include Alcoa (AA), along with banks, BAC, GS, PNC, USB, WFC.  2/10 down to 58.7 and 5/30 to 121.2 from last week's new yearly high of 124.6.  The ten-yr ended at 72.6, down 3.8 from my estimate on Monday. 
–As a fun note, Greece's ten year yield is less than 6 bps higher than the US at 78.5 bps.  To put into context, in 2012 the spread of Greece to US was 35%, as Greece hit a high of 37%, and Draghi saved the euro.  In 2015 the spread was 10% as Greece was around 13-14%.  Now it's essentially zero.  
–Another trivia note.  The 1987 crash was 33 years ago this week.  On Oct 13, 1987, SPX closed at 314.52.  On Oct 19, it closed at 224.84, a decline of 28%.  
–Core yoy CPI yesterday was 1.7.  PPI Core expected 1.0 from 0.6 today.
–Eurodollar option trades were mostly adds:  another 35k 3EH 9912/9900ps bought vs 9975/9987cs paying mostly 0.25 for ps.  Settled +0.25 vs 9951.5.  Buyer of 15k 3EZ 9925/9900ps around 1.0 (done vs futures).  Settled 1.0 vs 9956.
–Today's news includes PPI with Core yoy expected 1.0 vs 0.6 last.  CPI yesterday Core was 1.7.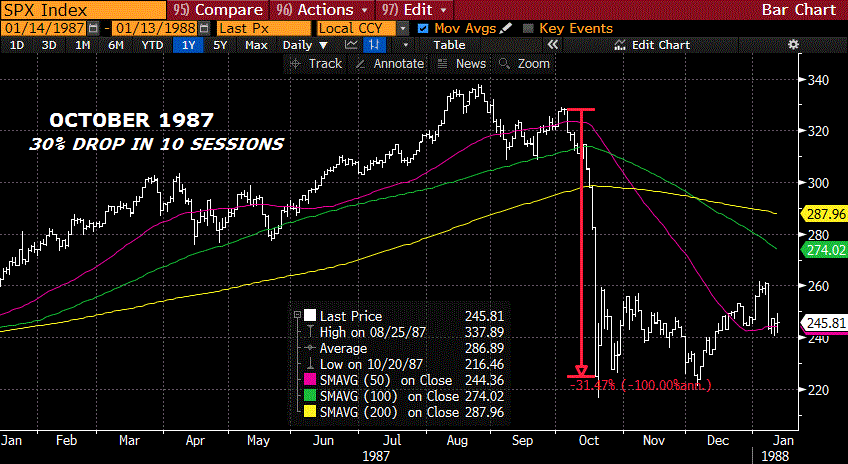 October 13, 2020
–Quiet yesterday in rates as Nasdaq soared 2.6% in thin holiday trade. I had no idea indigenous peoples were so enthusiastic about high tech.  Curve had a slightly flatter bias as the red pack was unch'd and golds were +1.125.  There was almost no option trading in rates, although there was a buyer of 15k TYZ0 132.5p for 1 ref 138-28, with that strike somewhere around a 1.50% yield (vs late yesterday estimate of 76.4 bps in 10-yr).  The large 3EH call spread vs put spread (9975/9987cs vs 9912/9900ps) traded 0.5 a total of 650 ref 9947.5 in EDH'24, bought the put spread.
–Hoisington's latest quarterly note has the most consistently bullish analyst (for decades), Lacy Hunt, concerned that the Fed's open monetization of the US deficit could end the bond bull market.   
–Headline on Reuters: Reuters/Ipsos poll shows Biden lead over Trump growing in Wisconsin, Pennsylvania. I drove to Lake Geneva WI over the weekend. There are Trump signs everywhere and almost none for Biden, easily 100 to 1 ratio. I am sure that's not representative of Milwaukee or Madison, but the polls may not be correct.
–Another somewhat positive headline: German economy may return to pre-crisis levels in early 2022: Finance Minister.
Followed by: 'German banks should prepare for wave of insolvencies, says Bundesbank'. Both on Reuters. It doesn't seem like both can be right.
–With the Turkish lira continuing its slide, Turkey is once again provoking Greece by planning exploration in waters off Kastellorizo. Economic disarray raising the odds of military conflict…
October 11, 2020 – Weekly comment
My note last week was titled "Singing the Blues" and I added a great Albert King youtube, Born Under a Bad Sign. ("If it wasn't for bad luck, I wouldn't have no luck at all" ).  For those that missed it, here's the link.  That one reminds me of going to Kingston Mines on Halsted long ago to watch live blues to the early hours in a smoky bar.
Of course, the topic of the note was much less stimulating. It concerned trade flows into blue and gold midcurve puts. Steadily building buys of puts and put spreads in Dec, March and June expiries in 3E and 4E were punctuated on Friday with a 110k volume put spread versus call spread: Bought 3EH 9912/9900ps vs Sold 3EH 9975/9987cs for 0.25, and 0.5 traded as well. EDH'24, the underlying contract, settled 9946.5. The put spread settled 1.75 and the call spread at 1.25. Delta of -0.15. On the surface, one might conclude it's not particularly compelling, if the call spread fills in, total loss is 12.75 bps and if the put spread fills, then make 12.25. However, the high in this contract has been 9969.5 in August, while it was 9850 in February, prior to emergency easing in March. Open interest in 3EH puts almost doubled on Friday to 480k, with a net increase of 216k on Friday.
Over the week, there was a lot more commentary about curve steepening, and indeed 5/30 ended the week pretty much at the year's high of 124 bps. On the Eurodollar curve, the red to gold pack spread (2nd to 5th year forward) settled at a recent high of 51.75. High settle of the year has been 62. For context, at the end of 2016 it was just over 100 bps and at that time 5/30 had spiked to 140. Sentiment is slowly shifting to the idea of an inflation premium coming back into the market, or concerns about long end supply, or maybe both.
However, what I want to turn the conversation to is something I noticed in the Fed minutes released this week, and relate it to the broader financial landscape.
Let's start with the Fed minutes. There is always a section called 'Staff Review of the Financial Situation'. It's just exactly how it sounds. Dry. No embellishment. In a way, this how I would like ALL news to be, just a straight reading of the facts, without bias. For policy implications, it's probably best to read the sections pertaining to "Participants", the analysis of actual board members. I find that sometimes there are glaring disparities between the staff descriptions and sections attributed to participants. The Staff also provides a Review of the Economic Situation and Outlook. Don't ignore the guy with the red stapler.
Anyway, here's the line that caught my eye. "The near-dated implied volatility on 10-year Treasury securities was little changed over the intermeeting period and remained near the bottom of its historical range." While the staff commonly refers to conditions and volatility in the treasury market, and always mentions VIX, I hadn't previously noticed such specificity with respect to the ten-year note. We all know that the MOVE index has made historic new lows. It's almost as if the Fed is saying, "We've managed to compress the price of insurance premiums to rock-bottom lows in the face of significant uncertainty." I personally don't think that's a healthy development.

Later in the minutes: "In their comments about inflation, participants noted that consumer prices had increased more quickly than expected in recent months and that market-based measures of inflation compensation had increased moderately over the intermeeting period, although they remained low." In other words, we've slightly misjudged inflation, and the market is telegraphing a change, but… we've managed to compress volatility. Later: "Additionally, a couple of participants indicated that highly accommodative financial market conditions could lead to excessive risk taking and to a buildup of financial imbalances."
The table is set. Last week Chicago Fed's Evans said on BBG TV, "We've got to overshoot for sure… I would be quite pleased if we could get inflation, core inflation, up to 2.5% for a time." He added, "I think we are going to have lower for longer interest rates for quite some time, and it will probably be uncomfortable for many people."
Low vol and low rates shifts investors out to the slender branches of the risk tree. This dynamic is embodied by the trend of listed SPACs, or Special Purpose Acquisition Companies. According to Bloomberg, "More than 100 of these blank-check companies have gone public this year, raising more than $40 billion on US exchanges, more than half the total raised in all previous years combined." The story goes on to say, "The entities provide a way for businesses to go public without going through an initial public offering." While a mutual fund may target a specific investment theme, and ETFs specific sectors, the idea of a public "blank-check" acquisition group engaging in private deals to juice returns strikes me as being mismatched in terms of both liquidity and time. Investors may not be attuned to the true characteristics of these SPACs. By the way, Vincent Deluard notes that there are now more ETFs than stocks listed on the NYSE and Nasdaq. (Thanks GC). The VIX eased to 25 this week, -2.63 and the lowest since late August, but the interconnectedness of products makes me wary at these levels.
My own personal SPAC is an investment in a tattoo removal company that has developed an alternative (cheaper, safer) method. They're still looking for funding. If anyone's interested contact me and I will point you in the right direction. Of course, potentially high reward means high risk; capital can easily evaporate.
Speaking of the possibility of vanishing capital, Illinois continues to teeter on the brink of junk. "…S&P found Illinois faces at least a 5% budget gap for the current fiscal year 2021, even if the progressive tax is approved. The rating agency also warned because of rising debt and continued unbalanced budgets, "Illinois could exhibit further characteristics of a non-investment-grade issuer." In other words, the state of Illinois is at risk of becoming the first "junk"-rated state in U.S. history. All three major ratings agencies currently put Illinois just one notch above junk status with a negative outlook, indicating further downgrades could come soon.
Finally, here's a 14 second video clip that might make you feel a little bit better about the robots controlling the market.
CPI Tuesday, PPI Wednesday, Philly Fed Thursday, Retail Sales and Industrial Production Friday.


| | | | | |
| --- | --- | --- | --- | --- |
| | 10/2/2020 | 10/2/2020 | chg | |
| UST 2Y | 13.1 | 15.1 | 2.0 | |
| UST 5Y | 28.3 | 33.3 | 5.0 | |
| UST 10Y | 69.4 | 77.2 | 7.8 | |
| UST 30Y | 148.2 | 157.4 | 9.2 | |
| | | | | |
| GERM 2Y | -70.9 | -71.4 | -0.5 | |
| GERM 10Y | -53.6 | -52.7 | 0.9 | |
| JPN 30Y | 60.3 | 63.2 | 2.9 | |
| EURO$ Z0/Z1 | -3.0 | -0.5 | 2.5 | |
| EURO$ Z1/Z2 | 6.0 | 9.5 | 3.5 | |
| EURO$ Z2/Z3 | 13.5 | 15.5 | 2.0 | |
| | | | | |
| EUR | 117.17 | 118.27 | 1.10 | |
| CRUDE (active) | 37.34 | 40.91 | 3.57 | |
| SPX | 3348.42 | 3477.14 | 128.72 | 3.8% |
| VIX | 27.63 | 25.00 | -2.63 | |
| | | | | |
https://www.federalreserve.gov/monetarypolicy/fomcminutes20200916.htm
https://www.bloomberg.com/news/articles/2020-10-09/billionaire-dan-och-teams-up-with-fuhrman-for-750-million-spac?srnd=premium
https://kingstonmines.com/about/