January 13, 2021
–Early morning weakness in fixed income subsided after the ten year auction; yields ended only modestly higher.  Tens up 0.7 bp to 113.8.  2/10 squeaked to a slight new high of 99.3.  Eurodollars were flat to down 1 out to five years.  Today's news includes CPI, expected +0.4 month/month with yoy Core 1.6% (last at 1.6).  Beige book released this afternoon in front of the Jan 27 FOMC.  Brainard speaks at 1:00pm on the economy, which could be an important event.  An article on BBG this morning notes: "In the past week, four of the Fed's 18 policy makers have publicly raised the prospect they may discuss reducing bond buying – currently running at $120 billion a month – by year's end.  In contrast, several others have called the debate premature and Fed VC Clarida, the most senior central banker to weigh in, has said he doesn't expect any changes before 2022."  So today Brainard, who will probably become the next Fed Chair, weighs in, followed by Powell tomorrow.  While Fed officials still lean towards a slight downward risk in inflation (according to Clarida), markets have taken a different view.  Since November, WTI is up 43% from around $37/bbl to $53.  Corn is up 33% over the same timeframe, from about $4 to this morning's $5.32.  A story on ZH citing FreightWaves.com notes: "It has never been more expensive to get a container of goods across the ocean." (The article is mostly about anomalies in LNG shipping).  And, in terms of asset price inflation: "The percentage of NYSE stocks above 200-day moving averages has surpassed 90% for the first time since 2009.  This rare event has happened only 5 times using weekly data going back to 1974."  The dollar has had a small bounce which feels like its fading. 

–The BBG article cited above voices some concerns about a repeat of 2013's "taper tantrum", but I think a reduction in bond buying will have a more negative impact on stocks than bonds.  In any case, Brainard and Powell will defer the idea of tapering any time soon in the quest for official inflation readings above 2%.  By then, of course, it will be too late!

–Decent buying yesterday in TYG 137c which traded mostly 4 but settled 6 ref 136-125 with an open interest jump of 51k.  These were the most heavily traded TY call and expire on the 22nd, two days after the inauguration.   
January 12, 2021
–Interesting session Monday which featured continued steepening and a push to higher yields.  Tens rose 2.1 to 113.1.  Back month euro$ calendars have exploded over the past week as sentiment has shifted.  Red/gold euro$ pack spread (2nd yr forward vs 5th year forward) rose over 4.5 on Monday to 98.5, equaling 2/10 which closed 98.8 (+1.3).  Red/gold was 72 on Jan 4, so it's up 26.5 in six sessions.  As another example, EDH3/EDH4 (green/blue March) settled yesterday at 41 from 28.5 on Jan 4.  There was particularly heavy trade once again in Blue March midcurve puts, with the standout being a buy of >100k 3EH 9887p for 2.5 (settled there vs 9924).  Taking advantage of this trade, there was a buyer of 20k 9912/9900/9887 put tree for 0 (settled 0: 6.5, 4.0, 2.5).  These trades give some sense of how the market has positioned:  the thought had been to keep premium outlays low by expressing a short, but selling extra downside puts, because after all, the market hasn't shown true downside follow-through in years.  Now we see a reach to cap off open-ended downside risk, even as others dismiss the possibility.  

–What has contributed to the shift?  Biden is unveiling his multi-trillion stimulus package on Thursday, just as treasury attempts to auction $38b in tens today and $24b thirties tomorrow.  I suppose that can cause a 'concession'.   TYH currently at a new low 136-07.

–This may or may not fall under the heading of speculative excess, but Jan bitcoin futures fell 5740 or 14% yesterday to 33780.  On the same topic, here's a snippet from Jeremy Grantham's piece: "…my personal favorite Tesla tidbit is that its market cap, now over $600 billion [yes he's off by $200 billion, but that was DAYS ago] amounts to over $1.25 million per car sold each year versus $9000 per car for GM."  Grantham minces no words and says it's all a bubble. 

–In other news, the FBI is warning of general protests which may break out into something "mostly peaceful".  A private collector of "decommissioned surplus military equipment" helpfully chose yesterday to have a tank delivered by being driven down the streets of Palmetto Bay, Florida.  I don't mind tanks in the streets, just don't cut off my social media feeds…  And the mayor of Washington is advising those planning to attend festivities associated with Biden's inauguration to stay home.  All nine of them.  [too early?]


https://www.local10.com/news/local/2021/01/11/why-is-a-tank-driving-around-miami-dade/?utm_source=fark&utm_medium=website&utm_content=link&ICID=ref_fark
January 10, 2021 – Weekly Comment
In the late 1990's, the dot-com bubble was in full force.  Companies that wanted to attract investors to boost stock valuations simply added "dotcom" to their business names.  There were a lot of crazy listings.  What popped into my mind, and this of course is NOT crazy, is Pets.com.   Look around today, and everyone has some sort of emotional support pet, a fact that has probably helped many weather the covid storm. *raises hand*.  Pets.com had a famous sock puppet as its mascot (allegedly modeled after the unparalleled Triumph the Insult Comic Dog, see bottom), and the company went on an advertising blitz to gain market share.  Partially backed by Amazon, Pets started operations in early 1999. According to Wikipedia, "…during its second fiscal year the company continued to sell merchandise for approximately 27% less than cost, so the dramatic rise in sales during Pets.com's second fiscal year only hastened the firm's demise." How do we do it?  VOLUME!  Going public at $11 in February 2000, the company almost perfectly top-ticked the market; Nasdaq posted its bubble top in March 2000.  By November, the stock was trading at $0.19 and the company declared bankruptcy.
For a bit of background on conditions, I lifted this from thebalance.com:
In 1998, GDP was 4.5%, unemployment was 4.4%, and inflation was 1.6%
In 1999, GDP was 4.8%, unemployment was 4.0%, and inflation was 2.7%
In 2000, GDP was 4.1%, unemployment was 3.9%, and inflation was 3.4%
In 2001, GDP was 1.0%, unemployment was 5.7%, and inflation was 1.6%

So there was a round-turn in inflation from 1998 to 2001. In '98 the Fed had cut the FF target to 4.75% in the wake of the LTCM blow-up. By March of 2000 (again, the Nasdaq top) it had been jacked to 6% in a series of 25 bp increments, and in May, the coup de grace 50bp hike to 6.5%. By the end of 2001 the Fed had slashed the target to 1.75%. Nasdaq had more than doubled from its Oct 1999 low of 2300 to reach 4816 in March '00. In another year (March 2001) it was 1700.

And now, fittingly announced by the Pets mascot, we present to you, LMF Acquisition Opportunities!

From the Preliminary Prospectus, and no, I am not making this up (thanks HB for the link!):
LMF Acquisition Opportunities, Inc. is a newly organized blank check company formed for the purpose of effecting a merger, capital stock exchange, asset acquisition, stock purchase, reorganization, or similar business combination with one or more businesses, which we refer to as our initial business combination. While we may pursue an initial business combination target in any business, industry or geographical location, we intend to focus initially on transactions with companies and/or assets within the financial services industry, including potentially the financial technology ("FinTech") sector, and related sectors. We have not selected any specific business combination target and we have not, nor has anyone on our behalf, initiated any substantive discussions, directly or indirectly, with any business combination target.

https://www.sec.gov/Archives/edgar/data/1831868/000156459021000649/lmao-s1.htm
That's right. Yesterday's news: dot-com. Today's innovation: SPACs. No product. No plan. Brilliant!

"Our sponsor, LMFAO Sponsor, LLC, a Florida limited liability company, has agreed to purchase an aggregate of 4,598,000 warrants at a price of $1.00 per warrant…in a private placement that will close simultaneously with the closing of this offering.
We have applied to list our units on The Nasdaq Capital Market, or Nasdaq, under the symbol "LMAOU"

Is that 'laughing my ass off' WITH you, or AT you?
I'm sort of old school, in a Frank the Tank way, but I think that LMAOU, if it flies, though exceptionally well-timed to coincide with bitcoin in the fintech sphere, and brilliantly conceived as a marketing tool for the Robinhood crowd, is a sign that perhaps there is too much liquidity sloshing around.
In terms of liquidity, President-elect Biden vows to get the $2000 payments out, and has said his stimulus package will be in the "trillions of dollars" the details of which he will reveal on Thursday. Stocks are at all time highs. The dollar index has started the year at lows not seen since early 2018. Bitcoin has gone up 4x to $40k since October. And the treasury is set to auction $120 billion of debt this week: $58b 3s on Monday, $38b 10s on Tuesday and $24b 30s on Wednesday. With, as we like to say "more behind". Now of course our friendly central bankers can help the market absorb that supply. However, long-end buyers are quite a bit less enthusiastic recently as can be seen by recent curve moves to new highs.
From Dec 31 to Friday, 2/10 has gone from 79.6 to 97.6, 17 bps. 5/30 from 128 to 138.5. And red/gold Eurodollar pack spread (2nd year to 5th year) from 72 to 94, or 22 bps. Refer back to data from thebalance above. Inflation went from 1.6% to 3.4% in two years. That was with the Fed hiking in an environment of positive real rates. Sure, the Fed has vowed to fund juicy positive carry for a couple of years, but what happens if little clues like Friday's yoy Avg Hourly Earnings print of +5.1% and last week's ISM MFG Prices Paid of 77.6 (high since the 2018 peak of 7.5) are not just one-offs, but are a sign that inflation is actually becoming entrenched?
The 5/30 treasury spread trades at the high of the year at 138.6, and the attached chart shows that print just matches the high of the Trump presidency. Just after the election, 5/30 traded 139.7 on November 10, 2016, as an expected surge in economic activity was expected due to tax cuts and loosened regulatory constraints. The Fed had the same expectation and began 'normalizing' with both rate hikes and balance sheet tapering. By July 2018, the curve signaled the Fed had gone too far as inversion occurred in the red/gold euro$ pack spread; it had peaked over 100 after the election and is 94 now. The $50 billion per month balance sheet tapering which started in October 2018 combined with the last Fed hike in December of that year was the final straw and SPX declined by a third in Q3 2018.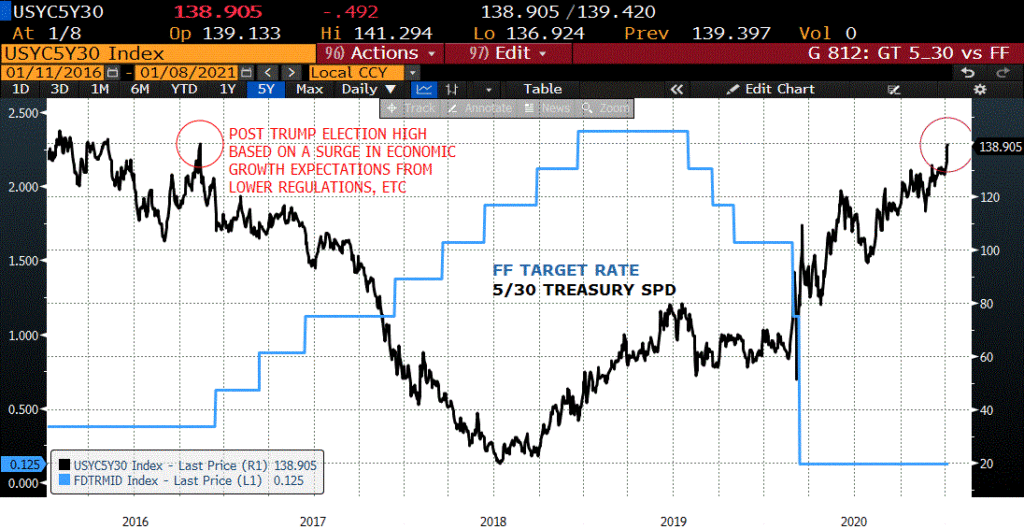 Now we have a federal government spending spree and a Fed which vows to accommodate it. Happy days. By the way, the high of this century thus far in 5/30 is just over 300 bps in November of 2010.
OTHER MARKET THOUGHTS/ TRADES
A lot was packed into the first week of 2021. Democrats won control of the government with a sweep of the Georgia Senate run-offs. The US Capitol was mobbed in the wake of a pro-Trump rally. Clarida gave a speech on the economy.
2020 was a year of mob mentality. It swept through major cities abetted by mayors and politicians, fueled by social media and mainstream news alike. Businesses and livelihoods were looted, burned and destroyed. Hopefully it culminated with last week's episode abetted by Trump, but I doubt it.
It is the case of an unlawful mob, which in itself is a crime; a mob bent on mischief; a mob that has no rights. They are too dangerous. It is like a fire. One man may do something. Two will do a much more; three will do more than three times as much; a crowd will do something that no man ever dreamed of doing. The law recognizes it. It is the duty of every man–I don't care who he is, to disperse a mob. It is the duty of the officers to disperse them. It was the duty of the inmates of the house, even though they had to kill somebody to do it. Now, gentlemen, I wouldn't ask you to take the law on my statement. The Court will tell you the law. A mob is a criminal combination of itself. Their presence is enough. You need not wait until it spreads. It is there, and that is enough. There is no other law; there hasn't been for years, and it is the law which will govern this case.
The excerpt above is from Clarence Darrow's closing argument in defense of Henry Sweet in 1925. Nearly one hundred years ago. It's a long piece. I've provided a link below.
In the markets, I believe there is also mob mentality at work, supported in part by the monetary authorities. Clarida's speech on Friday made no mention of financial stability; he stuck to the two original mandates of employment and inflation, the latter in the context of the Fed's new averaging framework. He said, "Although a little more than half of participants judged risks to be broadly balanced for economic activity, a similar number continued to see risks weighted to the downside for inflation." I would not argue that curve measures currently warrant a Fed change, but things could easily reach the point where the Fed misses the signal to provide restraint, just as it missed the signals in Q3 2018 on the other side.

From late 2011 through 2019, the ten year yield stayed within a range of just over 300 bps to around 140; a low of 136 occurred in July 2016. That lower end of the range should now provide upside resistance. On a shorter timeframe, last week's high just over 111 bps hit the upper channel which has been in place since August. I would expect a bit more pressure in the early part of the week before the auctions wrap up, and then a rally in the context of what has now become a bear market in the long end. Wednesday brings CPI with PPI on Friday. The move in both the ten year yield and the gold pack in Eurodollars (5th year forward) are of about the same magnitude as the one which occurred June 2nd to 5th of last year as stocks were running and there was a blockbuster employment report. At that time tens jumped from 63.6 to 89.6 or 26 bps, and golds fell about 29 bps. Currently tens have gone from 91.4 on Jan 4, to 111.7 or 20.3 while EDM25 has fallen from 9911.5 to 9885 or 26.5.
| | | | | |
| --- | --- | --- | --- | --- |
| | 12/31/2020 | 12/31/2020 | chg | |
| UST 2Y | 11.9 | 13.5 | 1.6 | |
| UST 5Y | 35.8 | 48.2 | 12.4 | |
| UST 10Y | 91.0 | 111.0 | 20.0 | w/I 111.5 |
| UST 30Y | 164.0 | 186.8 | 22.8 | w/I 187.2 |
| | | | | |
| GERM 2Y | -70.0 | -70.1 | -0.1 | |
| GERM 10Y | -56.9 | -51.9 | 5.0 | |
| JPN 30Y | 64.4 | 64.6 | 0.2 | |
| CHINA 10Y | 314.6 | 314.9 | 0.3 | |
| EURO$ H1/H2 | 1.0 | 2.0 | 1.0 | |
| EURO$ H2/H3 | 7.5 | 15.0 | 7.5 | |
| EURO$ H3/H4 | 28.5 | 38.0 | 9.5 | |
| | | | | |
| EUR | 121.77 | 122.20 | 0.43 | |
| CRUDE (active) | 48.52 | 52.24 | 3.72 | |
| SPX | 3756.07 | 3824.68 | 68.61 | 1.8% |
| VIX | 22.75 | 21.56 | -1.19 | |
| | | | | |
https://en.wikipedia.org/wiki/Pets.com
https://www.thebalance.com/fed-funds-rate-history-highs-lows-3306135
https://www.nasdaq.com/articles/financials-spac-lmf-acquisition-opportunities-files-for-a-%2475-million-ipo-2021-01-08
https://www.famous-trials.com/sweet/124-darrowsum
January 8, 2021
–The model seems to be that you incite the crowd in a certain direction, then stand idly by as it spins out of control.  And I'm talking about the Fed here…monetary accommodation to exceed 2% inflation.  Add in the prospect of fiscal fuel and watch runaway asset inflation.  The Fed has promised to be "credibly irresponsible" and Clarida speaks today at 11:00 on monetary policy and the economy, where he will bolster that message.
–Curve made new highs yesterday, with 2/10 at 93.2, up 3.6, and 5/30 138.8, up just 0.2.  In euro$, red/gold pack spread hit a new high of 88 bps, up 5.625.  Ten year tip breakeven to 211.6.  The ten year yield rose 3 bps to a new high of 107.  The odd feature of the move is that implied vol, especially in bonds, has been declining, as the attached chart shows.  There are a lot of reasons to believe that rising yields and a steeper curve will take a breather, and lower bond vol certainly supports that thesis. (chart below).  Of course, today's employment report may also be a factor, with NFP expected +50k, but there are some estimates of a negative print.  Rate expected 6.8% with yoy wages 4.5% vs 4.4 last time.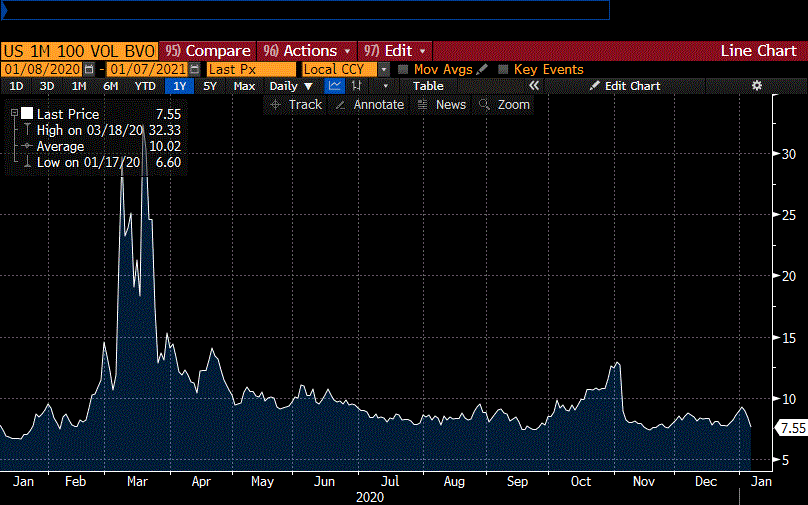 –There were a few large trades yesterday, notably a roll from long TYG 137 puts into TYH 136.5 puts, 45k x 60k. The peak open interest in TYH puts has thus shifted to the 136.5 strike with 183k open.  That strike corresponds to a yield around 1.115%, which is the upper channel line on the attached 10y chart.  In dollars, a buyer of 20k 2EM 9950p for 5.5 ref 9961, settled 5.25 vs 61.5 and a buyer of about 15k 9937p as well.  0EM 9925/10025 risk reversal, 0.25 paid for the put 40k ref 9978.5.
January 6, 2021
–Markets don't like Republican loss of Senate control.  Stocks down, bonds down, dollar down.  Commodities are stronger: WTI over 50 (Saudi oil cuts), March Corn over $5, and bitcoin topped $35k. Tens are over 1% with TYH 137-08.  The modest threat of inflationary impulses may turn into palpable fear as the Fed has promised to stand by idly while a new government sees a mandate to spend and regulate.  ISM mfg prices paid at 77.6 (chart attached) soared in yesterday's report and is near the 2018 peak…sign of things to come?
–Several trades from yesterday seemed to anticipate the move.  Buyer of 30k TYG 137.75/137.25/136.75 put tree for 3 covered 138-005.  Two and a half weeks to go for this one and the market is now right at the middle strike.  Buyer of at least 5k TYH 136.5/135.5 put strip with two of the 135.5 puts for 28 to 31; settled 30 vs 137-27.  The large short open interest in the 137 puts (both Feb and March) may spark more protective buying of lower strike puts.
–In eurodollars there was a buyer of 60k 0EU1 9975/9962p spread for 3.0, settled 2.75 vs 9979.5 in EDU2.  Recall that prior to the libor extension this contract had been trading in the lower 9960's.  Also a buyer of 15k EDZ2 9950/9925ps for 2.25 to 2.5, settled 2.5 vs 9974.0.  
–When Bill Clinton was president, there was a somewhat famous quote from him, "You mean to tell me that the success of the economic program and my re-election hinges on the Federal Reserve and a bunch of fucking bond traders?"   Greenspan used the opportunity to make a deal with Clinton, indicating that the Fed would keep interest rates low if Clinton would rein in the budget.  It worked.  It's different this time.
–In the current environment there's likely to be a lot more pressure on the Fed (even more than there was from Trump) to monetize unbridled spending.  Strap in, it's going to be fun.

https://nymag.com/nymetro/news/bizfinance/columns/bottomline/199/
January 5, 2021
–Despite the 1.5% decline in both SPX and Nasdaq on the first trading day of the new year, interest rates were little changed on Monday, with tens ending at 91.3 bps.  However, downside option protection was bought in both tens and eurodollars, and vol firmed in front of today's Georgia Senate runoff elections.  
–One interesting level pertains to the ten year inflation-indexed note which closed at a new low of negative 112 bps.  The breakeven closed at a new high of 203.3.   The last time the ten year tip was near this level at -110 in early Sept, Feb Gold was 1986.  Yesterday it was 1946.6 at settle, which was up $51.50. 
–Even with a modest pullback in stocks, VIX nearly hit 30 before coming back to close just under 27.
–EDU1/EDU2 settled at a new recent low of 3.0, down 0.5 on the day, indicating little chance of the Fed being forced to move up a tightening schedule.  Despite new lows in the dollar and a surge in commodities (for example, March Corn gained over 15% from the start of December) the rates market is quite certain that any inflationary impulses will be viewed as temporary.
January 4, 2021
–The dollar index is kicking off 2021 on a new low as the yuan strengthens past 6.5 for the first time since 2018.   Gold has soared $40 with GCG1 at 1935, and silver is up over $1 at 27.50.  Stocks, of course, are at new record highs.  Corn is up 11 cents nearing $5/bushel.  The depreciation of the world's reserve currency is giving everything priced in dollars a boost, foreshadowed by the weekend surge in bitcoin to over 34k.  Somewhat surprisingly, treasuries are only seeing very small losses, even as the tip breakeven closed just above 200 bps on Friday.

–Not much to report from Thursday besides a buyer of 20k 2EM 9950/9925ps for 2.5.  Settled 2.25 ref 9970.  The underlying contract is two and a half years away, easily enough time for the Fed to actually move, but this trade depends on forward perceptions.  A Georgia flip to Dems might do it.  Trump's entreaties to Georgia officials to find more votes may backfire spectacularly.

–Marginal new lows in the first eurodollar one-year calendar spreads. The front spread is now EDH1/EDH2 which closed 1.0, down 1 on the day. June/June settled 2.5, Sept/Sept 3.5 and Dec/Dec 4.5. Given some predictions of t-bills trading negative in the early part of the year, compression in these spreads doesn't make a lot of sense.
January 3, 2021
Sooner or later, we all sit down to a banquet of consequences. -Robert Lewis Stevenson
A crust eaten in peace is better than a banquet partaken in anxiety.  -Aesop
I've posted a graph of M2 growth before, and anyone reading this is familiar with the extraordinary stimulus from both fiscal and monetary policy in 2020. But this is still a stunning chart, with yoy growth in M2 at over 25%, more than double the previous high over the past forty years. That high was in 1983 at 12.6%. At that time, CPI was around 3.5%, down from a peak 14.7 in 1980. Unemployment was 8.5 to 9% down from a high of 10.7 in 1982. The ten year treasury yield was 10-11% down from a peak 15.8 in 1981. For that brief period the UST ten-yr provided a real yield somewhere around 7%. Now it's negative 1%.
The question of course is, are we still in the process of setting the table for the ultimate banquet, or are we simply reaping the beneficial outcomes of soaring equity prices and low interest rates? I labor under the (now suspect) theorem that borrowing now, whether by government or the private sector, is pulling future economic activity forward. Here are a couple of market snippets for 2020: IPO issuance has nearly doubled from the old record. Blank-check SPACs have proliferated. From BBG: "At a time when headlines were dominated by a raging virus, recession, and the fastest ever bear market, a record $120 trillion of stock changed hands on US stock exchanges this year, up 50% from 2019 to a record." From Q3 2019 to Q3 2020 Fed'l Govt debt rose 22% and Business debt rose 8.6%. Are there no consequences?
There's a great scene in the animated film Ratatouille (thanks RL) where the famed and feared restaurant critic Anton Ego addresses his hapless waiter, saying, "…you know what I'm craving? A little perspective. That's it! I'd like some fresh, clear, well-seasoned perspective. Can you suggest a good wine to go with that?" The flummoxed waiter hems and haws as Anton continues, "Perspective. Fresh out, I take it? Very well, since you're all out of perspective and no one else seems to have it in this bloody town, I'll make you a deal. You provide the food. I'll provide the perspective, which would go nicely with a bottle of Cheval Blanc 1947." He is, of course, served the peasant dish ratatouille, and on his first bite he's magically transported back to childhood in his mother's rustic kitchen…
These markets seem to have lost perspective.  But the table of consequences is being set.  Stocks are at record highs with pockets of rampant speculative excess.  Gold has gained 25% this past year with silver up 47%.   BBG Agricultural (BCOMAG) index is up 15% on the year, and up 40% off the mid-year low.  The base metals spot index (CMDIBASS) is up 19% and 50% from the year's low.  From my viewpoint, commodities, agricultural and oil, appear relatively cheap in comparison with financial assets.  Here's the ratio of SPX to the BBG Commodity Index.
I have a rule of thumb about speculative excess. My disclaimer is that it's probably not particularly useful. Strong trends double three times and then become very unstable. On my ratio chart above, it took about 4 years for the first double off the 2008 low. Then a bit over 3 years to double again, then 4 and a half years to double again. Of course, something like TSLA has done the triple-double (and more) just in the space of this year off the split-adjusted low of 70 in March. Nasdaq doubled three times off the 2008 low when it reached 8200 in 2019, and is going for 4x having ended the year at 12888.
A few years ago, the narrative regarding the Fed was that it was operating with three mandates: price stability and full employment (the original two) with financial stability completing the triad. The Richmond Fed released a paper in June 2017 with the rhetorical title, 'Does the Fed Have a Financial Stability Mandate?'  It included this line: "The Financial Stability Oversight Council (FSOC) comes closest to an agency responsible for financial stability…formally charged with identifying risks… promoting market discipline by reducing the expectation of government bailouts… "  With respect to the Fed: "Despite relatively vague financial stability deliverables, it is very likely that lawmakers and financial market participants expect the Fed to take strong actions to achieve stability.  This raises some potential problems that remain unresolved."  FSOC seems to have fallen a little flat with respect to reducing expectations of bailouts.  Given the Fed's new average inflation targeting, my view is that potential problems regarding financial stability will come to bear this year.  As an addendum, the ten year treasury to tip breakeven spread ended the year just over 200 bps, the high since Q4 2018 when the FF target was 2.0-2.25%. 
Georgia Senate elections on Tuesday. ISM Mfg also on Tuesday; Jobs report on Friday. Minutes of the Dec FOMC on Wednesday. Several Fed speakers through the week, the most important of which is likely Clarida on the economy and monetary policy on Friday.
OTHER MARKET THOUGHTS/ TRADES
I personally bought some Jan VIX 32.5 calls for 1.00 last week (not a recommendation). However, I'm not sure there's enough time for this to play out. For example, a solid SPX rally in the last half of 2017 was followed by a 7% burst in January with the new tax package. The top was on January 26, followed by a rapid 11% drop. The difference now is that post-inauguration tax reform will be in the opposite direction.
Implied vol in treasuries firmed into the end of last week in front of this week's news schedule. In tens, the 137 put remains the peak of open interest, signifying a strike just above the 1% yield level; cash tens closed the week at 91 bps vs TYH1 138-025. TYG 137p have 186k open, while TYH 137p have 76k. That mostly represents shorts against long 138's on ratio trades. A win by Dems on Tuesday would likely cause a jump in yields, though Friday's employment data should be a counterbalance, with NFP expected at just 50k.
There were a few trades Thursday protecting against a yield surge. 2EH 9925/100.25 risk reversal traded 0.25 covered 9975, bought put 50k. The put alone settled 0.25 vs 9974.5 in EDH23. 2EM 9950/9925ps bought for 2.5 20k. Settled 2.25 ref 9970.0 in EDM23.

| | | | | |
| --- | --- | --- | --- | --- |
| | 12/24/2020 | 12/31/2020 | chg | |
| UST 2Y | 12.7 | 11.9 | -0.8 | |
| UST 5Y | 38.2 | 35.8 | -2.4 | |
| UST 10Y | 93.3 | 91.0 | -2.3 | |
| UST 30Y | 167.1 | 164.0 | -3.1 | |
| | | | | |
| GERM 2Y | -70.5 | -70.0 | 0.5 | |
| GERM 10Y | -54.8 | -56.9 | -2.1 | |
| JPN 30Y | 62.4 | 64.4 | 2.0 | |
| CHINA 10Y | 322.9 | 314.6 | -8.3 | |
| EURO$ H1/H2 | 2.0 | 1.0 | -1.0 | |
| EURO$ H2/H3 | 8.0 | 7.5 | -0.5 | |
| EURO$ H3/H4 | 30.0 | 28.5 | -1.5 | |
| | | | | |
| EUR | 122.15 | 121.77 | -0.38 | |
| CRUDE (active) | 48.23 | 48.52 | 0.29 | |
| SPX | 3703.06 | 3756.07 | 53.01 | 1.4% |
| VIX | 21.53 | 22.75 | 1.22 | |
| | | | | |
https://www.richmondfed.org/publications/research/economic_brief/2017/eb_17-06
Dec 31, 2020
What a long strange trip it's been.
-Grateful Dead lyric from Truckin'
–That's the song spinning in my head this morning as we wrap up 2020.  Strange year.  Not much to comment on in the rate market; yields eased a shade yesterday with tens down less than 1 bp to 92.6.  Only two things worth mention, first, EDZ1/EDZ2 one-year calendar settled at new recent low of 5.  The last month's range has only been 5.5 to 8.0.  Doesn't look particularly out of line, and there is no real turn effect (this year should have taught us that).  2021 last working day is Friday Dec 31, and last working day in 2022 is Friday Dec 30.  So the one-year forward spread at 5 continues to signify a Fed on hold, but I am inclined to be a buyer of cheap year spreads.
Second, treasury vol firmed, a bit strange before another long weekend.  Example, USH 173 straddle settled 4'26 yesterday even as the contract drifted toward strike, settling at 172-27, while it was 4'18 on Tuesday.

–Happy New Year to all.

You're sick of hangin' around and you'd like to travel
Get tired of travelin', you want to settle down
I guess they can't revoke your soul for tryin'
Get out of the door and light out and look all around
December 30, 2020
–GBP is around 1.3580 this morning, pressing for a close at the high of the year.  It's at the highest level since early 2018.  Last night I watched a classic James Bond movie, Goldfinger.  In the scene where Mr Goldfinger wants to extract an outrageous global ransom, the amount is given as "280 million dollars… one hundred million pounds".  So GBP has to pull a bitcoin and double from here to get back to its value in 1964!  The dollar index appears to want to close out the year on its low, currently it's 89.75.  Maybe 2.80 GBP isn't all that farfetched as the US seeks to churn out another $2k direct deposit to the populace. March Euro made a new high this morning and is currently 1.2300.  

–Corn also rallied to the year's high yesterday, closing at 466, a solid, continuous rally from the August low around 330.  Rates however, remain quite subdued.  TYH1 settled unch'd at 137-29+ with a cash yield of 93.3 as sevens were auctioned.   Red through gold eurodollars settled +0.5.  Volume was light.

–Opposite of corn, gold's high of the year was made in early August, and it's been a series of lower highs and lower lows since then as institutional money has been swayed by the siren call of bitcoin.  However, USD depreciation should keep a floor under it.