September 1, 2021
–Caixin/Markit PMI for China fell to 49.2 from 50.3, a sign of contraction.  This, as official Mfg PMI shows that New Export Orders continue to slide (around 47).  At the same time, more press coverage is being given to problems at Evergrande.  As Ben Hunt writes, "Evergrande is the largest player in the largest sector in the Chinese economy.  Evergrande owns 231 million sq meters of land in 234 cities.  Evergrande is the largest Chinese issuer of dollar-denominated corporate debt in the world, with a balance sheet of more than $350 billion."  And they are holding fire sales to try to prevent default.
–Today in the US: ADP expected 625k from 330k last.  Markit PMI expected unch'd at 61.2. ISM Mfg expected 58.2 from 59.5 with Prices 83.8 from 85.7.
–Yields rose slightly with tens up 2 bps to 1.302%.  There continues to be a program buyer of TYZ 136c which settled 19 vs 133-145 (another 10k yesterday).  Peak one-year eurodollar calendar is still EDU'22/EDU'23 which is now 57.5.  
August 31, 2021
–Another day, another new high in equity futures.  For the past three or four months, ES has had a nice break around the 19th to 20th of the calendar month, and then predictably rallies into the next month until the 14th to 16th before experiencing another pullback.  Like clockwork.  In September, the FOMC is on the 22nd, and Sept equity option expiration is the 17th. 

–Interest rate futures continue to levitate.  In the past two sessions, the blue pack (4th year forward) has rallied 9.5 to 10 bps.  For example, EDU'24 settled 9866.5 and Thursday and 9876.5 yesterday.  Ten year yield fell 2.8 yesterday to 1.282%.  There was a buyer of around 20k TYZ 136 call for 18, settled 20 vs 133-17 with open interest rising 18k to 57k…the most open interest of any December call.  A rise to 136 would target a yield around 1% on tens. Another large trade was a buy of 50k EDU'23/EDZ'23 3-month calendar for 11.5.  Settled there, 9914.5 and 9903.  The red Sept/Dec (one year forward, EDU'22/EDZ'22) is 15.0. December contracts have the most open interest on the ED curve out to the blues. 

–Eurozone inflation hit a ten year high or 3%.  In the US, Chicago PMI is released today, having been 68 last.
 
–I need to do a bit more work on this, but saw a report yesterday that Social Security recipients (about 20% of the population!?) can expect a bump in COLA of 5 to 6% when adjusted at the end of this year.  These payments are based on CPI.  I recall when cost-of-living adjustments were the big union sticking points, and were said to have contributed to the stickiness of inflation.  I don't think unions are as big of a factor any more (besides gov't unions), but the percentage of people receiving Social Security likely dwarfs union membership at its peak, and these increases are institutionalized.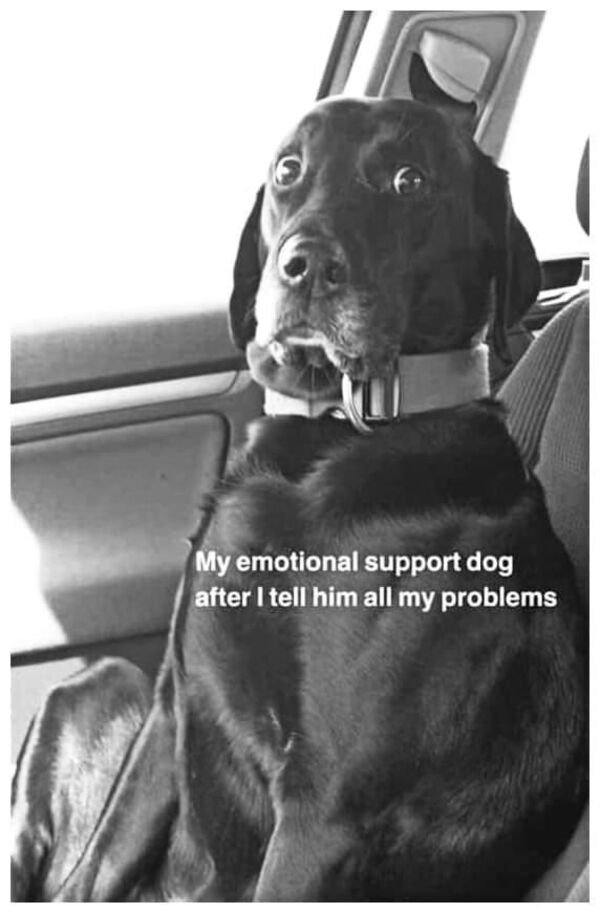 I get the same look from my dog when I say "I've bought more SPY puts"
August 30, 2021
–Not much reaction to Hurricane Ida, which knocked out power to New Orleans. An explosion near the Kabul airport of a car with an improvised rocket launcher (like the kind you might see on Chicago's Dan Ryan expressway) likewise has been ignored, except of course, stocks are making new highs. And Oct Nat Gas prints 4.44 this morning, a new high, having been 2.70 in April.
–Powell's dovish assurances in his Jackson Hole speech that there's no "direct signal regarding the timing of interest rate liftoff" related to tapering caused rate hike hedges to be lifted in eurodollars, with the red pack (2nd year forward) rising 3.25 bps. Tens were down 3 bps to 1.31%, even as the yoy PCE deflator printed 4.2%. The signal here is borrow to buy things, the Fed will support Federal Gov't spending and will of course support financial engineering to gin up equity prices, all in the name of Bob, who still can't find a job from his Mom's basement.
–EDZ1/EDZ2 settled 24.5, down 2.5 on the day, and FFF'22/FFF'23 settled 20.5 also down 2.5, so the chance of just one hike over next year was slightly trimmed. Of course, gold jumped $24/oz on Friday with GCZ1 settling 1819.50. The buying power of the dollar is being successfully eroded as is obvious to anyone who goes in a store. I bought a few nectarines at the local Jewels and it cost me over $1.10 each, and they're supposedly in season.
August 29, 2021- Weekly Comment

How successful was Powell?

On the week the ten year rose 5.2 bps to 1.31%.  That's less than the increase in the German bund of 7.2 bps.  2/10 rose to 108.5, up a bit over 7 from the previous Friday, but still below the high for August of 113.5.  5/30 ended at 112, up 3 on the week, but that level is still right around where it was at the last Jackson Hole conference in 2020.  I.e. it is still near the low of the last twelve months, with the intervening high being 163, set in February. 

By these measures, one might say that Powell was spectacularly successful in his Jackson Hole communications.  He told the market that taper will probably start this year while barely rippling interest rates, even in the face of the highest PCE deflator in a decade (4.2%, equal to the high in 2008). One has to look back to 1991 to see higher PCE inflation data. 

The Eurodollar curve gives additional evidence that Powell deftly conveyed the message that taper in no way defines a cycle of rate hikes.  I like to look at one-year calendars and butterflies to determine how the market interpreted the chairman, but the libor transition date at the end of 2023 has put a large kink in the curve.  Let's simplistically say that changes in one-year calendars are a rough proxy for how the market views probabilities for rate hikes.  EDZ'21/EDZ'22 settled Friday at 24.5, down 2 on the week.  Since March, this spread has been between 14 and 33.5 on settlement basis and is now essentially in the middle.  The high of 33.5 was made after the hawkish dot-plot at the June FOMC.  Friday's close is almost exactly equal to one 25 bp rate hike.  Even with the prospect of taper starting soon, the market did NOT push up near term rate hike probabilities.  All of the midcurve put insurance purchases on EDZ'22 suddenly became less valuable.  By far, the most open interest in any midcurve puts is in Short Dec on EDZ'22 (0EZ1) with 2.3 million.  If we include Short Oct and Nov (0EV1 and 0EX1) on the same underlying EDZ'22 contract, there are over 3.1 million puts open. 
Let's look further back. EDZ'22/EDZ'23 spread settled 58.0, up 3.5 on the week. The spread encompasses the libor cessation at the end of June, 2023. To give a rough idea of magnitude, note that EDH'23 to EDM'23 is a spread of 14.0 bps while EDM'23/EDU'23 is 21.5. This latter spread (M3/U3) captures the transition period and is easily the highest 3-month spread on the curve. So let's take the difference between the two spreads and say that libor cessation is worth about 8 bps, which then means, in its absence, EDZ'22/EDZ'23 would be 50 bps, essentially forecasting two 25 bp hikes over that year. Again, when thinking about it in terms of Powell's goals, with the near spread declining on the week and the more deferred spread increasing, he was able to successfully push odds of hiking a bit further out on the curve, while keeping the absolute level completely restrained. I find it amazing how much control the Fed's narrative seems to have over this market. Again, the highest PCE deflator in the past 30 years was released last week!

Just for a bit of historical context, the 4th to 8th ED quarterly contract calendar hit a high of 243 bps at the end of 2001! Coming out of the GFC in late 2009, the 4th/8th one-year calendar was 163. In 2011, 145.5. And in late 2014, 112. Now the 4th/8th is EDM'22/EDM'23 and it's 49.5 bps. After libor/sofr adjustment EDZ'22/EDZ'23 is at about the same level.

Now consider EDZ'23/EDZ'24, green/blue Dec. On the week this calendar rose 3 bps to 33.5. The spread increased, but it scarcely indicates persistent inflationary concerns. In fact, EDZ'22/EDZ'24 which traded 118.5 immediately after the hawkish June 16 FOMC and settled 117 on that date, is now 93.5.
Larry Summers had this to say on a Bloomberg interview following Powell's speech: "But I was struck, for example, that he didn't say anything about the housing sector. That's the largest part of the consumer price indices. I saw a statistic… that said on average, when a tenant moves into a rented residence, they're paying 17% more than the old tenant. That suggests a lot of rental price inflation." [that hasn't yet been reflected in CPI].
This moves us into the tin foil part of our presentation.  Or, aluminum foil.  Or anything you can make an appropriate hat out of. 

According to LME rolling three month forward contracts, tin is up 33.8% year to date, and aluminum 32.5% ytd or 53% annualized.  It's even getting more expensive to protect against conspiracies and insidious brain invasions. (I'm hoarding inventory). Speaking of which, Financial Times has a headline plastered on its website: "Why Blackstone made a $5bn bet on housing low-income Americans."  Yeah, that's a real head-scratcher. (take hat off first). Gee, the CDC eviction moratorium was overturned, which will likely spark Congressional action to provide rent support.  Summers notes rampant rental inflation.  A BBG article over the weekend says, "The Biggest Landlords are Driving Pandemic Evictions" [though it does not mention Blackstone or Blackrock, link below].  Why is Blackstone buying rental property?  Just following Blackrock's lead.  Because when you can influence government policy in support of direct rental payments that are rampantly inflating, it no longer is a "Bet" but more of a "Lock".
This is the aspect of Fed policy that is not a success, but is in the category a Pyrrhic victory, one "that inflicts such a devastating toll on the victor that it is tantamount to defeat." Oh, it certainly doesn't look like defeat at this moment, with asset prices screaming to new highs and inflationary pressures broadening. That is, it doesn't look like defeat to the Fed. However, if one reviews previous Fed speeches, you might note that feel-good references to the goal of increasing inflation were equating 'inflation' as it was loosely used, to 'wage increases'. In hindsight, that was disingenuous, because the cost of living is outpacing wage gains, though not of course, outpacing gains related to financial assets. Powell's noble goal of getting back to full employment is exacerbating cost-of-living disparities between wage earners and the owners of financial assets.

Grade on the goal of not causing turbulence in interest rate markets as taper moves closer to reality: A
Grade on the prospect of creating future financial instability because of artificially low rates: D

OTHER MARKET THOUGHTS/ TRADES
Imagine how much military hardware needs to be replaced due to the weaponry ceded in Afghanistan.  Imagine how much more military supply is going to actually be used up in the near term.  It's called fiscal stimulus, and at these rates, we can just put it on the credit card. 

The week ahead features employment data, with NFP expected 750k. If data is weaker than expected, the curve will probably flatten.  Even if it's stronger than expected, the front end probably doesn't have much life to it.  Sept midcurves expire 10-Sept, the Friday following the Labor Day holiday.  3EU 9862.5p settled 3.0 vs 9871.5, providing reasonable downside protection in the event of another big payroll day.  2EU 9906.25p settled 3.5 ref 9910.5 in EDU'23. 

 
| | | | | |
| --- | --- | --- | --- | --- |
| | 8/20/2021 | 8/27/2021 | chg | |
| UST 2Y | 24.2 | 21.5 | -2.7 | |
| UST 5Y | 79.7 | 79.8 | 0.1 | |
| UST 10Y | 125.8 | 131.0 | 5.2 | |
| UST 30Y | 187.2 | 191.7 | 4.5 | |
| | | | | |
| GERM 2Y | -74.8 | -73.5 | 1.3 | |
| GERM 10Y | -49.5 | -42.3 | 7.2 | |
| JPN 30Y | 64.0 | 64.7 | 0.7 | |
| CHINA 10Y | 284.8 | 287.3 | 2.5 | |
| EURO$ Z1/Z2 | 26.5 | 24.5 | -2.0 | |
| EURO$ Z2/Z3 | 54.5 | 58.0 | 3.5 | |
| EURO$ Z3/Z4 | 32.5 | 35.5 | 3.0 | |
| | | | | |
| EUR | 117.01 | 117.97 | 0.96 | |
| CRUDE (active) | 62.14 | 68.74 | 6.60 | |
| SPX | 4441.67 | 4509.37 | 67.70 | 1.5% |
| VIX | 18.56 | 16.39 | -2.17 | |
| | | | | |
https://blinks.bloomberg.com/news/stories/QYJQKHDWRGG4
August 27, 2021
–Top story from yesterday was the bombing at the Kabul airport, which effectively closed the circle of US policy:  Exit the forever war, take casualties in a disastrous evacuation, tell the Generals you will give them whatever they need to hunt down perpetrators, send more troops to fight… however long it takes.  Except now the enemy has much better hardware.  Ours.  That's ok, we'll buy more.  Using parts from China.  From evacuation to eviction…the Supreme Court struck down the CDC's moratorium on evictions, saying it would be up to Congress to pass a law to continue the policy.

–Against this backdrop, Powell gives a virtual Jackson Hole presentation, with Fed presidents clamoring for taper.  His challenge is to separate taper from rate hikes, to ensure buyers of treasuries they will be guaranteed positive carry over the foreseeable future.  Stocks have mostly just shrugged at the outside world, though the potential withdrawal of liquidity at the margin could become an issue.  Of course, the Fed went to great lengths to set the foundation for a SMOOTH withdrawal, including unlimited repo facilities.  

–Oil is up nearly $1 this morning with CLV1 68.33 as storm Ida looms on the Sunday anniversary of Katrina (2005).  Bonds rallied on Katrina, but the move was quite short-lived (tens were over 4% at the time, briefly surged from 4.20 to 4.02). 

–Yesterday, net changes in rates were small, with tens ending around 1.34% with TYU settling 133-19 as Sept options expire today.  In dollars, option trade continues to favor the downside, beginning with a 50k early morning block buy of 50k 3EV 9837/9812ps for 4.5.  Settled 4.0 vs EDZ'24 9858.5.  There was continued buying of 0EX1 9962/9950p 1×2 for 1.0 (settled 1.25 vs EDZ'22 9953.5).  Total up to 80k now.  Buying as well in 0EZ 9950/9937p 1×2 for flat (settled there).  This position also likely 80k.  By far, 0EZ puts have the most open interest at over 2 million with primary strikes as follow: 9962p 12.75s 379k OI.  9950p 6.5s 516k OI.  9937p 3.25s 575k OI.  9925p 1.75s 229k OI.  These Dec midcurves are based on EDZ'22.  The EDZ'21/EDZ'22 spread is 27, so at least one hike is being priced over the year (9980.5 / 9953.5).  Recent range is 20 to 30.
August 26, 2021
–As expected, Bank of Korea raised its base rate from 0.5% to 0.75%.  Concerns about hot property prices and growing debt outweighed covid concerns.  The same financial stability issues face the Fed.  Having done considerable groundwork to lay the foundation for the start of taper, I expect Powell to move forward, delivering a slightly hawkish presentation.  Delivery delays and shortages ARE inflation, and they don't seem to be abating.  I even saw a story * gasp * that golf clubs were in short supply.  Yesterday the market traded according to this outlook, with tens rising 5.5 bps to a yield of 1.342%.  The curve steepened with 2's essentially flat.  EDZ'22/EDZ'23 calendar spread rose 3.5 bps to a new recent high of 59.  The peak remains the one-year calendar just in front, EDU'22/EDU'23 at 63, up 3 on the day.  The weakness on the ED curve was beyond EDH'23.  All contracts in front were +0.5 to -0.5.  From EDZ'23 back they were -4 to -6.5. 

–With robust repo facilities having been put in place, and a probable delay of taper until November, (when treasury will already be trimming issuance) a withdrawal of Fed support for the treasury market is at the other end of the spectrum from the Biden administration's implosion in Kabul.  The Fed is NOT shrinking the balance sheet and hiking as occurred in 2018.  The Fed is simply slowing GROWTH in the balance sheet, having already created huge incentives for others to fill the buying gap.  Powell's main task is to separate tapering from hiking…in other words, to guarantee positive carry for private buyers.  He has already ensured repo with no hiccups like the shock repo surge in September 2019.  The negative brunt of taper will be evident in stocks, not bonds.  That's not to say there couldn't be volatility in treasuries, it's simply that with stocks at all-time-highs and credit spreads near lows, the adjustment will be in equities.  

–A friend sent a great old documentary on Paul Tudor Jones discussing the parallels of 1987 and the late 1920's.  This was filmed before the 1987 crash (Dow fell 22.6% in one day on Oct 19).  The line that really stood out for me is at the 14 minute mark.  "The last guy that buys a share of stock when the Dow is at 3000 or whatever number it is, he's buying it because the fact he thinks it's going to 6000 because it's been reinforced in his mind over the past however number of months years or decades that stocks can't go down.  [Reincarnation is David Portnoy]

August 24, 2021
–Fairly quiet day in rates, treasury yields unchanged to down 1.3 bps with tens ending a smidgen lower at 1.253%.  As the Jackson Hole event was forced to go virtual due to the delta variant, many think the Fed will defer to the virus and delay any moves toward taper.  Asset markets are jumping on that bandwagon with stocks closing at new record highs.  If delta is such a threat to the economy, why are stocks surging?  While the Fed may indeed abandon financial stability objectives, it's interesting to see this Reuters article:   
SEOUL (Reuters) – South Korea is expected to raise interest rates on Thursday, making it the first major central bank in Asia to do so in the pandemic era as surging household debt and home prices threaten financial stability.

–Take a quick look at US housing data:  Existing Home sales a solid 5.99 million yesterday.  This release includes yoy price increases:
Median yoy Single Family +18.6%.  Condo 14.1%.  Average Single Family +12.5% and Condo +9.9%.  These are blazing numbers, spurred by artificially low mortgage rates, such that prices will HAVE to adjust down if rates ever move higher again…or…maybe we're at a permanently high plateau.

–Here's David Rosenberg on twitter:  "It now takes >8 yrs of wages to  buy a used home, 20% above the 50 yr norm.  If this excess gets resolved via the numerator, we'll have a housing bubble burst that could rival 2008.  This is the Black Swan.  If rates do back up, they'll come crashing right back down again."

–I personally think that's an overly dour outlook by Rosie, but the gist of it is not lost by some on the Fed who had expressed a desire to trim MBS right away. 

From the latest weekly Mauldin piece, there's this snippet from investor Ron Baron:
So my dad, in 1948, we buy our first house, and it's $5,000. And before that, we were living in a garage apartment in Bradley Beach, New Jersey, just outside of Asbury Park… 1948, we buy a house. It was $5,000, I'm five years old, and he sells it in 1955 for $10,000. I went to visit that house, I don't know, two years ago, three years ago, $350,000. 1122 Grismer Avenue, $350,000… and that's not because he was such a brilliant investor in houses. It's just because the value of your money falls 3% or 4% a year. And in real estate, it probably increases an average of 4% or 5% a year. And 1955, that's 65 years ago. So there's a bunch of doubles in there that you get.
[ I checked Zillow and a google map and did not find this address, but I did see several houses in Bradley Beach that seem astonishingly expensive].

–The Fed, unlike others, has carefully charted a path to withdrawal.  The longer it's delayed, the messier it will be.  Powell should follow-through.
August 23, 2021
–Bitcoin back above 50k.  WTI is showing a strong bounce today from oversold levels last week.   CLV1 is now above $64/bbl, having put in an overnight low of 61.74.  Friday's range has been engulfed this morning.  Other commodities also seeing bounces, with gold +6 at 1790.  Stock futures stronger, with ESU +12 at 4449, not all that far from last Monday's all-time-high of 4476.50.  Treasuries showing slight weakness.

–Yields ended modestly higher Friday with tens up 1.6 to 1.258%.  New recent low 5/30 just under 109 bps.  Ten year note to tip breakeven also posted a new recent low of 228.  In the depths of Covid in March 2020 this spread reached 55, in May of this year it peaked 200 bps higher at 256. Since June it has been a sideways affair from 225 to 242.

–Interesting column in BBG notes "Xi Doubles Mentions of 'Common Prosperity', Warning China's Rich".  I checked google trends for 'wealth inequality' and it's near the lowest level of the past five years.  Of course, the region with the highest level of interest in this topic is the District of Columbia.  A paper from 2018 notes that DC has the highest income inequality in the country; the political class (and Fed) wants to focus on the problem that it most acutely creates.

–Jackson Hole at the end of this week.  Sept treasury options expire Friday, with TYU 134 at-the-money straddle trading 35/64.   
August 22, 2021 – Weekly Comment
The Taliban is not the south — the North Vietnamese army. They're not — they're not remotely comparable in terms of capability. There's going to be no circumstance where you see people being lifted off the roof of a embassy in the — of the United States from Afghanistan.
–President Biden, July 8, 2021
These steps will enhance our productivity — raising wages without raising prices. That won't increase inflation. It will take the pressure off of inflation, give a boost to our workforce, which leads to lower prices in the years ahead. So, if your primary concern right now is inflation, you should be even more enthusiastic about this plan.
–President Biden, July 19, 2021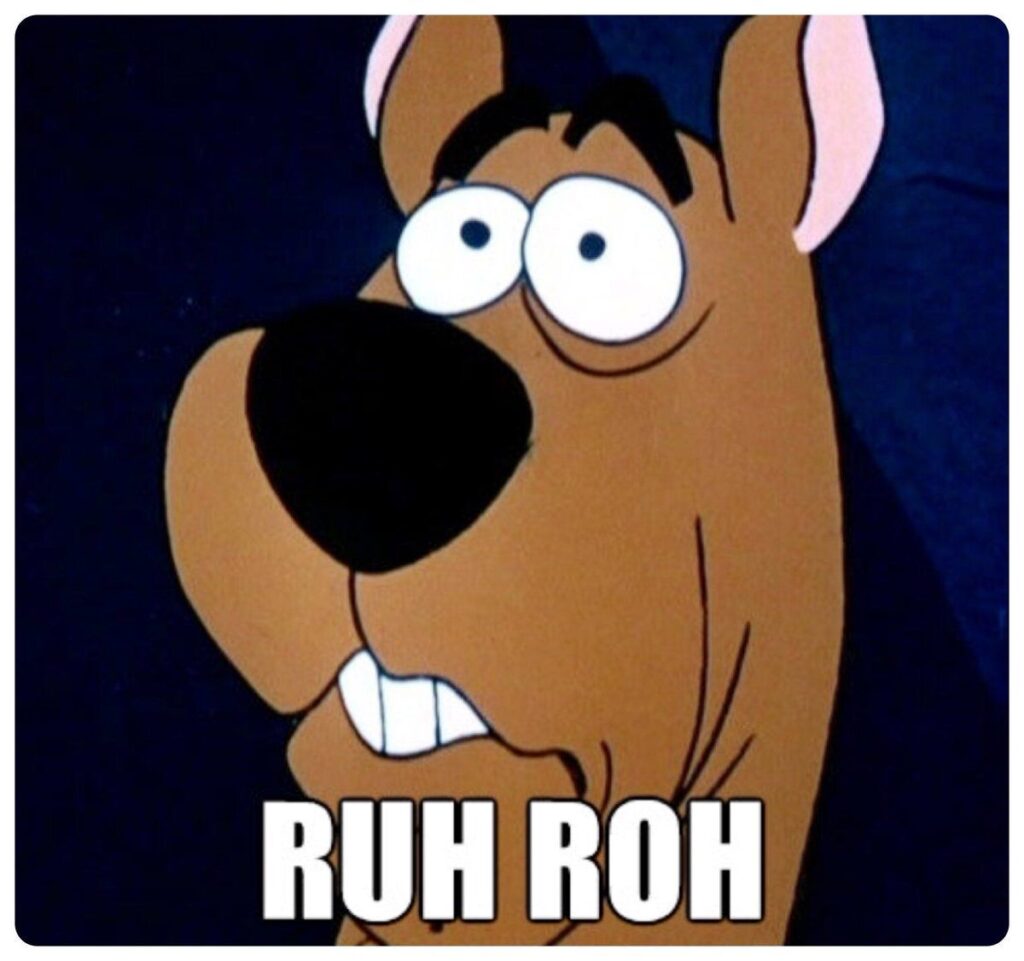 Now I am not saying that if you're horrendously wrong about one thing, that it should throw a cloud over all other lofty proclamations. I'm not even sure what Biden is saying in the second excerpt. Increased productivity suggests more output with less input, and if wages are able to increase it sounds like it's a plan to expand capital investment and automation. In any case, the American public seems increasingly concerned about cost-of-living increases, notwithstanding the 15% drop in WTI crude so far in August (CLV1 73.20 on July 30 and 62.14 Friday). In fact, this decline looks a little like initial weakness in 2020, when Covid concerns were just starting. Of course, in 2020, the oil decline was exacerbated by the Saudi/Russia rift on restraining output, with the former flooding the market, culminating in negative prices in April. Certainly the trajectory of delta is a major variable.
Dallas Fed President Kaplan has recently softened his hawkish stance due to delta. The Jackson Hole conference will allow Powell to weigh in on his assessment of the potential economic impact of the new variants. Bloomberg ironically notes that "Wyoming's Teton County, home to Jackson Hole, has the nation's highest per-capita income from assets, according to a study by the Economic Innovation Group. The analysis found a sharp increase in geographic concentration of asset ownership over the past decade." I'm sure the Fed's financial engineering has nothing to do with it…
In any event, it was almost exactly one year ago that Powell announced, on August 27, 2020, that the Fed was adopting FAIT, Flexible Average Inflation Targeting. Even though the last two PCE yoy price prints were 4.0, the past five year average is 1.7% and the past ten year average is 1.6%. I think the hawkish dot plot at the June 2021 FOMC removed, to some degree, the market's faith in the Fed to continue being "credibly irresponsible".
Below I am adding a few charts to provide some indication of how the market is set up going into this week's Jackson Hole Conference. Note that on Friday, we will also see the latest PCE price data, the Fed's preferred measure of inflation, which was 4.0 last and is expected 4.1, which would equal the high in July 2008, sparked by the historic oil rally of 2007 into '08 from $60 to $140. (chart below)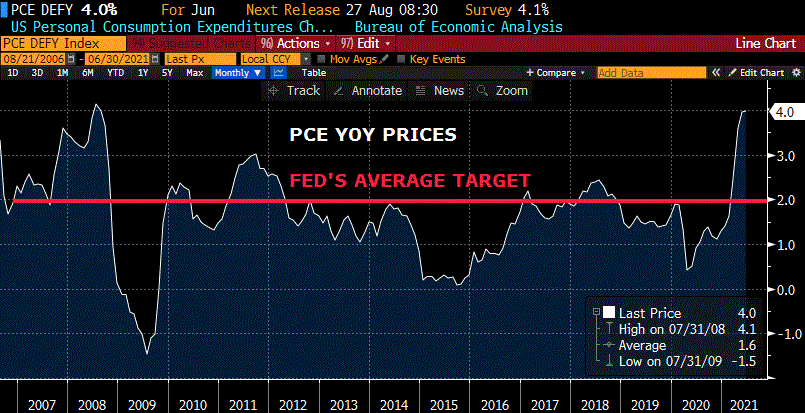 First, when looking at 5/30, it has done a round trip from the FAIT announcement, from 112.6 on August 26, 2020 up to a high of 163 on February 24, 2021, back down to 108.9 on Friday. It's clear that the hawkish FOMC in June was a huge catalyst for flattening.

Now let's look at yield charts of 5, 10, and 30 year treasuries.
Below is the five-year. The low in 2020 came in August, just before FAIT, at 19 bps. Since then it has left a double top ~94 bps, and in the beginning of this month had retraced almost exactly 38%, to 65 bps.
The ten-year note put in a low of 51 bps on August 4, 2020, rallied to 1.74% by the end of March, and has since then seen its yield decline, not quite to the 50% retracement, now sitting close to the 38% retrace at 1.258%.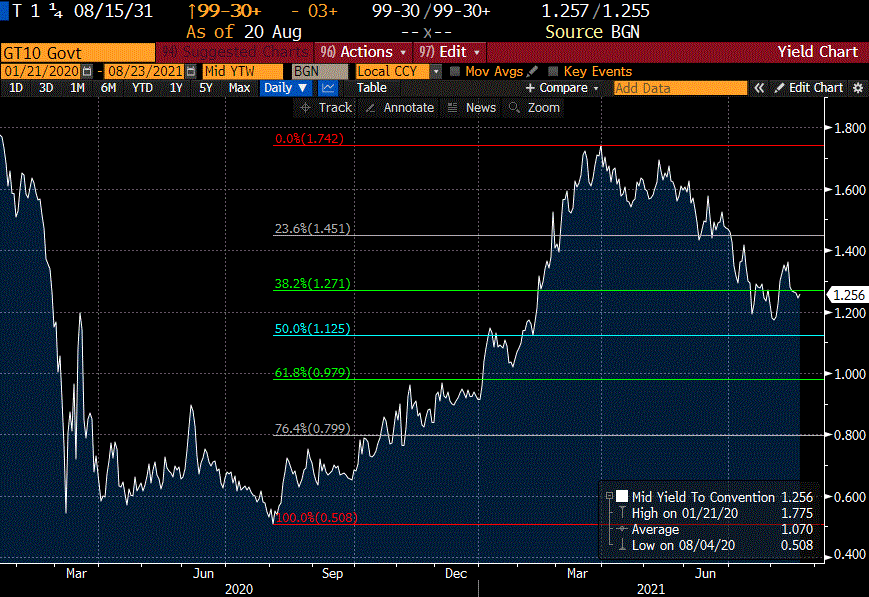 The thirty-year, from the same starting date, went from 1.19% t0 2.45%. The yield topped prior to tens, and declined to the exact 50% retracement of 1.82%. It's now 1.87%. The five-yr yield has remained the most stubborn.

The market is fixated on taper, because taper leads to actual rate hikes.  My read on yields is that, having held retracement levels, they are likely to continue higher.  If 5s were to convincingly break below the 38.2% retrace of 65, I would reconsider.  I think the five-year (and green eurodollars) are key to the outlook, and I think a modest bear flattener, with all yields higher, Is what the market indicates.

With Yellen putting her support behind another Powell term, it gives him more power to slow-play rate hikes, even as inflation data shows signs of acceleration.  This should limit downside to the 5/30 spread, though it appears as if a drop to 100 or just below could occur in the near term, especially if crude oil tanks.     
What is clear from the June FOMC is that Powell was overruled. Because of delta the entire Fed may shift to a somewhat more accommodative stance, but I don't think it will change the taper schedule, because shelter and other basic living costs are rising quickly, which will probably be reflected in the next several months of inflation data.

While I have favored a steeper curve, price action currently does not seem to support that stance unless the Fed is able to quickly pivot to uber-accommodative again. I would certainly not sell the curve, because I think downside is limited. Buying deferred midcurve put structures is probably the best risk-reward.
| | | | | |
| --- | --- | --- | --- | --- |
| | 8/13/2021 | 8/20/2021 | chg | |
| UST 2Y | 21.3 | 22.4 | 1.1 | w/I 24.2 |
| UST 5Y | 78.7 | 78.3 | -0.4 | w/I 79.7 |
| UST 10Y | 129.7 | 125.8 | -3.9 | |
| UST 30Y | 194.6 | 187.2 | -7.4 | |
| | | | | |
| GERM 2Y | -73.9 | -74.8 | -0.9 | |
| GERM 10Y | -46.7 | -49.5 | -2.8 | |
| JPN 30Y | 65.0 | 64.0 | -1.0 | |
| CHINA 10Y | 289.2 | 284.8 | -4.4 | |
| EURO$ Z1/Z2 | 27.5 | 26.5 | -1.0 | |
| EURO$ Z2/Z3 | 55.5 | 54.5 | -1.0 | |
| EURO$ Z3/Z4 | 35.5 | 32.5 | -3.0 | |
| | | | | |
| EUR | 117.99 | 117.01 | -0.98 | |
| CRUDE (active) | 68.21 | 62.14 | -6.07 | |
| SPX | 4468.00 | 4441.67 | -26.33 | -0.6% |
| VIX | 15.45 | 18.56 | 3.11 | |
| | | | | |
https://www.federalreserve.gov/newsevents/speech/powell20200827a.htm
https://www.bloomberg.com/news/articles/2021-08-18/u-s-wealth-gap-rises-with-jackson-hole-coming-at-the-top?sref=cv51C53O
August 20, 2021
–Yesterday featured a couple of large trades, a sale of some 300k EDZ1 down to 9979 (settled 80) and a sale of 50k TY3Q 134.25/134.50 call spread from 8 to 5 (5s).  This latter call spread expires today, and was an adjustment of long 134/134.5 call spreads, leaving the position as long 134/134.25cs which settled 14/64 vs 134-105.  In all likelihood it just settles at full value above 134-08, but in some ways there are incentives to buy 134.5 calls expiring today.  The EDZ1 sale caused an increase that contract's open interest of 131k contracts to 1.15 million, the most of any ED. Volume was 687k, about equal to the sum of the next 3 most heavily traded contracts.  Early in the morning pressure on Z1 came in the form of a seller of 35k Z1/H2 spreads at -3.5.  The spread settled -4.0; the low of the year on settle has been -4.5 on March 22.  I believe it is turn-of-year related and that dollar funding for foreign entities may tighten in spite of the Fed's Standing Repo facility.  In any case, the first 4 ED contracts as a pack closed negative on the day (-1.0625bp) while every other pack was positive in a flatter curve (golds, 5th year, +3.25).   There was also buying of 20k EDH2 100 calls for 1 vs 9986.5, settled 0.75 vs 9984.  Connect the dots…Only Fans is banning the sale of explicit material on its site, which means a collapse of economic activity…therefore negative rates.  Duh. 

–They're not really linking the Afghanistan situation to weakness in US equities, but the Hang Seng is providing an example of government impact as the index was above 31000 in February and is now sub 25k.  Of course that could never happen here, but just as a whimsical exercise, note that a 20% haircut from this month's ath in SPX of 4480 would be just under 3600, right around levels from November of last year.  August option expiry in stocks today.  

–New low in 5/30 just above 111 bps, down 2.5 on the day as bonds shrug off inflation concerns and project decelerating growth.  Jackson Hole next week, but the idea of taper has been well-telegraphed and is more of a net negative for stocks than bonds. 

It's a hot august…