Bad news trickle starting to accelerate
November 10, 2022
–Attached chart shows SFRU3/U4 which settled at a new low -88.5 yesterday (9510/9598.5).  EDM3/EDM4 settled -91.0.  These are new lows for the most inverted 1y calendars on the strips; the implication is a strong possibility of eases starting some time next year.  In late 2007 the most inverted 1-yr calendar was the 1st to 5th contract at -158 bps.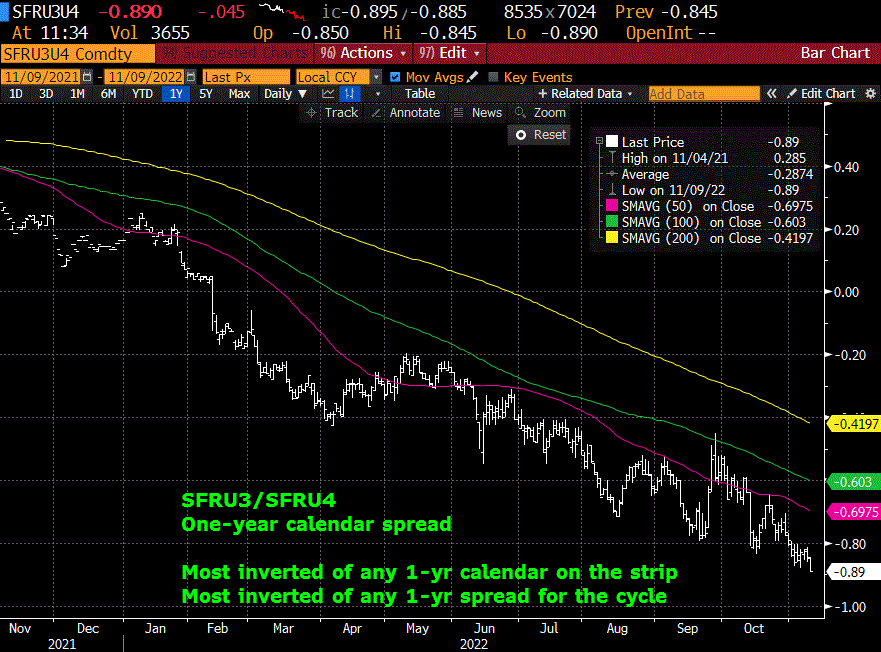 –Poor ten-year auction 3.4 bps through at 4.14%, featuring low bid/cover of 2.23, yet TY futures rallied into the end of the day as Binance walked away from FTX and Bankman-Fried pegged the hole at $8 billion. TYZ2 settled 110-10+ but was trading 110-16 late and is between those two levels at this writing (going into CPI and the 30y auction). By comparison Bill Hwang of Archegos lost $20 billion in March/April 2021.
–Is crypto implosion enough to create a true safety bid? Probably not, but Steph Pomboy notes that Ontario Teachers Pension was a major investor in FTX, and succinctly tweeted, "My point is that it isn't just OTPP, it's every pension (no doubt). Only way to deliver on 8% return mandates in a 0% risk free rate world is via reckless risk. THIS is the silent but deadly consequence of yrs of repressive rates imposed by the Fed…" Apart from monetary losses at FTX, job losses are being announced at an increasing clip. Meta cut 11k jobs or 13% or its workforce. Redfin also cut 13%, totaling 892, and closed the home-flipping business. DR Horton , the largest US homebuilder, reported net sales orders for July-Sept fell 15% from a year earlier, and fell 10% in value. Chicago Fed's Evans said it's time for the Fed to slow the pace of rate hikes. Trades in SOFR calls are already reflecting that sentiment, for example late trade of SFRF3 9550c for 2.25 ref 9501 in underlying SFRH3. The six-month calendar Dec'22/June'23 SOFR settled +44.5 (bias toward hike in the beginning of the year), but June'23/Dec'23 settled negative 35.5, essentially forecasting the erasure of a hike early in the year. Prices: 9541, 9496.5, 9532.
–Today's news includes CPI, expected 7.9% yoy vs 8.2%, with Core 6.5 from 6.6. Jobless Claims expected 220k. Thirty year auction.