Banks dragging down stocks
September 24, 2020
–Stocks were pummeled yesterday but yields barely budged, with tens at 67 bps.  Precious metals also came under heavy selling pressure.

–On Monday large US bank stocks opened with a gap lower (JPM, C, BAC etc) and closed on new recent lows yesterday.  The attached KBW global bank index chart is representative.  On Sunday, allegations of money laundering and illegal transfers were leveled at the banks, which explains the price action.  JPM was fined $1 billion yesterday for spoofing; the ramifications of protecting criminals in the financial system is more serious.  Bitcoin was slammed Sunday on the laundering news (chart attached).  Selling spilled over into precious metals Monday.  I've often thought of these assets as a hedge against turmoil in the organized banking system, but in this case it almost appears as if mass liquidations occurred in products used in the avoidance of the official financial architecture.  Silver is down an astonishing 16% since Friday.  Of course, dollar strength is also a factor, and the Fed appears to be taking a step back to force more of a response from the fiscal side. Additionally, gold was getting support from declining real yields (as evidenced by the plunge in the ten-yr tip yield to -112 bps). That yield has now rebounded to -94 and the ten-yr inflation breakeven made a new recent low yesterday of 161 bps, having been over 180 at the end of August. 

–In short, big problems in the banking system seem to be percolating, casting a negative aura over stocks in general.  Interestingly, there was a large seller of 60k EDZ0/EDH1 calendar spread at -6.5 yesterday.  Recent range has only been -9.5 to -5.5, but the spread had popped to the high on Poszar's observations that turn pressure should be muted this year.  Yesterday, someone faded that sentiment, selling EDZ0 and buying EDH1, (open interest +1k in EDZ0 and +27k in EDH1) which fits with the idea of broader bank issues creating funding stress.  While yields didn't move much, 5's were auctioned at a record low of 27.5 bps on solid demand.  On tap today is $50 billion in 7's.  Also worth noting is that junk bond issuance hit a record $329 billion for the year, previous high was $321b.  Jobless claims expected 840k and New Home Sales also released today.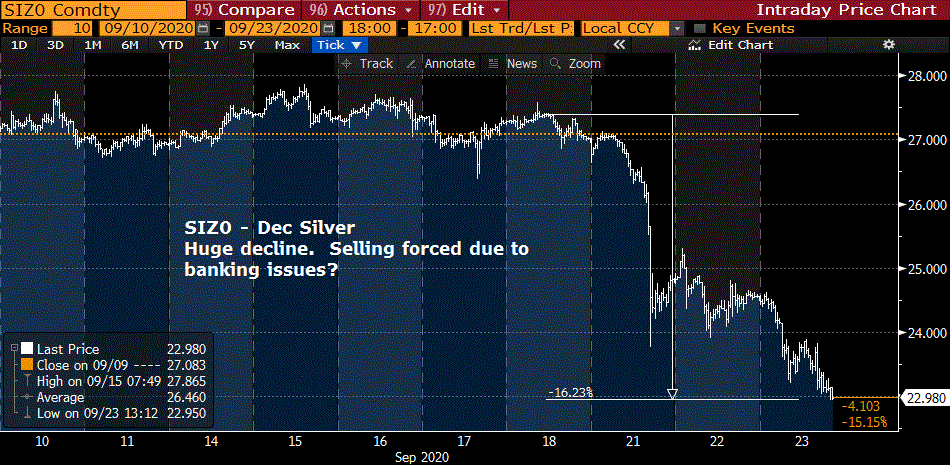 https://www.americanbanker.com/articles/money-laundering-report-alleges-banks-profited-by-aiding-criminals