Capitulation in reds
September 29, 2023

–Large reversals yesterday.  Back end of the curve steepening.  2/10 high of the year is around -40 and now around -47 (getting close) though that's partially due to new 2y and the roll (i.e. the old 2y ended at 5.125 at futures close and the just-auctioned 2y is 5.07, making 2/10 seem a lot steeper).  However, look at something like SFRZ4/SFRZ7 (red/gold dec).  That spread jumped 9 bps today to -50, so the move to a steeper curve is real.  SFRZ4 settled 9538.5 (+10) and SFRZ7 settled 9588.5 (+1).  I have attached a chart; Z4/Z7 needs a few closes above -40 to indicate a change in trend.
Below is red Dec/gold Dec SFRZ4/Z7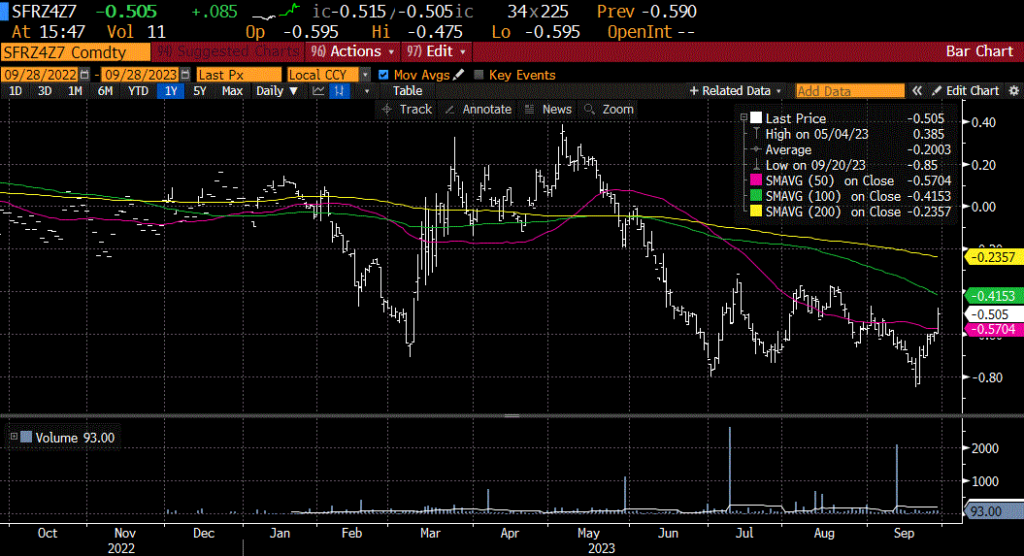 –In addition, SFRZ4 contract staged an impressive reversal.  Wednesday featured a new contract low settle at 9528.5.  Thursday had an outside range and a close near the high at 9538.5.  This price action suggests that shorts should be exited.  Of course, new info could change that, but for now selling pressure has been shut off, and vol declined.  Consider long call spreads on this part of the curve.  USZ3 settled exactly unchanged at 113-16.  USX3 at-the-money 113.5 calls and puts each dropped 10/64s from 1'63 to 1'53, so the straddle went from 3'62 to 3'42.  This, after the 30y yield had surged to over 4.80% and 20y to just over 5% in the morning. 30y ended 4.727%.

–News today includes PCE prices expected 3.5% yoy from 3.3 last.  Core expected to decline to 3.9% from 4.2.  Chicago PMI expected 47.6 from 48.7.  ISM Mfg on Monday.  The gov't shutdown will likely delay Friday's NFP release.  

–I am surprised that since August CLX3 has traded from 79 to 92, yet gasoline prices at the pump have barely changed, and have even declined slightly, at least in the Chicago area.  My bias is that gas prices are a constant signal influencing consumer confidence and behavior.  I thought the BBG clip below summarizing Powell's comments yesterday were somewhat amusing, given that Powell has repeatedly said the Fed isn't quite sure how things will evolve and why some economic data have been difficult to understand.
(Bloomberg) — The Federal Reserve's ability to influence
the economy depends on whether "people understand what we are
saying," Chair Jerome Powell said, highlighting the importance
of work done by economic educators.
When Fed officials publish their projections for interest
rates and the economy, "one of our goals is to influence
spending and investment decisions today and in the months
ahead," Powell said in comments prepared for a town hall event
with teachers in Washington Thursday.
"That will only be the case if people understand what we
are saying and what it means for their own finances."
The Fed chair didn't comment on his outlook for rates or
the economy.
–I'll tell you what the trading public DID understand: that a 50 bp jump in the 2024 dot plot signals continued restraint and diminished value of forward cash flows.