Charade
November 22, 2020 -Weekly Comment
******************************************
"Oh no.  For a few minutes they were mine.  That is enough."  Monsieur Felix, the stamp dealer in the film 'Charade'
This bit of dialogue is from a fabulous 1963 film called Charade.  It is, of course, a period piece, starring Cary Grant and Audrey Hepburn.  The basic plot is that Audrey Hepburn's (Reggie's) husband has suddenly died.  Unbeknownst to Reggie, at the time of his death, he was in possession of a significant amount of money stolen during WW II, and his wartime compatriots are seeking their fair share of this fortune, which they believe Reggie now has and is concealing from them.

Through various plot twists, it finally strikes Reggie that the stamps on the innocuous envelope in her husband's pocket WERE the fortune!  But she has given the stamps to her son, who traded them to the above cited Monsieur Felix.  When she goes to Felix's office, he returns the stamps.  "I'm not a thief madame.  I knew there was some mistake." 

He describes the most expensive of these stamps: "Ah, the best for last.  Le chef d'oeuvre de la collection.  The masterpiece.  The most valuable stamp in the world.  It's called the Gazette Maldave.  It was printed by hand on colored paper and marked with the initials of the printer.  Today it has a value of one hundred thousand dollars."
I was reminded of this movie because a friend has a baseball card collection. According to him (and the website attached), the value of desirable cards has exploded. By way of example, he cites a Ricky Henderson rookie card (highly graded PSA9) that he bought for $350 a few years ago. It now has traded for $1300. The PWCC 100 index of the most highly rated cards has, since January 2008, returned 313% compared to 135% for the S&P 500.

I don't know whether to describe that as a mania, but I do think it's a product partially driven by the Fed's monetary policies, and partially driven by demand for a store of value other than fiat currency. The goal of the central bank should be productive investment that leads to a general increase in living standards. What has actually transpired is stock buybacks and money shuffling that creates an illusion of wealth. A charade. A fixation on financial conditions as the reassuring data that all is well. Bitcoin has again attracted investment favor as a store of wealth of limited quantity, and a medium of transaction. Of course, in terms of the latter attribute, a corollary of Gresham's law (bad money drives out good) is at work. Bad money the world over, made worse by the weight of unsustainable debts, is leading to the hoarding of bitcoin. (Now above 18000, testing the all-time high near 20000 in Dec 2017). According to Reuters, citing the Institute of Internat'l Finance (IIF) "Developed markets' overall debt jumped to 432% of GDP in the third quarter, from a ratio of about 380% at the end of 2019." Nice call by Paul Tudor Jones in May of this year as he outlined the case for bitcoin when it was trading half its current value. The dollar index on the other hand, is bouncing around the year's low at 92.39.
Back to Charade.  I'm quite sure that the story of the Gazette Maldave was a reference to the actual most famous stamp in the world, the 1856 British Guiana One-Cent Magenta.  This stamp too, was traded by a Scottish lad Vernon Vaughn who had found it among his uncle's possessions in 1873, to a dealer for six shillings.  It ended up in the collection of Count Philippe la Renotiere von Ferrary, willed upon his death to Berlin's postal museum.  It was then seized by France after WW I as a part of war reparations.  After several other owners, John du Pont paid $935000 for it in 1980.  "Following du Pont's 2010 death in prison, it was auctioned for $9.5 million [in 2014], four times more than any other single stamp has ever fetched."  This is the only known surviving stamp of its kind. Shown below, and with an infrared image.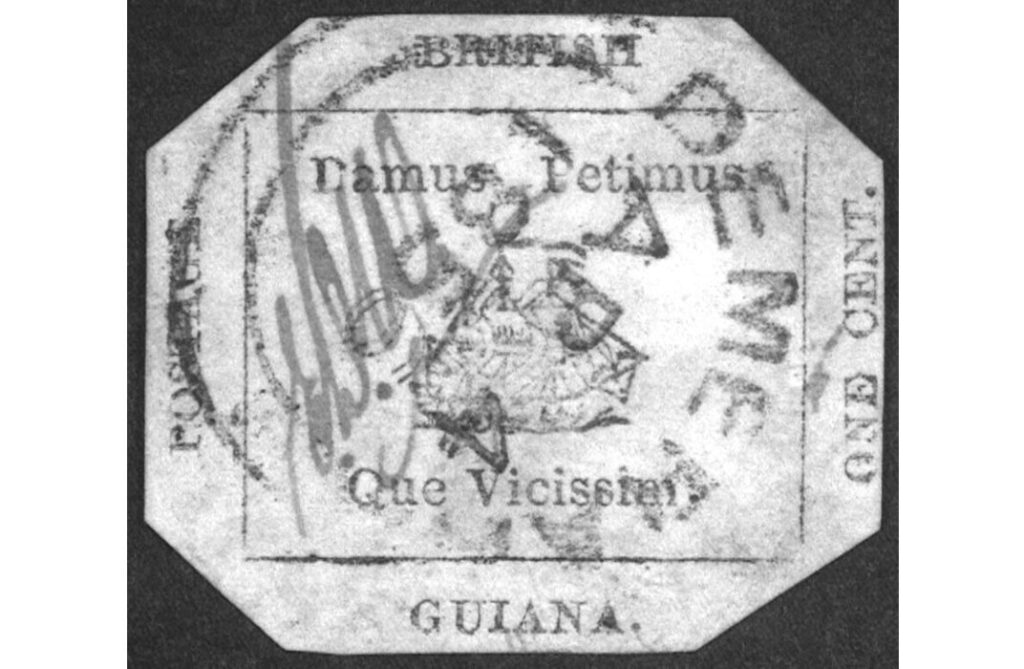 The One-cent Magenta has a ship at its center and includes British Guiana's motto of the time, Damus Petimus Que Vicissim (We give and take in return).  Nice paternalistic motto.  It's like the dance between the Treasury and the Fed.  We sell bonds, and you buy them in return.  However, this particular tango was interrupted by Mnuchin asking the Fed to close down several emergency lending facilities and remit the unused funds to Congress.  The Fed responded that those facilities still might be necessary.  As Powell often reminds, the Fed is a lender.  Congress can appropriate targeted grants.  I guess the market decided that the ultimate outcome would be more bond buying by the Fed, further out the curve. The thirty year bond fell 11.6 bps this week to 1.53% with tens declining 6.3 bps to 0.828%.  2/30 spread ended just under 137 vs the year and month's high of 155.7. Should be great support between 127 and 132.  Stocks ended Friday on a soft note, with SPX -0.8% on the week. 
This holiday shortened week includes Chicago Fed National Activity and Markit Composite on Monday. On Wednesday, Jobless Claims, Q3 GDP and Core yoy PCE prices, expected 1.4% from 1.5% last. FOMC minutes are on Wednesday afternoon, and will likely include discussion of increased bond buying. Treasury auctions $56 billion in twos and $57b in fives on Monday, followed by $56b in sevens on Tuesday. Including 3- and 6-month bills the Treasury is auctioning $217 billion on Monday alone! According to the TBAC financing table, between last week's 20y and 10y TIP, and this week's 2, 5, and 7 auctions, over $128 billion in new cash is being raised.
OTHER MARKET THOUGHTS/ TRADES
On the Eurodollar curve, news of the week was uncertainty raised regarding the libor/SOFR transition in January 2022. Comments were released by ICE Benchmark Administration (IBA) and the UK's Financial Conduct Authority. The result was that shorts in EDH2 (set in anticipation of the libor fallback) were pared back. EDZ1/EDH2 calendar has had a range of 3 to 7 this month, and closed at 4.5. There has been continued heavy trade in EDH2, M2, U2 and Z2 9962 strikes, both through call selling and through 9975/9962p 1×2's. The long green Dec 9962 straddle settled 21.5 with 757 days to go; EDZ2 settled 9965.0. Since early August this contract has moved from a high of 9982 on Aug 4 to a low of 9960.5 on Nov 11, exactly the same number of bps as the straddle.
| | | | | |
| --- | --- | --- | --- | --- |
| | 11/13/2020 | 11/20/2020 | chg | |
| UST 2Y | 17.7 | 16.1 | -1.6 | w/I 16.5 |
| UST 5Y | 40.1 | 37.3 | -2.8 | w/I 38.0 |
| UST 10Y | 89.1 | 82.8 | -6.3 | |
| UST 30Y | 164.6 | 153.0 | -11.6 | |
| | | | | |
| GERM 2Y | -72.7 | -75.1 | -2.4 | |
| GERM 10Y | -54.7 | -58.3 | -3.6 | |
| JPN 30Y | 64.9 | 62.5 | -2.4 | |
| EURO$ Z0/Z1 | 0.5 | -0.3 | -0.8 | |
| EURO$ Z1/Z2 | 11.5 | 10.5 | -1.0 | |
| EURO$ Z2/Z3 | 15.0 | 14.5 | -0.5 | |
| | | | | |
| EUR | 118.38 | 118.56 | 0.18 | |
| CRUDE (active) | 40.40 | 42.42 | 2.02 | |
| SPX | 3585.15 | 3557.54 | -27.61 | -0.8% |
| VIX | 23.10 | 23.70 | 0.60 | |
| | | | | |
https://www.smithsonianmag.com/smithsonian-institution/remarkable-story-worlds-rarest-stamp-180955412/
https://medium.com/cinenation-show/a-great-character-moment-the-stamp-collector-in-charade-c5aa7d00114f
https://www.pwccmarketplace.com/market-indices?sort=rank&order=&index=100
https://www.reuters.com/article/us-global-debt/global-debt-to-hit-record-277-trillion-by-year-end-on-pandemic-spending-splurge-iif-idUSKBN27Y239