Feb 11, 2018. The Gibraltar Aluminum Siding Company (aka The Fed)
This past week, the actor John Mahoney passed away.  Though famous for larger roles, I always liked him as Moe Adams, an aluminum siding salesman in Barry Levinson's Tin Men.  The movie is a nostalgic look at early 1960's Baltimore, in the days of classic 20 foot long Cadillacs with tail fins.  Because these salesmen ran so many scams, they ended up having to testify before the newly formed Maryland Home Improvement Commission regarding deceptive sales practices, with many losing their licenses.  Moe tells the story of another sales pro, who cut the middle few inches out of a yardstick and glued it back together so square footage would be higher when he measured a job, "Nobody looks at a yardstick to see how long it is."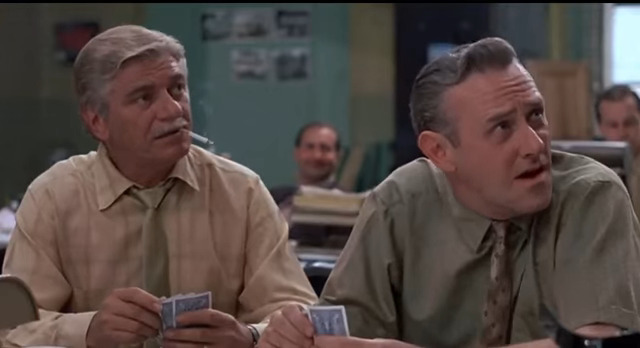 As Tilly (Danny Devito) says to his partner Sam in front of the commission, "What's he talking about? The man got the job for $2400 which is what it cost in aluminum siding… I don't know if this is deception…" https://www.youtube.com/watch?v=3T89tMPDLwk
If the stock market sell off continues, we'll see a replay of the above scene, except the Congressional panel will be interviewing sponsors of various volatility products.  "Sir, our prospectus clearly states that our products attempt to capture moves in the VIX index.  These products have many beneficial characteristics for homeowners investors."  (In answer to a question posed by a stern Congressman, reading glasses halfway down his nose, a derisively incredulous look on his face).
Aluminum siding simply covers up the exterior flaws on a home; it doesn't address core structural issues.  The central banks of the world have done much the same thing.  By slashing rates, they overtly forced investors out the risk curve.  In an attempt to generate yield that disappeared from conventional products, investors increasingly turned to volatility strategies to add a few basis points.  I think they call it "alpha".  Complacency peaked, with corporate spreads tight and yields low. Debt levels increased, the curve flattened, and volatility fell across all markets. Conditions were 'easy' for financial engineering. The rally in paper assets was indeed a stimulant for the real economy, but by some, was mistaken for BEING the real economy.  This sentiment was embraced most heartily by President Trump, who took credit for the rise in equity wealth at every opportunity.
Now central banks are trying to engineer a graceful reversal of policy, led by our very own Gibraltar Federal Reserve.  The tax cut stimulus and related stock market blast-off is something the Fed had to respond to.  The factors causing various market reversals are clear, and have been articulated by many large investors, Fed officials, think tanks, and ratings agencies (Moody's) well before last week's wild ride.  NY Fed President Dudley, in a BBG interview Wednesday termed the move so far "small potatoes", saying "magnitude and duration is the issue for central bankers".  In that same interview he clearly laid out conditions that are negative.  He has repeatedly warned about the US government's fiscal position.  He said that gov't "debt service costs are likely to go up a LOT" as deficits double and rates rise.  Just last week that theme was echoed by none other than Paul Tudor Jones, "If I had a choice between holding a US Treasury bond or a hot burning coal in my hand, I would choose the coal. At least that way I would only lose my hand."  He further wrote, "It is incredible that at full employment we have passed a tax cut that will push our deficit to 5% of GDP. Can you imagine what will happen to the deficit and debt in the inevitable downturn? This is what the dollar is sensing."  Even I have written about it, and no one is going to accuse me of having the news first.  As Dudley said last week, bond yields are going up with the view that monetary policy around the world is going to become less accommodative.
I could blab on and on about concise warnings that have fallen on deaf ears.  However, now I will focus on market clues that may put the idea of "duration and magnitude" in context. First, here is a long term chart of the VIX spread, 1st contract to 2nd contract.  As you can see, the typical configuration is that the first contract trades at a discount so the spread is positive (represented by green on the lower panel).  During times of panic, the near contract trades at a premium.  This premium, at 7.9 late Friday, shown as a negative value, is as high as it has been since the 2008 crash. To my way of thinking, that indicates more to come.
The next thing I will note is that the curve steepened hard this week.  The two year yield fell 9.4 bps and the 30y bond yield rose 3.9.  It's instructive to observe the way TYH traded in relation to stocks.  On Monday's plunge below 2550, TYH rallied to just above 122-16.  Flight to quality.  On Tuesday's ESH rebound to 2725, TYH fell to 121-12, and continued down on Wednesday to post the week's low at 120-17.  But on Friday, as ESH again spiked below 2550, TYH could only briefly poke above 121-16, a full point below Monday's high.  In other words, maybe the ten year isn't exactly the 'quality' haven it used to be.  This captures the bearish sentiment regarding the long end of the treasury market.  Stocks initially started to sell off due to concerns about rising interest rates.  For the third week in a row, I will cite Dalio who warned, "It just takes a little change in interest rates to have a bear market."  So what are bonds concerned about?  1) Less accommodative central banks 2) a huge prospective jump in the deficit which means more bond issuance 3) continued QT 4) higher commodity prices and a weaker dollar, both of which contribute in increased inflation expectations 5) higher wages due to tight employment markets, also adding to inflation concerns 6) a stimulative jolt due to tax cuts.  As we say on the floor, "It's not rocket surgery."
The next question is, are stocks therefore likely to rebound if rates retrace lower?  The answer is, maybe, but probably not.  As noted, the big themes are bearish for rates, especially if inflation starts to accelerate (and we'll have CPI and PPI this week Wed and Thurs).  However, increased supply of treasuries is a given.  Tightness in labor markets is another factor that's not likely to change quickly.  And the tax cut is now law.  What might change is the Fed's response to falling asset prices, particularly if 'magnitude and duration' grow.  In that case, one would expect that near Eurodollar calendar spreads would decline relative to more deferred, as the back end of the curve is likely more responsive to inflation expectations.  And, that is exactly what has occurred.  For example, a week ago Friday the EDH8/EDH9/EDH0 butterfly was 29.5, with EDH8/EDH9 60.5 and EDH9/EDH0 31.0.  This week the fly settled 20, with EDH8/9 at 46.0 and EDH9/0 26.0.  In treasuries the same thing is reflected by the 2/5/10 fly.  2/5 went from 44.6 to 45.6, an increase of 1 bp, while 5/10 went from 25.1 to 31.3, +6.2.   As I have said in the past, the new Fed is not as likely to come to the defense of the stock market as rapidly (and that's just what Dudley meant by the 'small potatoes' remark).  But even if they do slow down projected hikes, negative factors for the long end remain.  And IF inflation becomes an issue (be careful of what you hope for…) then both stocks and bonds will face additional headwinds.
(Chart below shows EDM8 97.875p and the recent decline in open interest)
The short end of the market has issues as well, related to both positioning and an increase in fra/ois spread.  A surge in t-bill issuance is expected to widen this spread further. There's been huge liquidation of short positions in EDM8 9787.5 puts, as shown on the chart above.  These puts have soared from 1 bp at the start of the year to over 10, settling at 8.75 Friday.  Open interest declined from nearly 1m to 519k as of Friday's close.  The same thing has occurred in EDH8 puts.
The next chart shows the fra/ois spread. It's not as high as the money market reform spike of October 2016, but it appears to want to test that level.  Again, the idea of funding stress is a nagging concern, and that fear is reflected by heavy selling pressure on the first two Eurodollar contracts.
Another indicator to watch is corporate spreads.  Gundlach consistently pointed to relative weakness in HYG (the junk bond etf).  It plunged this week, though it still has a long way to go to reach depressed levels associated with the energy disaster in early 2016.  Another interesting feature late last week was a jump in Investment grade CDX.  Absolute levels are still low, as the long term chart below shows.  However, the trend appears to have changed.  The cost of bond protection is increasing.  Corporate spreads are sure to follow.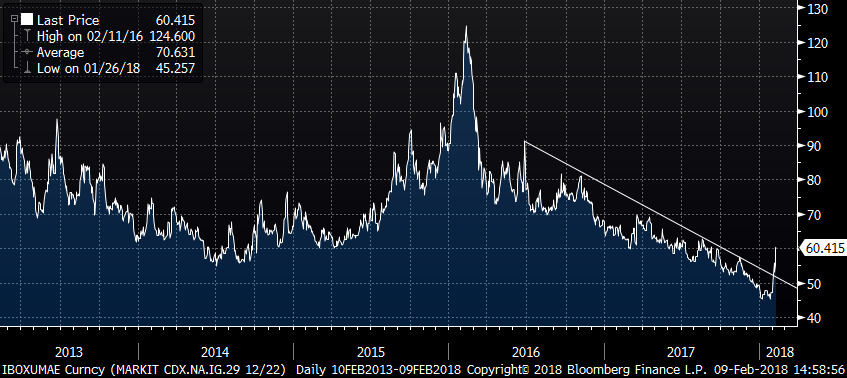 In summary, stocks were initially spooked by interest rate concerns.  Prior to Chairman Powell's testimony before Congress on Feb 28, the Fed will likely resist taking steps to overtly support stocks.  Unless inflation data are decidedly weak (CPI and PPI released Wednesday and Thursday), pressure on bonds is likely to continue, and rallies in stocks will find willing sellers.
_______________________________________________________
| | | | |
| --- | --- | --- | --- |
| | 2/2/2018 | 2/9/2017 | chg |
| UST 2Y | 215.1 | 205.7 | -9.4 |
| UST 5Y | 259.7 | 251.3 | -8.4 |
| UST 10Y | 284.8 | 282.6 | -2.2 |
| UST 30Y | 309.4 | 313.3 | 3.9 |
| | | | |
| GERM 2Y | -54.0 | -56.7 | -2.7 |
| GERM 10Y | 76.7 | 74.5 | -2.2 |
| JPN 30Y | 81.7 | 80.5 | -1.2 |
| EURO$ H8/H9 | 60.5 | 46.0 | -14.5 |
| EURO$ H9/H0 | 31.0 | 26.0 | -5.0 |
| | | | |
| | | | |
| EUR | 124.59 | 122.52 | -2.07 |
| CRUDE (1st cont) | 65.45 | 59.20 | -6.25 |
| SPX | 2762.13 | 2619.55 | -142.58 |
| VIX | 17.31 | 29.06 | 11.75 |
https://finance.yahoo.com/news/paul-tudor-jones-id-rather-holding-hot-coal-u-s-treasury-bonds-165831890.html