Feb 25, 2018. Showtime for Powell
The past week saw new highs in US yields, new highs in many Eurodollar calendar spreads, a new high in fra/ois, all associated with the release of the FOMC minutes on Wednesday.  From there, everything pulled back slightly into Friday.  Week over week changes in rates were relatively small; tens were down 0.5 bp to 2.87% after nearing 3% on Friday, and the 30 year bond was up 2.2 bps to 315.7, having tested the high of March 2017 of 3.22%.  Stocks were up modestly and oil gained $2, having erased half the recent sell-off which coincided with the stock market decline.  Lumber posted new highs with the March contract up 28% since December.
I think China's takeover of Anbang Insurance Group is hugely important as a signal of coming to grips with runaway credit growth, malinvestment, WMP's and shadow banking.  It's likely negative for growth in China and therefore global growth.  The Great Financial Crisis was made in America, but there's little concern that reining in China's explosive growth in debt can spill over into the rest of the world.  So for now, the market more or less ignored the Anbang news, which will likely be overshadowed by events this week.  On Tuesday, Powell testifies before Congress in his new role as Fed Chairman.  On Thursday PCE price data is released.  Italian elections are March 4.  Note that Employment data is NOT Friday, but rather March 9.
In terms of Powell's testimony, we might get clues as to how much support the Fed is likely to give asset prices if they decline…will we hear an echo of Dudley's 'small potatoes' remark?  There may be some clues as to how many hikes occur in 2018, though the market seems fairly comfortable with 3 or 4.  Jan'19 Fed Funds at 9788.5 are 69.5 bps above the current Fed Effective of 142, so just under 3 hikes are priced.  The big longer term issues are 1) Inflation 2) Fiscal sustainability of the Federal Budget, and 3) Policy options for the next recession.
In terms of inflation, concerns in the market have been accentuated this year due to the wage growth component of the last Employment Report (+2.9 yoy), which was followed by a strong CPI number.  Mnuchin this week said wages can go up without sparking inflation, which is to say that rates should (hopefully) stay low so that the US can finance expected gargantuan deficits without debt servicing costs toppling the apple cart.  Powell may take issue with that scenario.  The US is certainly seeing growth related to the tax plan, but there is no question that deficits will grow, and need to be funded by treasury issuance.  This leads to the last concern, which is how the Fed will deal with the next recession. This is a large looming issue, though I doubt it will receive much emphasis in Congressional hearings.  For now, I'll cite Dudley: (RTRS) Still, as William Dudley, president of the New York Fed, said at the conference, the ability to again purchase bonds if and when rates hit zero "seems like a good tool to have."
In my personal opinion, it's all a bit circular and relates back to the idea of the 'Fed put' and moral hazard, writ large.  Paraphrasing: The Fed can buy treasury debt to monetize the unsustainable (according to many Fed officials) fiscal deficits, thereby supporting financial asset prices which are the mainstay of the economy.
Gundlach was on CNBC Friday, and said that Doubleline was noodling around an interesting question:  (exact transcript is posted at bottom) "When the next recession hits, will it be bond friendly?" He notes that there will be huge amounts of debt issuance related to fed'l budget deficits and QT, and, with the addition of corporate and junk bonds and bank loans, it will total approximately $2 trillion annually in supply.  Obviously, Doubleline has concerns that a recession may NOT help bonds.
It's really all about confidence.  I think the decline in the USD over the past year is a reflection of that.  I am not talking about business confidence which is clearly high, but rather integrity in the financial global architecture.  So when the Fed says the lack of inflation is a mystery, or that they really don't know what causes long term shifts in productivity, I think it chips away a little bit of that confidence, which makes Powell's appearance fairly important.  As a small aside, I would note that during the 1994/1995 hiking campaign, the dollar index fell as well (with a notable rally in Q4 1994) and did not bottom until the last hike in Feb 1995.
What are bond prices really reacting to?  Inflation?  Inflation expectations?  Growth?  Deficits and supply concerns?  Fears that trading partners may be less willing to finance US debts given the administration's resolve to 'level the playing field' with tariffs and other measures?
Below is a picture of PCE Prices.  Core is in white.  We don't have to worry about where it is right now.  It's where it's going to go.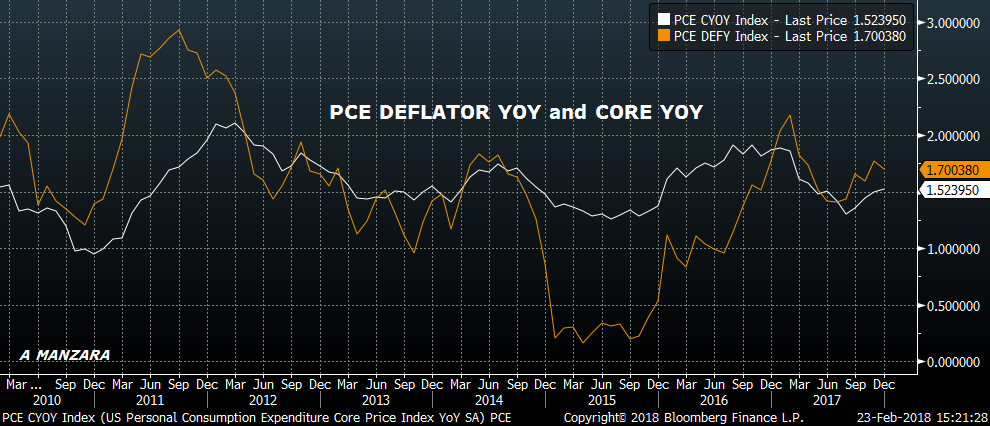 We now have many analysts coming out with their reasons inflation can't go higher. Most center on demographics and productivity.  These papers are like having the baseball game on the radio on a warm summer day while doing lawn work.  Background noise.  There are a lot of reasons that inflation CAN accelerate that have nothing to do with longer term demographics and a lot to do with policies and confidence (or lack thereof) in them.  See lumber.
Two weeks ago on Feb 12, many measures of the curve peaked and have been flattening since.  For example, 2/10 on 12-Feb was 78 and is now 63 (in part due to new 2 year).  Red/gold euro$ pack spread went from 42.75 to 29.5.  The fact that tens didn't pierce 3% and bonds didn't quite get through last year's high, along with the flatter curve, are factors that tend to support stocks.  However, in spite of last week's bounce in the short end on Friday, funding issues are still lurking.  I would note that both June euribor and short sterling closed at new recent lows on Friday.  Not much of an issue in euribor, but June Short Sterling was 9930 in early February and 9914 on Friday, a significant plunge.
There's no end of material to cover, but I am going to wrap up with a couple of addendums.  First, regarding the ongoing crackdown related to financial stability in China, Anbang reminds me of when news came out that Bear Stearns would have to shutter two (mortgage related) bond funds due to massive losses in June 2007.  It was a like waving a flag and ringing a bell at the same time.  Stocks faltered slightly, ran to new highs, had a deeper sell off, and then ultimately peaked 4 months later in October.  In October of last year, PBOC's Zhou Xiaochuan warned of the risks of a "Minsky moment" in China.   Evidence is mounting.  Below is a picture of Bear Stearns news in 2007.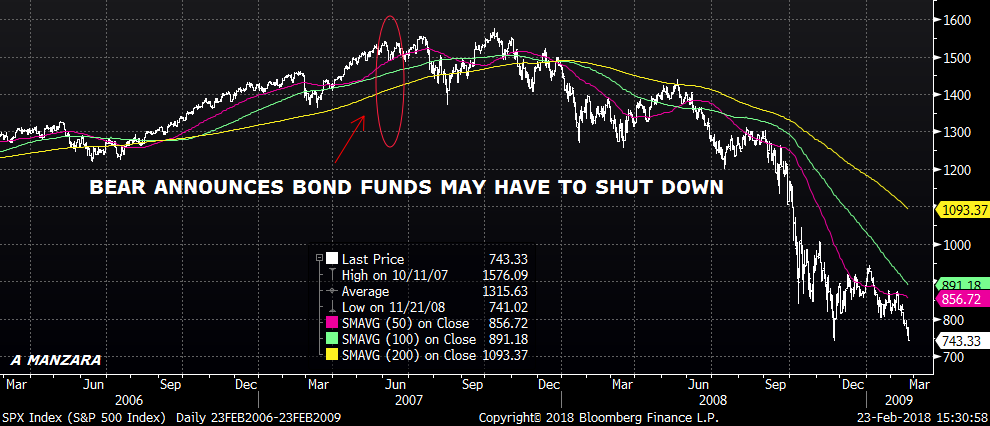 One other note.  Geopolitical issues seem to have moved to the back burner recently.  However, the British Defense Sec'y announced a couple of weeks ago that the HMS Sutherland, a warship now in Australia, would sail through the South China Sea next month, "…making it clear our navy has a right to do that."  I assume that will be in early March, and I suspect the South China Sea will be a renewed topic of interest in March.
_______________________________________________________
| | | | |
| --- | --- | --- | --- |
| | 2/16/2018 | 2/23/2018 | chg |
| UST 2Y | 222.0 | 223.8 | 1.8 |
| UST 5Y | 263.2 | 261.7 | -1.5 |
| UST 10Y | 287.5 | 287.0 | -0.5 |
| UST 30Y | 313.5 | 315.7 | 2.2 |
| | | | |
| GERM 2Y | -56.8 | -53.5 | 3.3 |
| GERM 10Y | 70.6 | 65.3 | -5.3 |
| JPN 30Y | 78.5 | 75.0 | -3.5 |
| EURO$ H8/H9 | 51.0 | 48.5 | -2.5 |
| EURO$ H9/H0 | 27.0 | 27.0 | 0.0 |
| | | | |
| | | | |
| EUR | 124.09 | 122.98 | -1.11 |
| CRUDE (1st cont) | 61.55 | 63.55 | 2.00 |
| SPX | 2732.22 | 2747.30 | 15.08 |
| VIX | 19.46 | 16.49 | -2.97 |
GUNDLACH INTERVIEW:  …HERE'S THE DEAL: WHEN THE NEXT RECESSION COMES, IT'S REALLY GOING BE INTERESTING BECAUSE WE'RE ALREADY PUTTING ON A 1.2, 1.3 TRILLION DOLLAR DEFICIT IN FISCAL '19, AND WE HAVE QUANTITATIVE TIGHTENING GOING ON, WHICH COULD BE AS MUCH AS 600 BILLION IN FISCAL '19, WE'RE TALKING ABOUT NEARLY 2 TRILLION OF GOVERNMENT BONDS AND CORPORATE BONDS AND JUNK BONDS, AND BANK LOANS STARTING TO SHOW SOME REAL MATURITIES, SO YOU PUT A RECESSION ON TOP OF THAT, YOU CAN BE LOOKING AT BOND SUPPLY LIKE WE HAVE NEVER SEEN BEFORE. AND SO THE REAL QUESTION, AND THIS IS SOMETHING WE'RE NOODLING WITH AT DOUBLELINE, AND WE'RE GONNA LET SOME OF THE DEVELOPMENTS FORM OUR POINT OF VIEW, NOW WE DON'T HAVE A PRESET POINT OF VIEW, ALWAYS BETTER TO KEEP AN OPEN MIND, BUT WILL THE NEXT RECESSION BE BOND FRIENDLY WITH ALL OF THAT SUPPLY COMING? IT'S REALLY AN INTERESTING QUESTION FOR INVESTORS TO PONDER. WE DON'T HAVE TO ANSWER THAT TODAY, BECAUSE THE RECESSION ISN'T HERE YET.
https://www.cnbc.com/2018/02/23/cnbc-exclusive-cnbc-transcript-doubleline-capital-ceo-jeffrey-gundlach-speaks-with-scott-wapner-today.html