Got wood?
August 14, 2020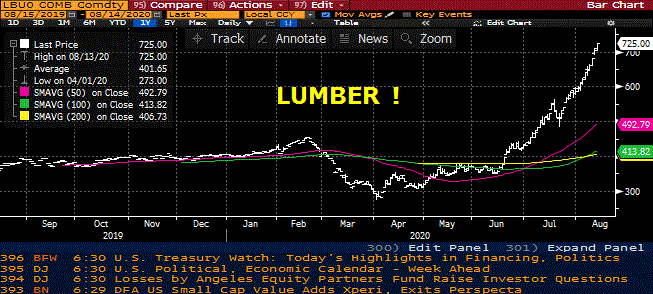 –Yields continued to rise Thursday as the 30 year bond auction tailed a couple of bps at 1.406.  Bid to cover was 2.14, the lowest since July 2019, though that auction was much smaller, at $16 billion vs $26 billion yesterday.  The ten year yield climbed 3.2 bps to 71.4 while bonds jumped 6.0 to 142.5.  5/30 now 111 at a recent new high; the year's high of 122 occurred in June. The low 10-yr yield earlier this month was just under 51 bps.
–3 month libor was 0.28013 yesterday, the highest since early July.  On the ED curve, only EDZ0 has a higher yield having settled 9970.5 or 29.5. All other contracts within the next two years have slightly lower yields until EDZ22 at 9970.  
–By the way, Sept Lumber made another new high closing at 725.  In March the near contract had traded below 300, so it's now 2.4x higher.  As a comparison, bitcoin had traded 5000 in March and is now 11700, not quite matching wood.  Gold, though it has gotten some recent press, is a relative laggard.  Just a double off March lows would put it over 3000 vs the current level of 1950.  Gold is the financial sector as lumber is the commodity Nasdaq.
–Davey Day Trader met with the Winklevoss twins (twitter clip), thus forming an unholy trinity to shepherd the retail bros into a new arena, that of crypto.  Other anecdotal pieces of news that may have a bit more macro flavor:  the Nugget Diner in Reno which features the Awful Awful burger is closing, as is the Nugget Casino.  In Chicago, La Sardine is closing after 22 years in the West Loop (Chicago).  Businesses always close of course, but these are examples of places that just can't hang on any longer.  La Sardine is of interest because it's near the relatively new Google office in the Fulton Market area that had seen property values and trendy restaurants explode the last few years.  Uber says it may have to suspend ops in California due to new laws that say the company must treat its workers as employees, with insurance and benefits.  The gig economy may face further headwinds depending on the outcome of the election.  Finally, Softbank is lending WeWork another $1.1 billion.   It's a key question across vast sectors of the economy: Borrow more to try to wait out the collapse in demand, or pull the plug? 
–News today includes Retail Sales expected +2.0%, but BofA is expecting a weaker number based on credit card usage.  China's retail sales (reported this morning) were soft, as were other econ data.  Also in the US, after a stronger than expected CPI on Wednesday, we get the mid-month U Mich initial estimates for 1-year and 5-10 year inflation. which were +3.0% and +2.6% last.