Keep shoveling
July 14, 2020
–The fever finally broke in Nasdaq with NQU posting an outside day key reversal with a large range. New all-time high, lower daily low and lower close. These signals haven't worked well recently, and neither ESU nor RTYU had outside days, but trade ended sloppily lower. The catalyst might have been more COVID, with CA rolling back re-opening of bars and restaurants. Or it might have been related to the expected but still shocking record US monthly budget deficit of $864 billion. That money is the coal being shoveled into the steam engine of the little train that could, to get us over the hump. A portion found its way into stocks as the rails flattened out, but there's another hill ahead. Ding ding ding….those deficits might not be sustainable into perpetuity. What if they're pared back? Who's going to buy this stuff, at these levels, going into earnings season?
Today we have NFIB coming out expected 97.8 vs 94.4 last. I have become sort of fixated on this number because it correlates with Russell. It reached a low of 81.6 in 2009 and surged after Trumps election, hitting a high of 108.8 in 2018. Low for this cycle so far is 90.9 end of April, then a bounce to 94.4 for May…today's data is for June. Small biz optimism shot up on Trump's election because regulations were rolled back and the administration listened to business concerns. Biden will likely reimpose legislation and favor labor. I'm not saying that's good or bad because I have the capability to be long or short. I am just saying that today's data may be important, especially if it's closer to 90 than 100.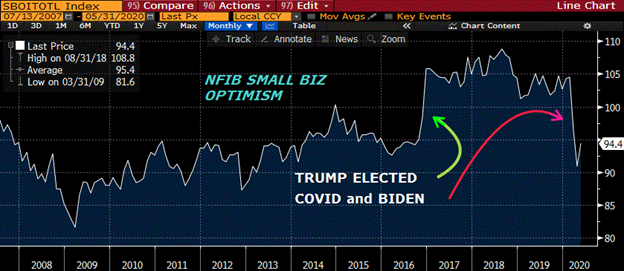 Rates ended essentially unchanged, though there was modest pressure on the front end as we face tax day and settlement of last week's auctions. Core yoy CPI expected +1.1% with month over month 0.1%.