Lane change
April 11, 2021 – Weekly Comment
*****
The snippet below is from Tyler Neville of Blockworks:
Here are the speaking events for the Fed next week.
This is an absolute CLOWN show.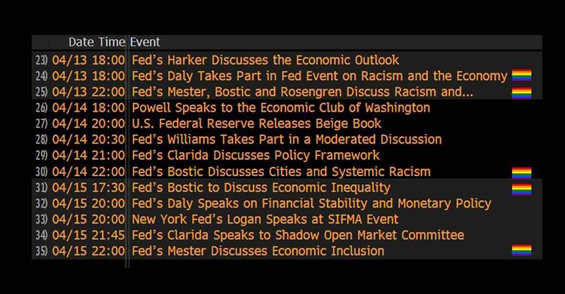 For 12 years, the Fed ignored any signs that QE was causing a gap in inequality between capital and labor.  
Now, all of a sudden they are experts on inequality and systemic racism?
In many Congressional appearances, especially during the Trump years, Powell constantly reminded his audience that the Fed "stays in its lane" with regard to monetary policy, concentrating on the dual mandates of full employment and low inflation. Just this week, four of the twelve regional Fed Presidents will be discussing racism and economic equality/inclusion. Not included on the list above is Kaplan's appearance on the 16th at a Virtual Climate Change Symposium.

The late 1970's were the most equal years regarding wealth and income distribution. That was also a period of high inflation. Clearly, the institutional thinking of the central bank has shifted to the idea that higher inflation results in more equality with respect to economic outcomes. However, they're working overtime (time-and-a-half) to convince the public that price increases are transitory. Markets aren't so sure.
On August 27 of last year, Powell announced the change in the Fed's policy framework to incorporate FAIT, flexible average inflation targeting. On the employment side, the Fed would henceforth assess "shortfalls" from maximum employment rather than "deviations". In a Jan 31, 2021 speech, Brainard explained it this way:

In other words, the new framework calls for policy to address employment when it falls short of its maximum level, whereas the previous framework called for policy to react when employment was judged to be too high as well as too low.
Markets noticed. As the chart below of the 2/10 treasury spread reveals, the curve has been steepening ever since the change in framework.  The Fed succeeded in changing market sentiment regarding inflation, a sentiment which has now been reinforced by the huge fiscal and monetary response to the covid crisis, (which has now turned the corner).  The public's mentality is now buy and hoard.
Over the past week, the curve flattened a bit as yields retreated from highs set the previous week. The five year yield dropped 10.6 bps to 87, while tens fell over 5 bps to 166.6. This, in spite of a record high Service ISM release of 63.7, a huge Consumer Credit number of $27.5 billion, and yoy PPI of 4.2%. When a market absorbs bearish news without going lower, it is often a bullish sign. However, this week will bring further challenges in the form of supply, with 3s and 10s auctioned on Monday, followed by 30s on Tuesday. According to TBAC, auctions this week will raise $59 billion in new cash. In the following couple of weeks, the 20y will be auctioned on 4/21, 5y TIPS on 4/22 and 2s, 5s, 7s on April 26 and 27. These auctions are raising $130 billion in new cash. Even with the Fed buying $80 billion in treasuries per month, this increase of $190 billion of new cash could cause a bit of indigestion.

On top of that, BofA is expecting a monster retail sales number of 11% on Thursday as outlined on ZH. CPI is released on Tuesday, expected 2.5% yoy with Core at a tame 1.5%.
Powell is appearing on 60 Minutes this evening, where he will likely parrot the mantra of transitory inflation due to base effects and one-off changes in consumer preferences. However, he will almost certainly swerve into economic equality lanes and use the climate change ramp to take other detours which weren't overtly mentioned in the Fed's framework change, but have now been included, notwithstanding. Will markets conclude the Fed is trying to do too much?
OTHER MARKET THOUGHTS/ TRADES
There were a couple of large trades worth note. On Friday, a new buyer of 7250 long Green pack 100 call strip for 17.0 up to 19.0 EDM3 100c settled 3.0, U3 at 4.0, Z3 at 4.5 and H4 at 5.5, so the strip settled 17.0. These options expire with the underlying futures, i.e. EDM3 100c has 798 days until expiry on June 19, 2023. It's all vol. Both EDH3 and EDM3 have huge open interest in 9975 and 9987.5 c strikes (H3 9975c 400k and 9987.5c 200k, EDM3 9975c 102k and 9987.5c 155k) so these 100c buys might just be the start of an upside cap of risk. If the trade were more of a forecast of impending disaster, the long red pack 100c strip would be the better bet, settling at 5.25 (M2 1.0, U2 1.25, Z2 1.25 and H3 1.75).
A much larger trade was a buy on Friday of 200k July VIX 25/40 call spreads for 2-2.15. Said to be greater than $40 million in premium. While spot VIX has eased down to 16.69, July VIX futures closed 23.16, with the 25c at 3.50 and 40c 1.37. For the sake of comparison, June VIX futures are 22.23, the June 25c at 2.65 and 40c at 1.05, so 1.60 in the call spread vs 2.13 for July.

BABA was fined $2.8 billion for antitrust violations by the Chinese government. As one twitter commentator noted, that's almost 5% of top line revenue. While this action is almost certainly just a specific clampdown targeting Jack Ma, governments worldwide are likely hearing an echo of Willie Sutton's reply when asked by a journalist why he robbed banks: "because that's where the money is."

The risk is that a sudden reversal of fortunes in big tech could cause an abrupt halt to the rise in treasury yields. It's instructive to look back at 1987. From January to October of 1987, the ten year yield went from 7% to 10.25%. From the start of 1987 until late August (when stocks topped, having taken notice of rising yields), SPX rose 39%. From the start of September in 2020, the low in the 10y yield following the Fed's framework change was 64 bps. Seven months later, at the start of April, it reached 1.74%. Still low, but on a percentage basis it's a MUCH larger move than 1987. Stocks have yet to take notice and SPX since a dip in last September is up 28%. There's probably more life in major stock indices. Which likely means that yields will again push to new highs.
| | | | | |
| --- | --- | --- | --- | --- |
| | 4/2/2021 | 4/9/2021 | chg | |
| UST 2Y | 18.4 | 15.5 | -2.9 | |
| UST 5Y | 97.4 | 86.8 | -10.6 | |
| UST 10Y | 172.0 | 166.6 | -5.4 | w/I 166.7 |
| UST 30Y | 236.3 | 233.9 | -2.4 | w/I 234.2 |
| | | | | |
| GERM 2Y | -70.8 | -70.2 | 0.6 | |
| GERM 10Y | -32.8 | -30.3 | 2.5 | |
| JPN 30Y | 69.3 | 67.6 | -1.7 | |
| CHINA 10Y | 319.9 | 321.0 | 1.1 | |
| EURO$ M1/M2 | 14.5 | 10.0 | -4.5 | |
| EURO$ M2/M3 | 52.5 | 44.0 | -8.5 | |
| EURO$ M3/M4 | 77.0 | 73.0 | -4.0 | |
| | | | | |
| EUR | 117.60 | 119.02 | 1.42 | |
| CRUDE (active) | 61.48 | 59.32 | -2.16 | |
| SPX | 4019.87 | 4128.80 | 108.93 | 2.7% |
| VIX | 17.33 | 16.69 | -0.64 | |
| | | | | |
https://home.treasury.gov/system/files/221/TBACRecommendedFinancingTableQ22021-02032021.pdf
https://www.zerohedge.com/economics/stimmy-bonanza-here-comes-another-blockbuster-retail-sales-print