Lowest inflation data of year?
May 29, 2020
–I saw a note yesterday that Orange Juice was one of the best performing commodities this year.  July (JON0) sank below 100 in March and soared over 130 in May, closing at 127.80 yesterday.  Of course, crude oil has had a much larger percentage run off its debacle low in April (and is arguably somewhat more important to the global economy).  In any case, it seems that commodities are perking up; I've attached a chart of corn, which appears to have put in a May bottom and is poised for a move higher.  (C Z0 was 4.04 in January, traded as low as 3.25 in May and is now 3.41, still shy of the 38% retracement at 3.55.  Maybe I'm simply trying to wrangle arguments in support of a broader inflation theme, but I would also note that DXY (dollar index) closed below the 200 DMA yesterday and is further weakening this morning to levels not seen since late March (current 98.10).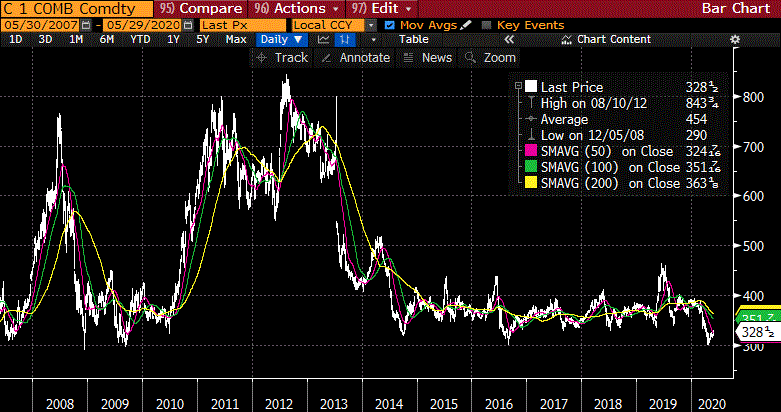 –Rate markets were lethargic yesterday.  However, 5/30 posted a new high 112.5 bps and 2/30 at 129.5 is just a couple off of the spike high in March.  A friend noted that NY Fed's Williams reference to Yield Curve Control would likely cover the curve out to the belly, leaving the longer end to seek higher yields, with additional supply of 20's figuring into the mix.  Also worth mention is that the ten year treasury to tip breakeven made a new short term high just over 119 bps, still below April's high of 130, but well off the spike low of 60.  For context, this spread traded between 150 and 180 from Q4 through January.  Slight steepening of ED curve, with reds -0.375, greens -0.625, blues -1.125 and golds -2.25.  Red/gold pack spread at 43.75 is well below March high print of 60.  
–Equities slid from new highs into the end of the session as Trump announced a speech for today addressing China.  Modestly lower this morning with small-cap Russell leading the decline.  Not sure as to time of Trump's news conference.
–This morning we'll get the Fed's preferred inflation measure, Core PCE prices for April, expected at yoy 1.1% from 1.7% last.  Also, UofM final May readings on expected inflation.  In the middle of the month, the prelim numbers were surprisingly high, 3.0% for 1 year and 2.6% for 5-10 years.  

–Sad to see the violence engulfing Minneapolis and hoping that societal tensions don't boil over to other metros. Hope Matt's is still safe so I can get up there for a juicy lucy this summer.       

–And no.  I am not going lead off a post with Frozen Concentrated Orange Juice without a Trading Places clip.  "Of course, gold doesn't grow on trees like oranges."