Singing the blues
Weekly Comment – October 4, 2020
It starts as a little hum and then transforms into a full blown song.
Short note this week, focused mainly on flows into deferred (blue and gold) midcurve puts. On the euro$ curve, blues are the fourth year forward and golds are the fifth year. In early 2019, the flows in euro$ options centered on near term easing plays. These turned out to be exactly right. What we are seeing now is heightened interest in puts in blues and golds. If correct, these trades reflect the possibility of a steeper curve and higher long end rates, so it's worth paying attention to the positioning.
Below is a chart of the ten year treasury yield and the yield of the third gold ED contract.  EDM'25 settled Friday at 9929.0 or 71 bps, the closest to the ten year yield of 69.4.  Looking back it's pretty clear that these track well.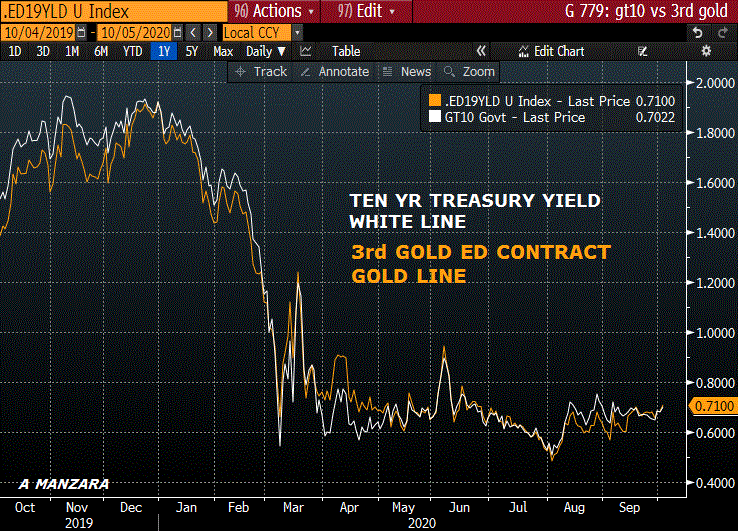 For all practical purposes, the longest options on TY are currently Decembers which expire in late Nov. There are currently only 435 open contracts in TYH puts (expiring in February). On the other hand, there are some open March expiry calls on TBT (bear bond ETF), but markets look a bit wide.
In order to express a view for higher long end rates and a steeper curve just using puts, it makes sense to use Eurodollar midcurves as they are quite liquid out to the June 2021 expiry on blues and golds. There have been a lot of recent trades doing just that. I simply looked at March and June expiration midcurve puts from strikes 9950 to 9850 to explore changes in open interest from end of day on Thursday Sept 24, to end of day Friday Oct 2. A table is attached at the end of the note. On the table I also included 4EZ puts with the same strikes. Over these last six trading sessions, open interest in blue and gold March and June puts rose 152,346 contracts. 4EZ puts from 9950 to 9850 strikes rose 25.7k.
A specific example is Friday's new (adding) purchase of 35k 3EM1 9925 puts, which settled 9.0 vs 9950 in EDM'24. These expire on June 11, 2021, so have 249 days until expiration. The third blue is probably closer to tracking the 7 year cash treasury, The 3EM 9925 puts are exactly 25 bps out of the money.
Let's just take a very rough comparison of gold Dec puts to ten year treasury futures puts, which perhaps gives a sense of how blue or gold midcurves relate to treasuries. DV01 on TYZ is $90, so roughly 25 out of the money is 2 ¼ points.

TYZ settled 139-14, so 25 bps targets 137 to 137-08. TYZ 137p settled 11/64 and TYZ 137.5p at 15. That means the 137 strike costs just under 2 bps and the 137.5 around 2.5 bps. TYZ options expire November 20. To get an option with similar time to expiration, consider 4EX0 puts, November 13 expiration on EDZ'24, which settled 9939.0. 25 bps out of the money is 9914, so let's look at the 9912.5 strike. It settled 2.25 bps. This is just a rough exercise meant to convey that pricing is fairly similar between treasury and midcurve options. The difference is that longer maturity midcurve options are available and liquid, and end users are moving in that direction.
Just because open interest is rising, it doesn't of course, mean that all trades are bearish in nature. What I have seen is bearish, but there are a lot of spreads being traded which forecast limited downside of ¼% to 3/8% higher yields.
Here are just a few examples:
4EZ0 9925/9912ps 1.75-2.75 paid.  Settled 3.0 vs 9939.0 in EDZ24
3EF1 9950/9937ps 4.0 paid.  Settled 3.75 vs 9955 in EDH24
3EH 9950/9912ps 2×3 12 to 15 paid.  Settled 14 (11.5 and 3.0) vs 9955 in EDH24
3EH 9950/9925ps 1×2  2.5 paid.  Settled 2 vs 9955 in EDH24
3EM 9925p 8.5 to 9.0 paid.  Settled 9.0 vs 9950.
There are not a lot of gold March and June options open. Trades have tended to be further out of the money, for example 4EM 9862p settled 4.75 vs 9929 in EDM25 have 1500 open. 4EU 9875/9825ps settled 5.25 vs 9923.5 in EDU25, 800 only open. However, markets are available and relatively tight.


OTHER MARKET/ TRADE THOUGHTS

First, a brief summary of the week.  In some ways, it was a packed full of news.  The Presidential debate generated debate.  The Fed extended a ban on share buybacks for banks and capped dividends.  The week culminated with a COVID diagnosis for President Trump.
In terms of rate changes, the curve steepened slightly. Twos gained 0.2 to 13.1 bps, fives 1.7 to 28.3, tens 3.6 to 69.4 and thirties 7.7 to 1.48%. Therefore 5/30 spread rose 6 bps on the week to 119.7 bps. This level is testing a double top set this year. In June the spread reached slightly over 122 and in late August it topped at 123. Besides these marks, the spread hasn't been above 120 since late 2016. Next target 140 to 142.
Similar in theme to midcurve put buys are outright buys of ED calendar spreads. For example, on Thursday a buyer of 15k EDU22/EDU23 spreads for 11.5. Settled 11 on Friday, up 1.5 on the week (9975 and 9964. Red/Green Sept).
Last week I wrote this:
USZ0 settled 177-01. Even as equities show some vulnerabilities, bonds have been capped in a tight range. DV01 on the contract is $216. 30y yield at settlement was 1.403%. As a targeted play, consider buying USZ 174/172/170p fly for 8 or 9. Recent low in the contract is 173-16 on 8/28. Settled 12 vs 177-01. It was 9/10 vs 177-05. On the 30y yield chart, a reasonable target is 1.49% which is a trend line off the March high. Given parallel shifts that would put the contract around 175-08. September's low has been 175. If these levels don't hold, next target is around 1.6% around 173.

Someone ran with this trade and paid 10. Please consider sending me a Bloomberg if you coincidentally use ideas from my note so that I can execute! (at least partially). Exact low last week was 175-08 on Thursday. The fly settled 12 vs 175-29. On a settlement below 175-00, target the August low of 173-16 to 173-07.
Auctions this week starting Tuesday: $52b 3y, $35b 10y and $23b 30y.
| | | | | |
| --- | --- | --- | --- | --- |
| | 9/25/2020 | 10/2/2020 | chg | |
| UST 2Y | 12.9 | 13.1 | 0.2 | |
| UST 5Y | 26.6 | 28.3 | 1.7 | |
| UST 10Y | 65.8 | 69.4 | 3.6 | |
| UST 30Y | 140.3 | 148.0 | 7.7 | |
| | | | | |
| GERM 2Y | -70.7 | -70.9 | -0.2 | |
| GERM 10Y | -52.9 | -53.6 | -0.7 | |
| JPN 30Y | 60.1 | 60.3 | 0.2 | |
| EURO$ Z0/Z1 | -4.0 | -3.0 | 1.0 | |
| EURO$ Z1/Z2 | 4.0 | 6.0 | 2.0 | |
| EURO$ Z2/Z3 | 11.5 | 13.5 | 2.0 | |
| | | | | |
| EUR | 116.32 | 117.17 | 0.85 | |
| CRUDE (active) | 40.25 | 37.05 | -3.20 | |
| SPX | 3298.46 | 3348.42 | 49.96 | 1.5% |
| VIX | 26.38 | 27.63 | 1.25 | |
| | | | | |
OPEN INTEREST CHANGES: 3EH/3EM/4EZ/4EH/4EM 9950 to 9850 puts:
| | | | | | | | | |
| --- | --- | --- | --- | --- | --- | --- | --- | --- |
| 9/25/2020 | | | | | 10/2/2020 | | | |
| 3EH4 PUTS | STRIKE | SETTLE | OPEN INT | | SETTLE | OPEN INT | futs settle | chg OI |
| 9958.5 | 9850 | 0.25 | 4032 | | 0.5 | 4032 | 9955 | 0 |
| | 9862 | 0.5 | 1250 | | 0.75 | 1250 | | 0 |
| | 9875 | 0.75 | 3018 | | 1 | 3018 | | 0 |
| | 9887 | 1 | 2538 | | 1.25 | 7579 | | 5041 |
| | 9900 | 1.5 | 8570 | | 2 | 8570 | | 0 |
| | 9912 | 2.25 | 11783 | | 3 | 40664 | | 28881 |
| | 9925 | 3.5 | 13170 | | 4.75 | 34907 | | 21737 |
| | 9937 | 5.75 | 9713 | | 7.5 | 14780 | | 5067 |
| | 9950 | 9 | 5625 | | 11.5 | 45108 | | 39483 |
| 3EM4 | 9850 | 1 | 1100 | | 1.25 | 1100 | | 0 |
| 9953.5 | 9862 | 1.25 | 1250 | | 1.75 | 4604 | 9950 | 3354 |
| | 9875 | 1.75 | 43030 | | 2.25 | 43283 | | 253 |
| | 9887 | 2.5 | 22000 | | 3 | 22000 | | 0 |
| | 9900 | 3.5 | 1625 | | 4.25 | 5526 | | 3901 |
| | 9912 | 5 | 27650 | | 6.25 | 27651 | | 1 |
| | 9925 | 7.25 | 44345 | | 9 | 81268 | | 36923 |
| | 9937 | 10 | 21000 | | 12.5 | 13905 | | -7095 |
| | 9950 | 14.25 | 30400 | | 17.25 | 41100 | | 10700 |
| 4EZ4 | 9850 | 0.25 | 5600 | | 0.25 | 5500 | | -100 |
| 9942.5 | 9862 | 0.5 | 0 | | | 0 | 9939 | 0 |
| | 9875 | 0.75 | 200 | | 0.75 | 200 | | 0 |
| | 9887 | 1 | 0 | | | 0 | | 0 |
| | 9900 | 1.75 | 991 | | 2 | 2191 | | 1200 |
| | 9912 | 3 | 12250 | | 3.75 | 19250 | | 7000 |
| | 9925 | 5.5 | 8200 | | 6.75 | 18874 | | 10674 |
| | 9937 | 9 | 2300 | | 11.25 | 9300 | | 7000 |
| | 9950 | 14.5 | 1500 | | 17.5 | 1500 | | 0 |
| 4EH5 | 9850 | 1.25 | 0 | | | | | 0 |
| 9938 | 9862 | 1.75 | 0 | | 2 | 100 | 9934.5 | 100 |
| | 9875 | 2.5 | 0 | | | | | 0 |
| | 9887 | 3.5 | 0 | | | | | 0 |
| | 9900 | 5.25 | 0 | | | | | 0 |
| | 9912 | 7.75 | 0 | | | | | 0 |
| | 9925 | 11.25 | 0 | | | | | 0 |
| | 9937 | 15.75 | 0 | | | | | 0 |
| | 9950 | 22 | 0 | | | | | 0 |
| 4EM5 | 9850 | 3.25 | 0 | | | | | 0 |
| 9932.5 | 9862 | 4.25 | 0 | | 4.75 | 1500 | 9929 | 1500 |
| | 9875 | 5.5 | 0 | | | | | 0 |
| | 9887 | 7.25 | 275 | | 8.75 | 275 | | 0 |
| | 9900 | 9.25 | 0 | | 11.75 | 1500 | | 1500 |
| | 9912 | 12.75 | 0 | | | | | 0 |
| | 9925 | 16.75 | 0 | | 20.5 | 1000 | | 1000 |
| | 9937 | 22.25 | 250 | | 26.75 | 250 | | 0 |
| | 9950 | 29.25 | 0 | | | | | 0 |
| | | | | | | | | CHANGE |
| TOTAL OI>>> | | | 283665 | | | | 49707.5 | 178120 |
| | | | | | | | | |