Ten year TIP record low yield
November 10, 2021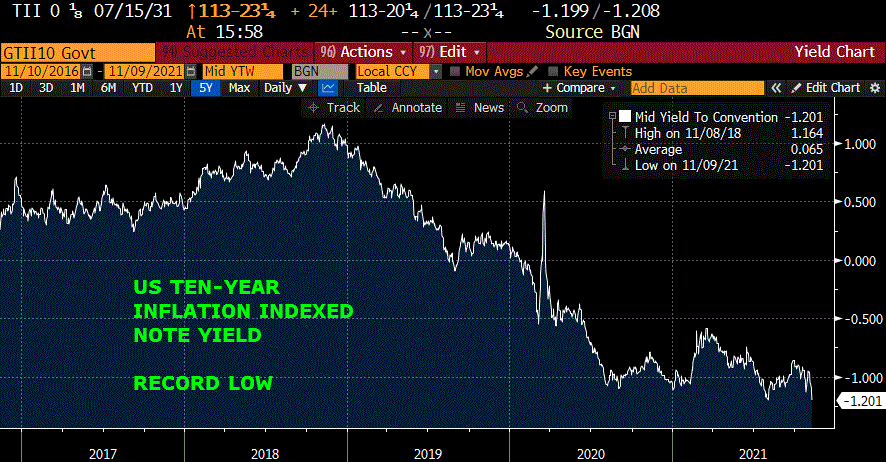 –New low yesterday ten-year inflation "protected" (TIP) yield at NEGATIVE 1.206%.  From the TreasuryDirect website: "The principal of a TIPS increases with inflation and decreases with deflation, as measured by the Consumer Price Index."  Today CPI is released and is expected 5.9% yoy with Core 4.3%.  CPI hasn't been above 5.9% since late 1990 when it peaked at 6.3%.  At the time, the US 10y yield was around 8.25% vs 1.43% yesterday.  As an aside, the last time the 10y TIP was around this level in Q3 2020, gold was on its way above $2000 vs 1830 now. 

DO NOT FEAR: "Yellen…said the high inflation that persisted through parts of the 1970s and 1980s occurred 'because people thought that policy makers wouldn't bring it to an end, and inflation expectations became embedded in the American psyche.  That isn't happening now and the Federal Reserve wouldn't permit that to happen." (BBG)  That's expressing a lot of faith in the institution of the Fed when we don't even know who the Chairman will be next year.  In the previous period it was the towering Volcker, who crushed inflation expectations with sky-high funding rates of 20% in 1981.  The current FF rate is zero to 0.25%, and the Fed is promising to keep it there until unemployment reaches around 3.8% according to Clarida.  But the Fed won't allow inflation expectations to become embedded.  Just keep telling yourself that Janet. Oh, and China's factory gate inflation in October rose to 13.5% in October, fastest in 26 years. 
–Big bid in the long end yesterday despite the ten-year auction and today's upcoming 30y auction.  Both tens and thirties fell nearly 7 bps to 1.43% and 1.82%.  Long end vol bid with USF at 9.3, upper end of range, as we moved to the 162 strike (USH settle 162-05).