Prices don't lie
May 14, 2023 – weekly comment

**********************************
Still a man hears what he wants to hear and disregards the rest.
–Simon and Garfunkel- The Boxer

The odds that the United States will fall into a recession at some point over the next 12 months have risen to a 40-year high, according to a probability model from the NY Fed.
The probability that the country will enter a recession within the next year has risen to 68.2 percent, according to the New York Fed, which is the highest level since 1982.- Epoch Times
What does that mean for us? We're probably in recession now. Does it mean that equities in general will decline? That interest rates fall?
From Michael Lewis' book, The Undoing Project:
As it turned out, the Jackson Prison inmates choosing between gambles had a lot in common with Kenneth May's students when they chose between spouses: After they had said they preferred A to B and B to C, they could be induced to prefer C to A. Even when you asked them up front whether they would ever choose C over A and they insisted they would never do such a thing, they did it…
In some of our biological systems we are equipped to detect big differences, in others small ones – say a tickle versus a poke. If people can't detect small differences, Amos figured, they might violate transitivity.
This book is about decision making, mostly exploring the work of Daniel Kahneman and Amos Tversky. It has many fabulous examples of flawed choices resulting from unconscious bias. In a world filled with cocksure confidence and righteousness about every social topic, it's a refreshing read especially from a trading perspective. An early summary of research by Tversky:

People predict by making up stories.
People predict very little and explain everything.
People live under uncertainty whether they like it or not.
People believe they can tell the future if they work hard enough.
People accept any explanation as long as it fits the facts.
The handwriting was on the wall. It was just the ink that was invisible.
People often work hard to obtain information they already have and avoid new knowledge.


I have seen several articles about the vibrant China "re-opening".  However, when looking at the Li Keqiang index, base metals prices, and China's ten year yield, the story seems to be one of economic stagnation. The Li index measures rail freight, electricity consumption and bank lending.  China's ten year yield is now 2.7%, at the low of this calendar year, having been as high as 2.93% in the beginning of March.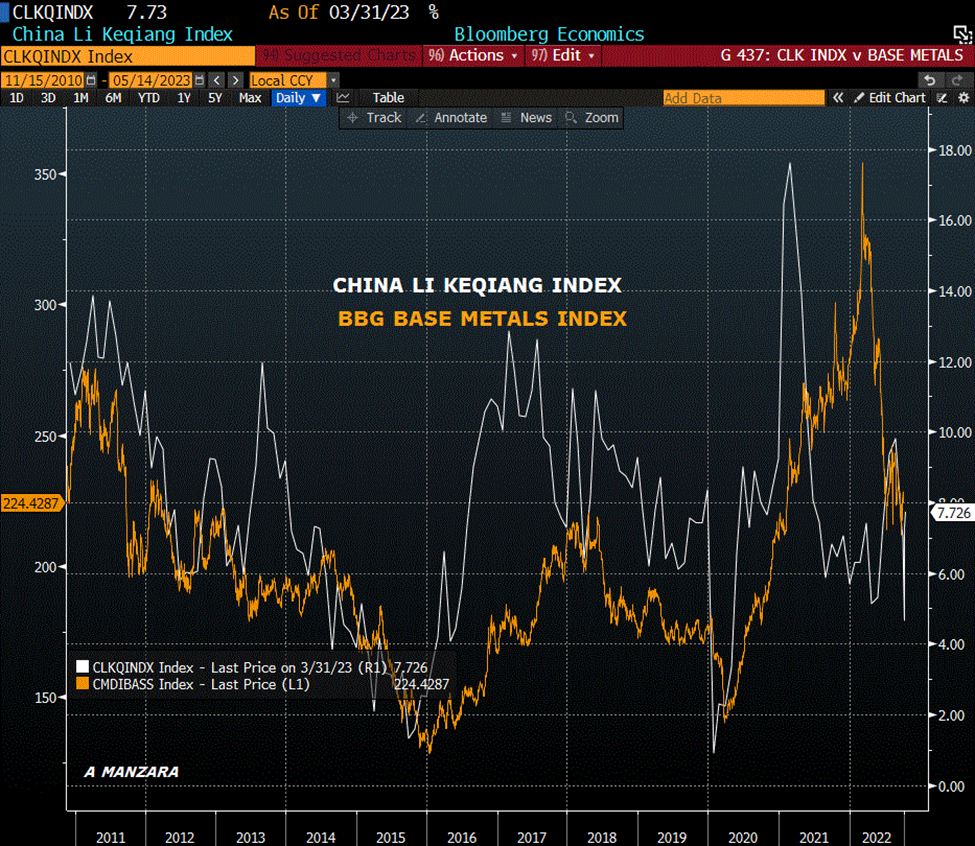 Here's a little clip from Barron's:
Many investors are underweight stocks and focused on what could go wrong. A possible Federal Reserve rate pause is something that could go right.
Is that some sort of insight to help with our investment decision-making?  If anything, it's a disservice. 

There are a lot of stats like the NY Fed recession probability one, cited not just as two-in-three but 68.2%.  What's the purpose of the extra decimal?  Probabilities in markets change all the time, the search is to trade one market with high odds of a given scenario, vs one trading at lower odds.

In US markets, expectations of rate cuts are gaining ever more traction.  This fact is overtly priced.  The rolling first to fifth SOFR one-year calendar spread has been inverted almost the entire year, apart from a brief flirtation with zero after February's stronger than expected payroll and inflation data.  SFRM3/SFRM4 settled -173 on Friday and SFRU3/U4 settled -172.5, both near lows of the year, which happen to be near historic lows.   FFU3/FFU4 settled -179; it's the most inverted 1-yr spread on that curve.  The two-yr yield has oscillated around 4% since mid-March, having been above 5% just prior to SVB's collapse.  The green and blue (3rd and 4th year) SOFR packs have been consistent with forward funding rates of 2.5% to 3.25% all year.  Green pack (SFRM5, U5, Z5, H6) settled just above 9721 on Friday, or 2.79%, while the blue pack (M6, U6. Z6, H7) settled 9713.75.   

Rate futures are forecasting lower inflation and growth.  The response in the past week has been to play for a somewhat accelerated timetable of possible easing.  For example, there was a buyer of 15k SFRN3 9525/9575/9625c fly for 4.0 (settled 4 vs U3 9522.5).   The same structure was bought in September, and SFRU3 9512.5/9537.5/9562.5 c fly was bought for 1.75 (settled 1.5).  These trades stand to work if the thesis is right, with limited damage if wrong.

Obviously, new information could change the outlook.  The stories being predicted by Federal Reserve officials have not been particularly accurate and often haven't even fit the facts. 

In the clearing stands a boxer
And a fighter by his trade
And he carries the reminders
Of every glove that laid him down
Or cut him till he cried out
In his anger and his shame
"I am leaving, I am leaving"
But the fighter still remains

| | | | | |
| --- | --- | --- | --- | --- |
| | 5/5/2023 | 5/12/2023 | chg | |
| UST 2Y | 392.2 | 399.1 | 6.9 | |
| UST 5Y | 341.6 | 344.3 | 2.7 | |
| UST 10Y | 343.3 | 345.5 | 2.2 | |
| UST 30Y | 375.3 | 377.5 | 2.2 | |
| | | | | |
| GERM 2Y | 257.2 | 259.4 | 2.2 | |
| GERM 10Y | 229.0 | 227.6 | -1.4 | |
| JPN 30Y | 126.4 | 123.9 | -2.5 | |
| CHINA 10Y | 273.6 | 270.6 | -3.0 | |
| SOFR M3/M4 | -176.0 | -173.0 | 3.0 | |
| SOFR M4/M5 | -50.5 | -55.5 | -5.0 | |
| SOFR M5/M6 | 5.0 | 2.5 | -2.5 | |
| | | | | |
| EUR | 111.46 | 108.50 | -2.96 | |
| CRUDE (CLM3) | 71.34 | 70.04 | -1.30 | |
| SPX | 4136.25 | 4124.08 | -12.17 | -0.3% |
| VIX | 17.19 | 17.03 | -0.16 | |
| | | | | |